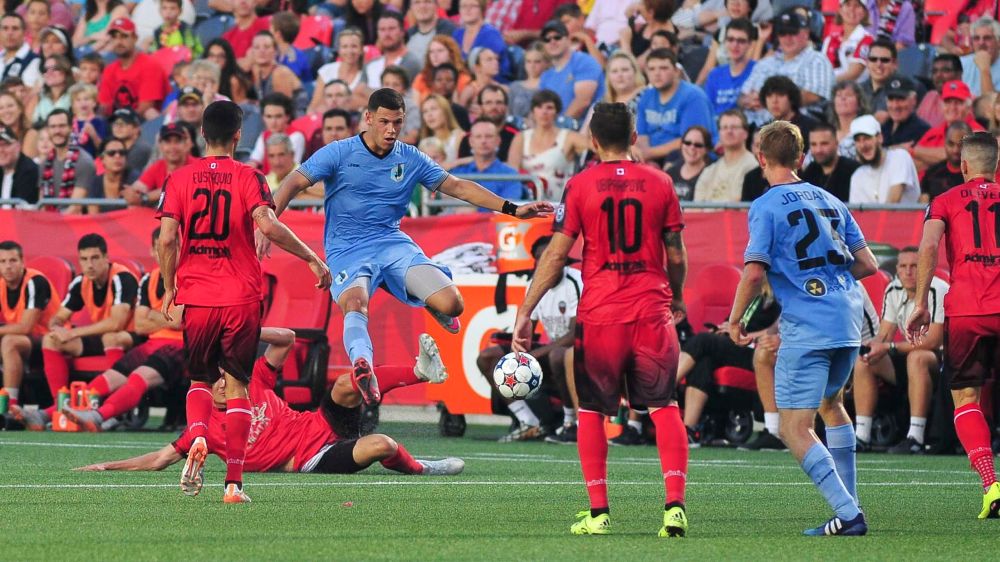 Heading into this weekend's NASL semifinal matchup, Minnesota United and the Ottawa Fury each have unique strengths that incorporate their teams as a whole.
The sides are set to go head-to-head for the fourth time this season in Ottawa this Sunday (3 p.m., ESPN3), with the three previous results split 1-1-1 in 2015.
The Fury have impressed many by earning this postseason appearance in their first NASL season. The Canadian side faces a tough task ahead, though, as Marc Dos Santos' men will take on a proven Minnesota United team this weekend.
The semifinal will be in Ottawa after the Fury finished three points above their opponent in the combined standings, but a lack of home field advantage shouldn't phase the Minnesota United faithful. United have impressed in their own right this year, earning an MLS expansion franchise as well as its fourth NASL postseason appearance in five years.
Dos Santos had the chance to lead his Fury team to the top overall seed on the final day of the regular season, but a draw away to the Atlanta Silverbacks meant that the New York Cosmos would sneak ahead at the last minute.
"To win the championship, you have to beat the best teams," Dos Santos told SBI. "You don't get to pick the (easiest) team to face, your record earns you that spot."
The Fury coach took the game in Atlanta as an opportunity to rest key players and give others a chance to impress, keeping in line with the importance he places on the team forming a cohesive unit.
"We gave minutes to some of the team that needed it, like Gagnon-Lapare on loan from the Impact," Dos Santos said. "I had total confidence in them going into the match, and I liked most of what I saw from the young guys."
Speaking to one of his top players, veteran French goalkeeper Romuald Peiser, it is clear that the strategic rotation is a part of what makes Dos Santos a good manager.
"It's one thing to say that you are a unit, but you have to show it," Peiser told SBI. "I think coach proved it (against Atlanta)."
Dos Santos saw the need give game-time to some of the less-experienced squad players, but the Fury coach left no doubt as to who will be on the field this weekend.
"I think, hands down, Romuald has been the best goalkeeper in the league this season," Dos Santos told SBI. "Stability is a big advantage for our side. Our back line, full of confident defenders, has been outstanding all year."
Peiser reiterated the coach's confidence in the defense.
"It's really important to know who you have in front of you," Peiser said. "I can tell you our back four was pretty consistent. We also had players come in and have amazing games in response to injuries."
Peiser also highlighted a unique strength the Fury have showcased this year — the depth of the team.
"We had different players that made the difference in the right moments," Peiser said. "Sometimes in the season, you need one guy who makes the difference in one game, and this year it happened several times for different players."
Both teams in this matchup will pride themselves on working as a unit, as Minnesota United has been the most complete team in terms of style of play and results during the NASL this season.
United is the only team in the playoffs to go all 30 matches of the regular season without consecutive losses. For those that have managed to watch the team ply their trade under Head Coach Manny Lagos, this statistic shouldn't come as a surprise. The longest tenured coach in the league has spent time melding his perennial title contenders.
"We expect to win championships, and that's our ultimate goal and where we are as a club right now," Lagos told SBI. "I think that's a credit to the guys over the last four or five years that have created an expectation and a level of accountability."
As Lagos indicates, the success of his team could easily be attributed to the number of quality players that occupy the roster. United is the only side in the playoffs in which five players scored five or more goals in the NASL this season.
Justin Davis, Daniel Mendes, Ibson and Pablo Campos are all on that list, with United's 2015 all-star Christian Ramirez topping it off.
"Christian is a great team player and he's just a very important cog in the wheel of the group," Lagos said. "One of the big things about Christian is that he's an individual that thinks about the group, and I think that, in itself, gets him going."
Despite their strengths, both sides see themselves as underdogs in some right heading into this semifinal.
"There's no doubt that when you're going and playing on somebody's home field on a surface that's not grass, it's always an uncertainty," Lagos said. "It's fair for Ottawa to have been awarded this game because they had a great season. I would say that makes us the underdogs, but our guys are ready to take on the challenge. There's no doubt we also certainly feel that we can win anywhere."
Peiser wasn't repeating the same narrative on the other side, though.
"Minnesota are considered favorites, as they have a much bigger budget than us, but we're going to play our hearts out like always," Peiser said. "They have very good players, but so do we."