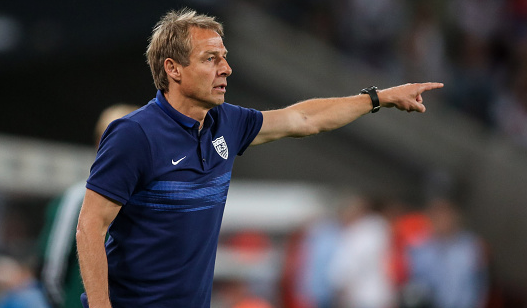 World Cup qualifying is less than two weeks away, and Jurgen Klinsmann says that there will be several factors determining who will be a part of the U.S. Men's National Team roster.
The USMNT is set to take on St. Vincent and the Grenadines on Nov. 13 in St. Louis before traveling to Trinidad & Tobago for a game to be held four days later. Klinsmann expects his group to convene Nov. 8 before kickstarting the team's World Cup qualifying campaign.
Heading into that Nov. 8 meetup, Klinsmann has some major decisions to make as players continue to either impress or falter at the club level. For one, Klinsmann will have to make several key decisions at the centerback position. With Omar Gonzalez out of form and both Ventura Alvarado and John Brooks failing to find major minutes, Klinsmann will assess all of his options ahead of the opening qualifiers.
"Well, on one side you have obviously the injured issue or players that are out of MLS competition," Klinsmann said, "and then you have some players that are just not making their starting lineup right now. John Brooks is one of them and Ventura Alvarado is another one, so it's tough for some of our players to get regular playing time and that influences our situation prior to the World Cup Qualifiers.
"That's just normal, but it's sad to see because you want the youngsters to come through and to put a stamp on the team but they cannot do it if they sit basically on the bench in their club teams."
While Klinsmann continues to keep his eye on European-based players, the USMNT head coach will have a separate set of issues when it comes to his domestic-based players.
The team's qualifying run will fall right in the middle of the MLS Cup Playoffs, although games will not be held during the international break. Still, with most of the league's teams now in the offseason, Klinsmann is already working to make sure several players remain fit heading into the winter months.
"Looking at our November World Cup Qualifiers, obviously we monitor all our players in the different leagues in the different environments," Klinsmann said, "and one challenge for us certainly is that for some of them their MLS season is already over. Either they didn't make the playoffs or they just lost now in the playoffs in the first round, so that makes it tricky for us to keep them going until we meet up on November 8 for the St. Louis game against St. Vincent and the Grenadines.
"To give them training plans, to make sure that they keep going for players like a Jermaine Jones, a Kyle Beckerman, a Chris Wondolowski, a Mix Diskerud, a Lee Nguyen, and others is now really, really crucial because they are not playing games anymore prior to the World Cup Qualifiers."
While several MLS players remain sidelined in the offseason, Klinsmann says another issue will be the players sidelined due to different reasons.
Injuries have taken out a number of U.S. regulars, most notably Aron Johannsson, who is set to be sidelined until the new year due to hip surgery. In addition, Rubio Rubin looks set to miss out due to injury, limiting the forward pool available. Geoff Cameron, on the other hand, should be OK after missing some time, while Brad Evans remains questionable for both club and country.
Klinsmann will now have the chance the integrate new blood ahead of qualifiers, even if it will be difficult to push on without several of the team's more consistent options.
"Obviously in our roster towards the World Cup Qualifiers there are players who are injured unfortunately right now," Klinsmann said. "We have Geoff Cameron coming out in the last game of Stoke, but he should be okay. We had Brad Evans get a hamstring issue, so that will be tricky for him to catch up. Rubio Rubin, our youngest striker, is injured. Aron Johannsson is not playing because of injury right now.
"So we have all over the place some issues, and we need to find solutions for that. Hopefully they get back as quickly as possible, and if they can't make it than other ones will have to step in and get the job done."