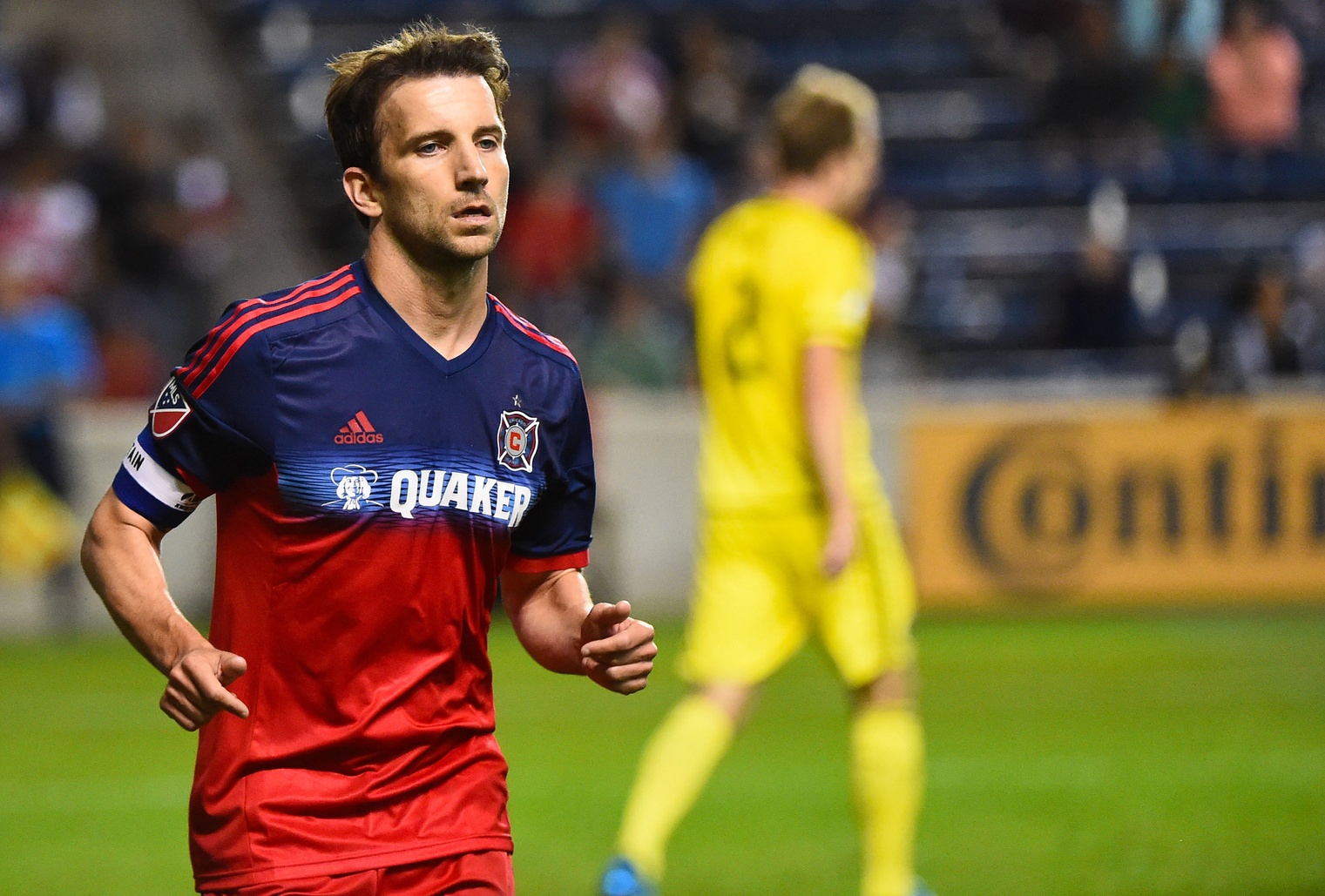 The ongoing rebuilding of the Chicago Fire took another step on Monday, and several of those on their way out of Toyota Park will be eligible for MLS' new form of free agency.
Now firmly into the 2016 offseason, the Fire made several roster moves on Monday, including the announcement of the departures of Mike Magee, Jon Busch, Jeff Larentowicz and Ty Harden. With their departures, Magee, Busch, Larentowicz and Harden are eligible for the newly-implemented form of free agency, which requires players to be at least 28 years of age and have a minimum of 8 years experience within MLS.
The Fire went on to announce that the club has exercised options on Kingsley Bryce, Matt Polster, Harry Shipp and Patrick Doody.
In addition, the Fire have declined options on nine players: Busch, Larentowicz, Adailton Razvan Cocis, Greg Cochrane, Jason Johnson, Alec Kann, Lovel Palmer and Chris Ritter. Also departing the club will be the trio of Harden, Magee and Matthew Watson, while the club's loan deal for Daneil Cyrus has expired.
"History has shown that the key to having a successful team in MLS requires a solid nucleus of players who have been together for some time," said Fire general manager Nelson Rodriguez. "Returning Harry, Matt, Kingsley and Patrick and combining them with the players we already have under contract begins to move us in that direction.
"The players adversely affected are talented individuals as well, who we thank for their contributions to our Club and wish well in their careers going forward."
With the retaining of Polster, Bryce, Shipp and Doody, the Fire now have 12 players under contract heading into 2016, as the quartet join David Accam, Collin Fernandez, Eric Gehrig, Gilberto, Kennedy Igboananike, Sean Johnson, Joevin Jones, Patrick Nyarko and Michael Stephens on the Fire roster.
Here's a closer look at the rest of Monday's roster moves:
OLAVE RE-SIGNS AS RSL PICKS UP OPTIONS ON SEVEN PLAYERS
Real Salt Lake will return a slew of familiar faces next season.
On Monday, the club announced that Jameson Olave has signed a new contract to remain with the club. In addition, the contracts of goalkeeper Lalo Fernandez, defenders Abdoulie Mansally and Boyd Okwuonu, midfielders Luke Mulholland and John Stertzer, and forwards Olmes Garcia and Devon Sandoval have been exercised ahead of the 2016 season.
RSL opted not to pick up options on defenders Phanuel Kavita, Demar Phillips and Elias Vasquez, as well as midfielder Pecka.
Chris Schuler, Luis Gil and Luis Silva remain out of contract. The club has until Dec. 10 to re-sign any Re-Entry Draft eligible players.
TAYLOR, GARRIDO AMONG OPTIONS DECLINED BY DYNAMO
While further moves are still to be made, the Houston Dynamo have begun the process of reshaping their roster.
The Dynamo announced on Monday that the club has declined options on Michael Lisch, AJ Cochran, Jermaine Taylor, Luis Garrido, Alexander Lopez, Nathan Sturgis and Chandler Hoffman.
Garrido's departure comes on the heels of a horrific leg injury, as the Honduras midfielder suffered a torn posterior and anterior cruciate ligament against Mexico earlier this month in World Cup qualifying.
—
What do you make of the roster moves? Where do you expect Magee to end up? Which players do you expect to see shine with new teams?
Share your thoughts below.