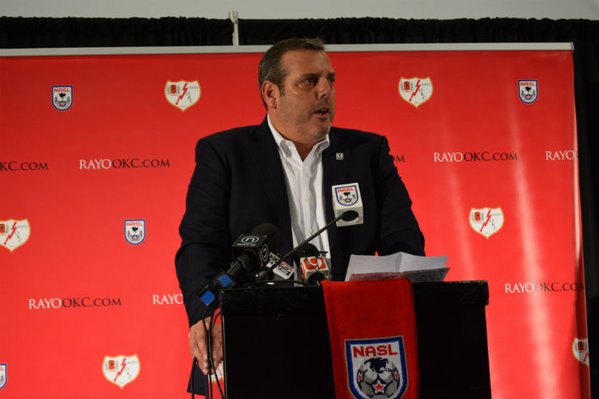 Bill Peterson understands the outside skepticism regarding Rayo OKC, but the NASL commissioner remains fully confident that big things are ahead for the league's latest expansion club.
Peterson and the NASL announced the formation of Rayo OKC on Tuesday, revealing backing from Spanish club Rayo Vallecano. Peterson stated that the league is looking to "build stuff that will last for centuries," and he believes the Rayo group could be a major part of that going forward.
"It's interesting. People there seem to be much more receptive of it than maybe others on the outside," Peterson said on Saturday. "It's unique. You have to recognize Rayo's involvement in this because it's going to be important.
"I made this comment Tuesday: that's a club that could be a top club in this country with the resources. I'm talking about expertise that they have coming into this. It's going to be an interesting club to follow, I think. I'm OK recognizing their involvement with it. I think it's important."
Peterson went on to state that if Rayo were to ever, for some reason, leave, the name would likely go with them, although the league doesn't foresee anything of that nature any time soon.
Headed by a team led by Sean Jones, Rayo OKC is much farther along than many think, Peterson said. Years after being considered a dead issue, the NASL's expansion is very real heading into the 2016 season.
"They never gave up," Peterson said. "Even though we had some ups and downs there, Sean Jones and his crew, they never stopped working on getting ready to launch a team. They never stopped working on organizing. They are not an expansion team, per se. They are far down the road in all of their plans and all the things they're doing.
"The credit really goes to Sean and his group. They never stopped. We sort of let it go dark for a little while and let them get organized, but they never stopped working on it for one day."
Here are some more NASL news and notes:
LEAGUE LIKELY TO AVOID FUTURE INTERNATIONAL DATE TITLE GAME
The NASL knew the risks that came with scheduling the league's title game on an international date, but it seems that the league has learned a bit of a lesson.
North and Central American national teams have taken the field for World Cup qualifiers, and both the New York Cosmos and Ottawa Fury FC saw players called up by their respective countries. Fury FC midfielder Julian de Guzman answered the call for Canada, and missed Sunday's 3-2 loss, while the Cosmos' Andres Flores missed a World Cup qualifier to play in Sunday's triumph.
Peterson says that the league is frustrated by the situation, although they knew the risks going in. Going forward, there will be further assessments of potential dates in an effort to avoid situations like this in future finals.
"We're not happy with it. We looked at it this year before we made any final decisions," Peterson said. "The fact is that it's a Eurocentric calendar and we're not in Europe, so we have to live with it and do the best that we can. The decision is do we play more Wednesday games? Do we play later in the year with snow?
"There are a lot of factors that go with playing in North America, and at the time, we were just a little too concerned about adding Wednesdays through the year, so we decided that we'd play it this way and see what happens. Doesn't mean we'll do it again, but we're at their mercy. They didn't call us and ask us what we thought."
EXPANSION TALKS CONTINUE AS LEAGUE TARGETS 20
Following the addition of Rayo OKC, the NASL doesn't seem settled quite yet.
Peterson said that the league is still in talks with several ownership groups for further expansion. Targeting 20 teams, Peterson says the process remains ongoing in the wake of the 2016 additions of Rayo OKC, Miami FC and Puerto Rico FC.
"We continue. We're in a number of conversations," Peterson said. "We continue to evaluate ownership groups and cities and we can see the finish line at 20 here in the near future. We just have to stay patient, have to stay focused and we have to work through the processes. It's working out for us and it will continue to work out."
—
What do you think of Rayo OKC? How would you schedule the NASL season? What markets do you foresee being major players in NASL expansion?
Share your thoughts below.