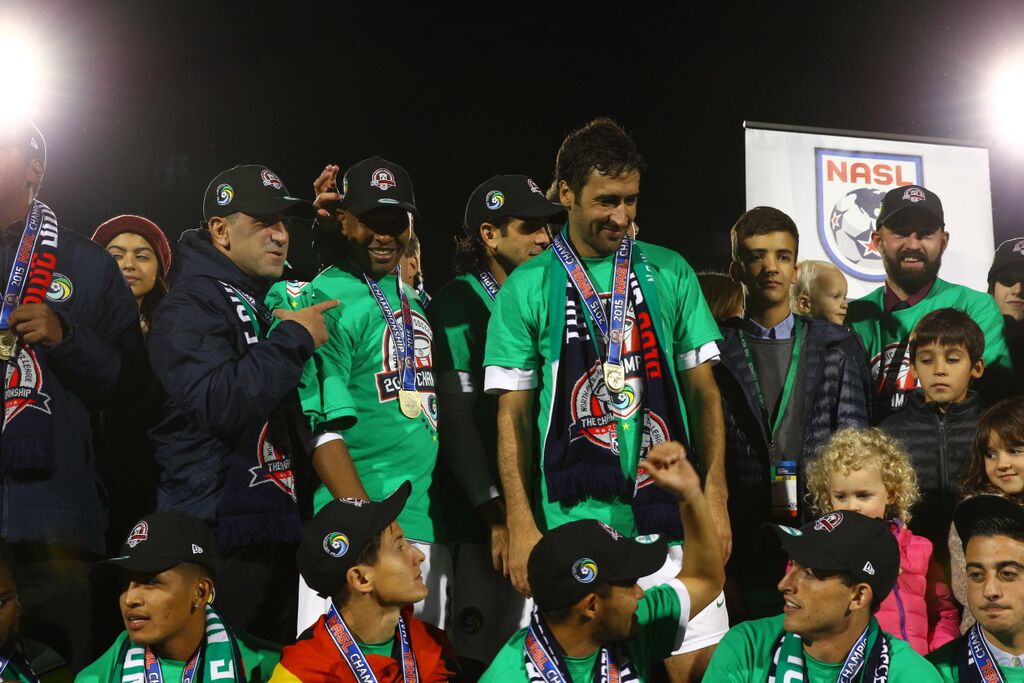 Throughout their careers, Spanish legends Raul and Marcos Senna have made their names lifting up their teammates, making them better players and people through their leadership. On Sunday night, for the final time, the duo took the field, and it was on the shoulders of their teammates that they road off into the sunset.
Following Sunday's NASL title victory, both Raul and Senna were lifted into the air and celebrated by their New York Cosmos teammates in what served as a fitting departure for the two Spanish stars.
With confetti set to stream down upon them in front of fans clamoring for one last look, Raul and Senna got their hands on one final trophy before concluding their times as players together with an NASL crown.
"It couldn't get any better winning this title next to Raul," Senna said after the win. "Like I said before, for us to be able to leave with a title is fantastic. The first championship, perhaps we lacked a little bit of experience when it came time to hold the ball. Today, he wasn't able to score, but he was able to contribute with the assist on the third goal. The experience he brought, the quality, was vital. I congratulate my teammates for the job they've done over the course of the season, but if Raul wasn't here this year, it would've been much tougher to win."
"The decision is taken and I'm very happy," added Raul. "It was an amazing year with my teammates, with the club, with the league, but three months ago I decided to finish my career and this is like a dream to finish in a final and win in a difficult game against Ottawa, who had an amazing season this year. It was very tough."
With their careers as active players behind them, Raul and Senna are set to embark on their respective next step.
Senna has stated his intentions of returning to Spain, but never straying too far from a Cosmos club that has captured two titles in three years under his leadership.
Raul, meanwhile, wishes to remain in New York with his loved ones, and remained coy about what future truly lies ahead. The Spanish legend admitted that the door was always open with his former club, Real Madrid, but that door is not one he is quite ready to enter.
Instead, Raul will now take the time to rest and reflect. Following a career spanning more than two decades, it is now time for the 38-year-old to look back on a career that now sees him regarded as one of the best forwards to have played the game.
"I'm taking a lot of kindness from a lot of people from all the clubs I've played for," Raul said, "from clubs I've played against, from people who weren't on my team and have recognized me. For me, that's the most important. That's the biggest prize at the end of my career. I want to say thank you.
"I feel like a kid playing from the neighborhood playing in the streets, playing on dirt fields. I've been lucky enough to play in World Cups, Euro Cups, Champions League, and win them, but this is soccer to me: playing on artificial turf, in front of crowds, in front of no one. I've been able to live all the experiences before I was a professional and a nobody, and after when I had achieved a lot of things. I've always enjoyed and I think I will continue to enjoy from this passion, but no longer as a professional player because now a new path begins."
Before they embarked on their respective paths, Raul and Senna shared one final moments as teammates. Seated at a table facing the horde of media, Raul was interrupted by a smiling Senna, who snuck in and laughed as he sat next two his longtime teammate.
Embracing for all to see, the Spanish duo shared one final moment in the spotlight, a fitting goodbye to a pair of players who found a way to end on a true high note.
"I'm very happy," Raul said. "Today was my last game to finish my career and I'm very proud of everything I did, and thank you to the club, the teammates, the coach, the fans for this amazing year. For me, now it's a new life with another project. I'm happy but, to be honest, I'm also a little bit sad."
"Honestly, I'm at a loss for words," Senna added. "Today, after everything that's happened, everything that's gone on all season, to be able to finish like this is fantastic. For me, it's a privilege to be able to finish like this, next to Raul, winning a championship. I'm leaving the game satisfied with a fantastic career. I'm leaving very happy, very happy."