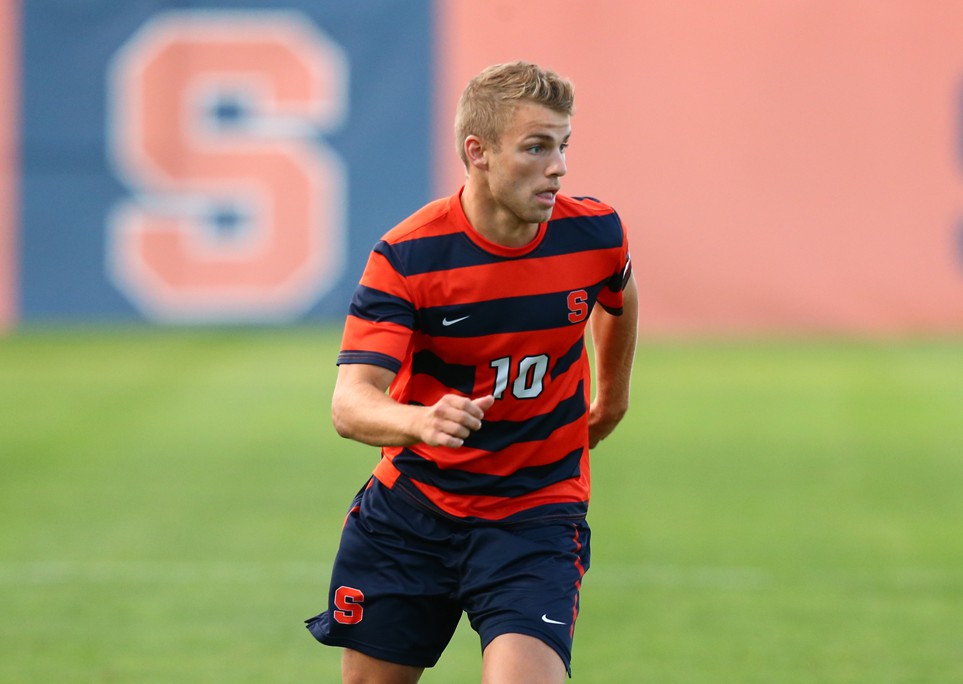 When Julian Buescher stepped foot on the campus of Syracuse University, the German import was ill prepared for the adjustments to American life. Speaking very little English and ill equipped to handle the cold of Syracuse, Buescher found himself wanting to find his way back home.
Yet, when he takes the field on Sunday, Buescher will have the chance to take Syracuse to the next level by asserting himself in the place he truly feels most comfortable: between the lines of the soccer field.
Buescher, a 22-year-old midfielder from Soest, Germany, is set to lead the Orangemen against Seattle University on Sunday in pursuit of a berth in the NCAA Tournament quarterfinals. Entering the weekend, Buescher has established himself as one of the country's premier playmakers in the college game, racking up 8 goals and 10 assists in 22 games played.
The midfielder's presence was never more apparent than last week's NCAA tournament victory over Dartmouth. Trailing early, Syracuse battled back via a pair of Buescher assists, sealing a spot in the Sweet 16 for the second straight season.
"It was big for the freshman more than for us because we knew we were a good team," Buescher told SBI. "We expected to go to the Sweet 16, but it's big when you're still playing at the end of November and hopefully into December. A win would get us into the Elite 8 , so that would be a good step for us. After winning the ACC, you know how to win that game and you expect to win that game."
Those expectations have developed throughout a two year period for Buescher that has most likely been the most challenging of his life.
Growing up in Germany, Buescher was raised on the technique of German soccer alongside current Creighton star Fabian Herbers, who maintains a friendly rival and close friend to this day. Skilled and composed on the ball, Buescher established himself as a member of Germany's U-16 and U-18 teams while counting world-renowned stars like Mario Goetze and Julian Draxler among his teammates on the international stage.
Much like those two did, Buescher found himself battling for playing time on the club level with Prussia Münster. It was there that Buescher met former Chivas USA forward Matt Taylor, who helped push the young midfielder towards a decision that would change his life.
"He played for UCLA and we were playing in the third level of the Bundesliga," Buescher said. "It's kind of a professional league, but kind of not. It's in between. Some guys have big contracts, and he made money as our starting striker.
"I was a young guy, but the coaches in Germany always want you to wait. I didn't want to wait; I wanted experience. He said, 'If you want, I can help you out to go to America and you can go the same way that I went.' He got me the connections to America and made it happen."
Even with Taylor's help, the transition was far from easy. Buescher's road to America saw him earn looks from several top schools, each of whom opted to go into a different direction given Buescher's inability to speak English.
One remained: Syracuse.
Upon enrollment, Buescher was enrolled in English classes, and now speaks the language better than many could imagine given the fact he has just under two years of experience. Adding to Buescher's frustrations was the cold and snowy climate of Syracuse, which Buescher joked he was completely unaware of before experiencing four straight months of snow.
But even when his communication skills were lacking and he found himself most missing life back home, Buescher found that the soccer field was a way for him to earn the respect and admiration of those he would now call his teammates and friends.
"Not understanding a word when I was here in the beginning, I was leaving my family and my brothers behind," Buescher said. "My brother played soccer, and he played in the club where I played in the first team. He looked after me. Leaving him, it was a tough part. Starting a new life in an environment where you don't know anything, it's a good thing I had soccer because I became part of a team. On the field, it was a little bit easier. They accept you when you're good on the field."
The next step, Buescher said, was finding his game. Playing in a side littered with professional prospects like Alex Bono and Skylar Thomas, Buescher found himself deferring frequently in 2014, his first with the team.
Now asked to be more of a leader, Buescher has locked down a No. 10 role that has not always been home. Raised as more of a defensive midfielder, Buescher realized he needed to fill a need higher up the field, and has done so while sealing his place as one of the NCAA's most creative and smooth players.
Buescher attributes this season's success to a hard summer of work, as well as added freedom given to him by head coach Ian McIntyre. Given the ability to drop back and help in the midfield when he sees fit, Buescher understands that he's far from a pure playmaker, and expects to drop back into a more defensive position should he make it to the next level, whether it's in Germany or the U.S.
"It's a tough environment in Germany to be consistent enough and to be patient enough to be a professional player over there," Buescher said. "If you feel like you are smart enough and can get it done, the experience in America is definitely one people should try out. I think you'll see more and more guys coming over especially because it's worked out well right now for a couple of German guys.
"I like it here. I would enjoy staying here in America, but in soccer you never now. I would love to start a professional career somehow and sometimes you have to take what comes. I had some clubs I've talked to in Germany, but if I had to leave school, I don't know if it's worth it because I've been in the third and second division level in Germany a couple of years ago. It's a tough decision with leaving school or not."
For now, Buescher is far from concerned with anything that lies past this Sunday. Facing a Seattle team that recently upset highly-regarded UCLA, Buescher knows that Syracuse is set to face a tough task.
Citing his desire to dictate the tempo and give his strikers room to attack, Buescher knows that the team is closing in on reaching its goal and, along the way, proving doubters wrong by becoming one of the top teams in the nation.
"The great part is that no one expects us to win every time we play because we're still 'only Syracuse'," Buescher said. "We don't have the name of the biggest schools, so we enjoy being the underdog a little bit. We come out and they don't expect us to be that good.
"What makes me happy? If we went to the Final Four, that would make me happy a lot," Buescher added. "That would be a big season if we went to the Final Four."