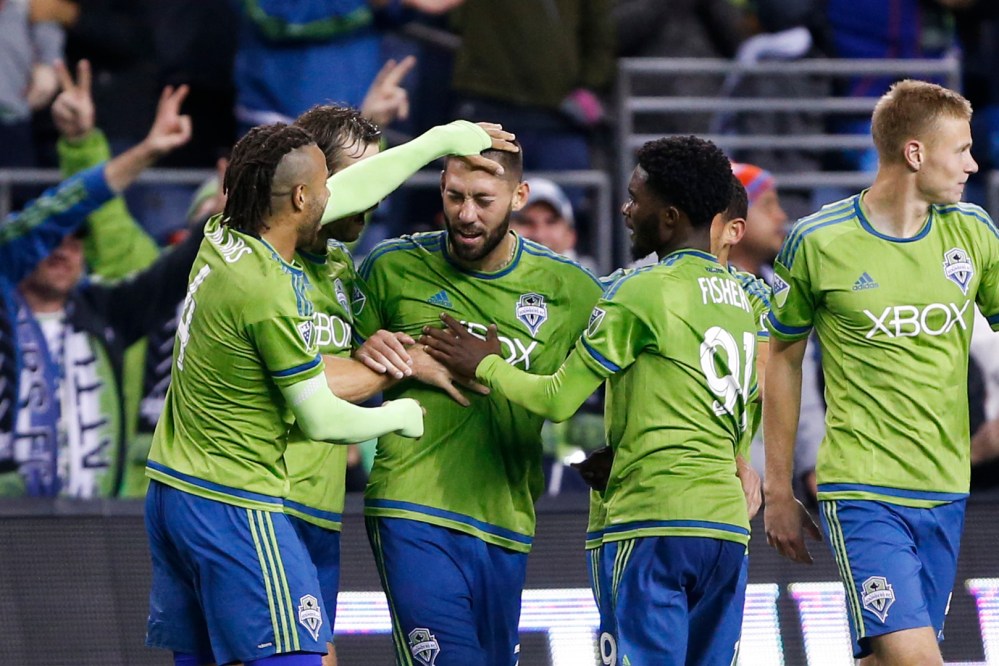 Three teams may have won during the first leg of the conference semifinals in the MLS Cup Playoffs, but only one side toppled Western Conference regular season winner FC Dallas.
Thanks to a spectacular free kick from U.S. international Clint Dempsey, the Sounders took a 2-1 advantage over FC Dallas in the conference semifinals of the MLS Playoffs. The important knockout win against the LA Galaxy and the first-leg victory at CenturyLink Field on Sunday earned the Sounders honors as SBI MLS Team of the Week.
On the heels of an impressive 3-2 win against reigning MLS Cup champions Galaxy in the first round of the playoffs on Wednesday, the Sounders took down first-seed FC Dallas just four days later.
FC Dallas topped the Western Conference to earn the first seed in the playoffs, and the Texas side played as well as its seed would suggest through the first 45 minutes, with Fabian Castillo netting an 18th-minute goal.
The Sounders showed resilience, though, and after Andreas Ivanschitz scored the equalizing goal in the 67th minute, it was clear that the home side were going to push for the victory in Seattle.
With time winding down, Dempsey gave the team and all 39,599 in attendance something to be happy about, scoring the game-winning goal — his second of the playoffs — in the 86th minute.
The Sounders just beat out the Montreal Impact, led by the superb play of Patrice Bernier, and the Portland Timbers for this week's honors.
What did you think of the Sounders' performance Sunday? How impressive was the club's victory? Which team stood out to you this weekend?
Share your thoughts below.