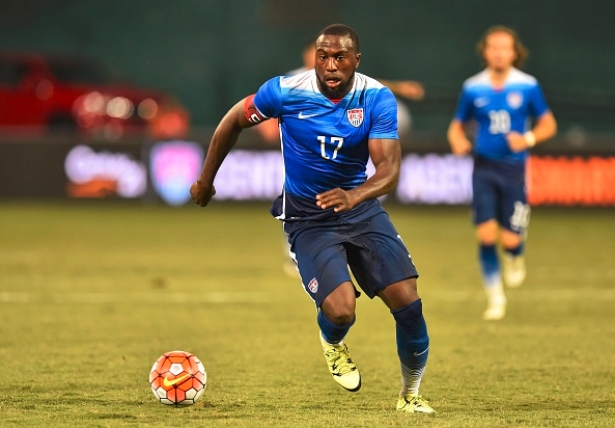 The U.S. Men's National Team was firing on all cylinders during their CONCACAF World Cup Qualifying debut, and a familiar forward was one of a many in top form.
Despite St. Vincent and the Grenadines sitting so deep in their own half, Jozy Altidore combined well with teammates and bagged a brace in the teams 6-1 win at Busch Stadium in Saint Louis. Altidore flashed a bit of footwork and plenty of strength throughout the 90 minutes against the Caribbean nation, and his performance earned him honors as SBI USMNT Man of the Match.
Altidore scored his 30th international goal for the U.S. in the 31st minute. Midfielder Jermain Jones flicked on a corner kick at the near post, and Altidore waited patiently at the back post to head in the team's third goal of the evening.
The 26-year-old scored his 31st USMNT goal in the 74th minute, and it was Jones again who claimed the assist. Altidore had to do a little more work on the ball in order to score this time, though.
After receiving the ball just inside the center of the penalty area, Altidore shielded a defender and deked his man a few times before blasting an effort on frame. A deflection helped the ball find the back of the net, but Altidore's skill and strength put him in a great position to score.
Altidore proved to be the USMNT's most consistent and lethal attacker, but Fabian Johnson, Michael Bradley and Bobby Wood all came close to being named SBI USMNT Man of the Match.
What did you think of Altidore's performance? Which player stood out to you in the USMNT's dominant victory over St. Vincent and the Grenadines?
Share your thoughts below.