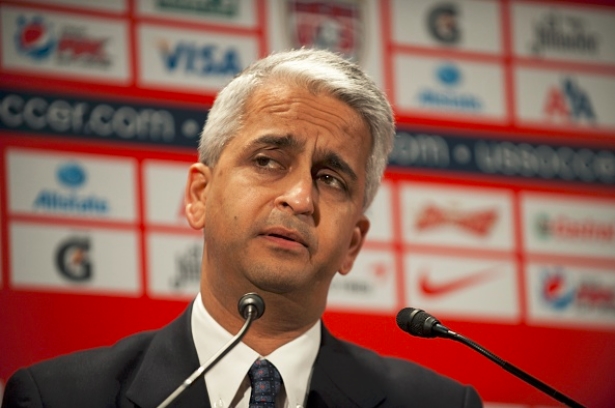 According to a new report, only 14 out of the 209 FIFA football associations provide the minimum amount of information to remain transparent.
U.S. Soccer, among many other member nations, is not one of those included.
Transparency International released its findings on Wednesday after searching for information about every association and federation online. Intriguingly, it says 81 percent of member nations have no financial records publicly available, and that only 14 nations "publish the minimum amount of information necessary to let people know what they do, how they spend their money and what values they believe in."
In order to meet the minimum standard set by Transparency International, the 209 nations had to have four publicly available standards, which included releasing audited financial accounts, an annual activity report, a code of conduct and organizational statutes.
The 14 nations that meet all four steps include Canada, Portugal, England, Italy, Japan, Sweden, Denmark, Hungary, Iceland, Latvia, New Zealand, Northern Ireland, Norway and the Republic of Ireland.
"The risk of corruption at too many football associations around the world is high. This problem is made worse by the lack of information such as audited financial statements by many associations," Transparency International managing director Cobus de Swardt said. "FIFA needs to enforce better governance on its members as well as on itself. The good that football can do is tarnished when corruption is allowed to flourish."
In total, 87 nations failed to meet even one step, including host of the 2022 World Cup, Qatar. Meanwhile, U.S. Soccer meets two of the four steps, only failing to publish annual activity reports and a code of conduct or ethics.
Here are some more news and notes:
PLATINI'S LEGAL TEAM CALLS APPEAL REJECTION 'OUTRAGEOUS'
Michel Platini wants to run for FIFA presidency, but he is apparently not getting a fair shot at the position according to his legal team.
Thomas Clay, one of Platini's legal team members, was shocked that FIFA's appeals committee denied their request to end the UEFA president's 90-day suspension on Wednesday.
"It's a kind of grand slam of violations of all the principles of a fair trial," Clay told L'Equipe. "I've never seen that, even in totalitarian countries. It's outrageous.
"Michel Platini wasn't able to explain himself because he was heard by an investigator who doesn't listen to anyone and judged by an appeals committee made up of people who all live in completely different time zones. In fact, there's a clear willingness to do everything to prevent Michel Platini from standing in the FIFA presidential election on Feb. 26."
Since Platini's appeal was denied by FIFA, his legal team has decided to take their case to the Court of Arbitration for Sport in Switzerland. They expect to hear a different decision made there.
"It's probable that the CAS will reverse FIFA's judgement," he said.
NASRI SIDELINED UNTIL FEBRUARY 2016
One of Manchester City's regular midfielders announced via social media that he will not be a part of the team for quite some time.
Posting a public message on Instagram, Samir Nasri told the world that he will be sidelined until next February after suffering a hamstring injury. He has not suited up for The Citizens since Oct. 17.
"What doesn't kill you make you stronger. I will be back better than ever see you in 3 months," he said on his social media account.
Nasri has only made eight appearances for Man City this season, scoring once.
QUICK KICKS:
Arsenal head coach Arsene Wenger says the club is in no rush to re-sign Alexis Sanchez and Mesut Ozil to long-term deals. (REPORT)
Chile head coach Jorge Sampaoli says his side has earned a top five FIFA ranking. (REPORT)
English Premier League chief Richard Scudamore says gay soccer players are welcome to come out and is "absolutely sure" that there are already some in the league. (REPORT)
Daniel Sturridge says he is "fit and ready" to play for Liverpool ahead of its matchup with Manchester City on Saturday. (REPORT)