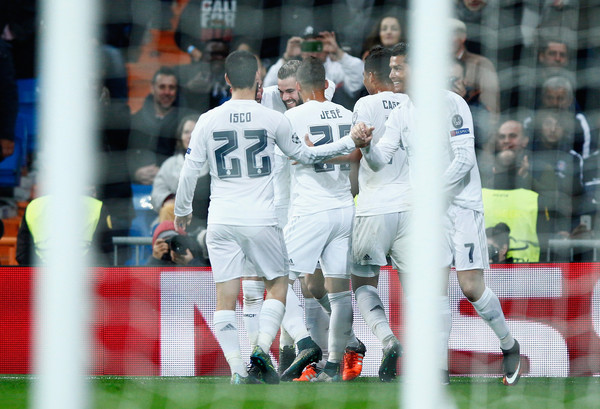 Real Madrid secured a place among the final 16 on Tuesday with a victory, but it had to survive a relentless attacking effort from Paris Saint-Germain to pull out the 1-0 win at home.
After coming on as a substitute for an injured Marcelo in just the 33rd minute, Nacho Fernandez put Real Madrid up two minutes later as he volleyed a cross from just inside the left edge of the box that happened to curve into goal. Los Blancos went on to withhold a number of equalizing opportunities by the visitors to remain the lone team in the UEFA Champions League this season to not concede a goal.
Joining Real Madrid and Zenit St. Petersburg in the knockout phase was Manchester City, which used three first-half goals — including two in the opening 11 minutes — to defeat Sevilla at Estadio Ramón Sánchez Pizjuán, 3-1.
Raheem Sterling fired the opening salvo for Manchester City with his first Champions League goal in the eighth minute before Fernandinho and Wilfried Bony tacked on a goal each in the 11th and 35th minutes, respectively.
Elsewhere, Fabian Johnson became the first U.S. international to score in a Champions League bout since Sacha Kljestan did for Anderlecht in 2013 when he slotted home a goal for Borussia Mönchengladbach in the 18th minute. Stephan Lichtsteiner — who was returning from a heart surgery — pulled Juventus level in the 43th minute in the eventual 1-1 draw.
Manchester United also saw Wayne Rooney tallied a much-needed goal to help the Red Devils knock off CSKA Moscow and take sole possession of the lead in Group B.
Here are the full results from Tuesday's UEFA Champions League action:
Astana 0, Atlético Madrid 0
Benfica 2, Galatasaray 1
Borussia Mönchengladbach 1, Juventus 1
Sevilla 1, Manchester City 3
Shakhtar Donetsk 4, Malmö FF 0
Real Madrid 1, Paris Saint-Germain 0
Manchester United 1, CSKA Moscow 0
PSV Eindhoven 2, VfL Wolfsburg