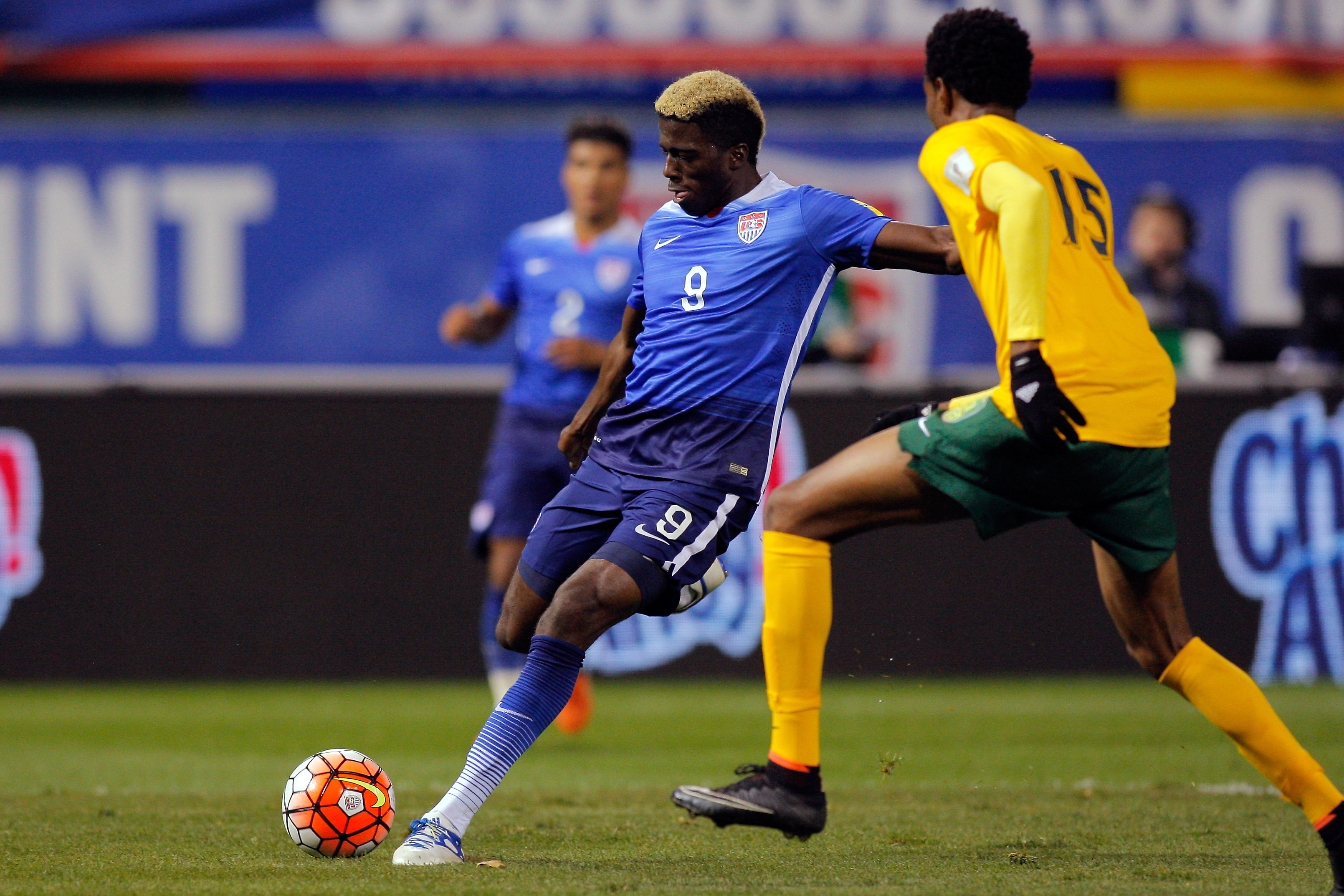 The road to Russia got off to a great start via a lopsided victory that most observers saw coming, and there were some things to take away from the match despite it being so one-sided.
The U.S. Men's National Team began its quest to reach the 2018 World Cup with a 6-1 rout of St Vincent and the Grenadines on Friday. Incredibly, the U.S. fell behind five minutes into the qualifying match at Busch Stadium in St Louis, Missouri, but overcame the early hiccup by dominating the rest of the way.
While the Americans as a whole showed well in the game, there were a few individual performances that really stood out. Fabian Johnson made a case to continue to be deployed on the left side of the midfield instead of at right back, and Jozy Altidore demonstrated how he could potentially be better utilized by head coach Jurgen Klinsmann going forward.
Klinsmann, who entered the World Cup qualifier under mounting pressure, also introduced a pair of promising players to the fold. Darlington Nagbe and Matt Miazga were each given their first caps as second-half substitutes, and Klinsmann is surely hoping that their integration pays off down the road when the games get tougher.
There is the belief that nothing can be learned from such a lopsided affair, but that is not true. Here are some of the things to take away from the U.S.'s win over St Vincent and the Grenadines:
JOHNSON HAS TO SHOW MORE OF SAME AGAINST TALENTED FOE
Fabian Johnson showed good things at left midfield. Some really good things.
That said, the level of the opponent was always going to prove rather easy for Johnson and the U.S. to show well against.
Johnson impressed by combining well with his teammates and looking aggressive on his dribbling runs, but St Vincent and the Grenadines were far from a formidable foe. The Vincy Heat midfielders and defenders put up little resistance against the American attack, and could not even give Johnson a hard time with their athleticism. It was an impressive performance for the veteran who has been used at right back with the U.S. for much of the past few years, but Johnson will have to show more of the same against more talented opponents to make this positional change stick.
The 27-year-old Johnson should be able to do it given that he is playing and thriving at left midfield these days for UEFA Champions League participant Borussia Moenchengladbach. Tricky road World Cup qualifiers await, however, and Johnson might have to rely more on his grit and two-way play than his technical skills to make an impact because of how ugly those games can be.
Should he be able to do that and sprinkle in some of the attacking qualities he showed on Friday, then this transition to left midfield can truly become permanent.
ALTIDORE IMPRESSED IN DIFFERENT ROLE
Forget his two goals and assist, and Jozy Altidore still had a heck of a game.
Altidore impressed in the rout in a different role than usual, as he was as much of a facilitator as he was a goal-scorer. Whereas Altidore was used more as a target striker who had to get into the box and on the end of things in recent games, he was paired next to a more mobile forward in Bobby Wood this time and tasked with dropping back to help the U.S. circulate the ball.
Not only was Altidore more involved in the attack, but he looked confident and engaged when dropping to collect the ball with his back to goal. He passed it quickly, and used his body better to pick up fouls, including the one that led to Johnson's game-winning free kick in the 19th minute.
The insertion of Wood played a big part in this, as it allowed Altidore to not have to rely strictly on service. Altidore usually stays higher up and has to play off the other forward when Clint Dempsey is next to him, but this match vs. St Vincent and the Grenadines showed the ingredients for how Altidore can be more successful in the U.S. attack.
KLINSMANN IS FEELING THE HEAT
Jurgen Klinsmann's face said it all.
Immediately after St Vincent and the Grenadines scored the shock opener five minutes in, the usually animated and energetic Klinsmann stayed rooted to the bench and stared blankly at the field. The U.S. head coach looked half in disbelief, and half worried. The Americans, who have been on a run of bad form in recent months, were losing to an inferior opponent. At home. In a World Cup qualifier.
U.S. Soccer president Sunil Gulati revealed to media prior to the game that he had a meeting with Klinsmann in late October, and one of the things discussed was Gulati's unhappiness with the recent string of poor results. Gulati even told media that Klinsmann was not guaranteed to keep his job through the entire World Cup qualifying campaign if these disappointing results continued.
"I don't know anyone that would say, 'No matter what happens, this is what we're going to do,'" said Gulati. "That'd be silly."
The U.S. eventually righted the ship and cruised to a win. Klinsmann was able to breathe easy. Still, it is the upcoming qualifiers against more talented foes that the U.S. will need to do well in for Klinsmann to feel better about his job security.
Klinsmann has said in the past that he welcomes pressure and critics, and now, perhaps more than ever, he has to deliver some good results. His boss is watching.
YEDLIN STILL NOT READY FOR A STARTING ROLE
DeAndre Yedlin has started four of the U.S.'s last five games, but he should not be getting penciled into the lineup with such regularity going forward.
Yedlin was at least partially to blame for the U.S. conceding early vs. St Vincent and the Grenadines, and the way in which he was beaten was alarming. Covering at centerback for Geoff Cameron, Yedlin found himself 1-on-1 with Oalex Anderson, who proceeded to simply run by Yedlin before smacking a shot on frame. There was no crafty dribble or incredible movement. Just a simple exploitation of space that was barely challenged.
The 22-year-old Yedlin bounced back after that, and did not have any other real blunders. He set up Bobby Wood's 11th-minute equalizer with a good run, and spent much of the remainder of the game in St Vincent and the Grenadines' half.
That early mistake showed, however, that he is still not ready to be a regular starter at the international level. His defending is improving, but he needs more repetitions at right back with Sunderland to really be ready for the tougher tests that await in World Cup qualifying.
For now, Yedlin should continue to be used as a wide midfielder in a substitute role. His speed and athleticism make him a terror for tired defenders, and he has found much success for the U.S. when he is asked to simply provide a spark and attack.
Yedlin will improve and could lock down a starting spot at some point in this cycle, but right now he simply still is not enough of a well-rounded player to consistently get the nod in games of real significance.