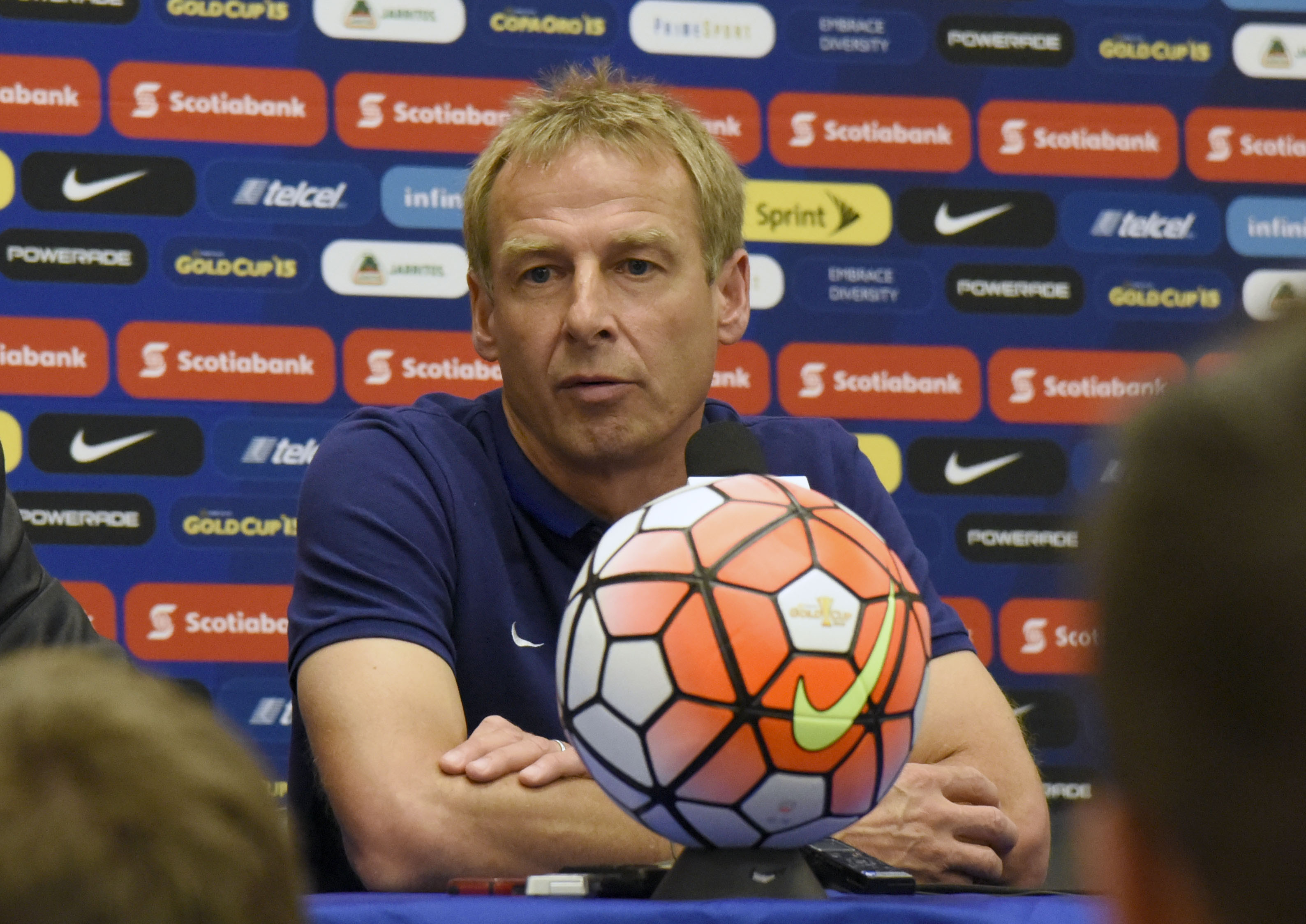 The U.S. Men's National Team is fully aware of the criticism and frustration that surround the team entering World Cup qualifying.
After an unacceptable exit from this summer's Gold Cup and a frustrating defeat in October's CONCACAF Cup, the U.S. will end 2015 all but empty-handed. Overall, it was a lackluster year for the USMNT, one that has the potential to be one of the worst in recent memory.
With disappointment and angst comes criticism, something Jurgen Klinsmann is fully aware of as the team looks to rebound in World Cup qualifying.
"I totally accept it. Criticism when there are some bad results is part of your life," Klinsmann said. "They are part of your job. You take those critics positively. You notice them. You discus them with your staff.
"Everytime we come in, we discuss what can we do better? How can we get the positive results that we have for three years? This is just a part of your normal process to go through, so I totally accept that."
Klinsmann is far from the only one to hear and read what has been said about the team.
As a veteran, Jermaine Jones understands the importance of what lies ahead, as well as the importance of leaving the past in the past in an effort of responding in a positive way.
"If you lose games, make mistakes, those mistakes you have to fix as a team," Jones said. "If we fix them, I'm 100 percent sure we'll come back and win. We try to not look back at what happened. We try to look forward. We have two big qualifying games coming and it's important to win those.
"I'm always saying that it's kind of a part of the business of what we do," Jones added. "If you win, people support you. If you lose, people maybe support you too but in a different way. You have to take it. The only thing we can do is get better and, the mistakes we made, put them away and come back with wins, and then you can say you shut the mouth of the people who talk."
Here are some more of Wednesday's USMNT news and notes:
IBARRA DISCUSSES IMPORTANCE OF USMNT CALL-UPS 
Although his performances at Minnesota United were noteworthy, Miguel Ibarra's big break came with a USMNT call-up that changed his career forever.
Called in for the first time in October 2014, Ibarra became the first second-division player to earn a USMNT call-up since 2005. The inclusion came on the heels of a Golden Ball-winning season in the NASL, where Ibarra established himself as a prospect to watch.
Since that first call-up, Ibarra's career took a major turn. A move to Liga MX's Club Leon came in June, signaling a major change for a player that was all but off the radar just one year prior.
"I think the development I was having at my last club, which was Minnesota (United), and then I got called up here to the national team," Ibarra said. "That helped me a lot, and now being with Club Leon, the performances I've had there, have also helped."
On the club level, Ibarra has played seven times for Leon and recently scored his first goal for the club.
Now, Ibarra is looking to continue his establishment as an international player. Having earned three caps prior to the upcoming qualifiers, Ibarra remains as an unproven commodity internationally as he looks to seal a more consistent place in the team.
"(Klinsmann) talked to me a lot, and he's seen my games," Ibarra said. "Being called here for this type of game is very important and it means a lot. He's always given me a lot of confidence, and that's always very good."
YEDLIN UNFAZED BY POSITION SWITCH BETWEEN CLUB AND COUNTRY
Throughout his club career, DeAndre Yedlin has emerged as a right back, utiliziing his speed to cover massive amounts of ground when getting back to defend. Klinsmann, meanwhile, has seen the Sunderland speedster as a more forward option, opting to play him higher up the field.
For many, the constant switching and lack of continuity could prove to be a negative, but Yedlin insists he is prepared to contribute no matter what his role may be.
"It's wherever the coach sees fit," Yedlin told reporters. "That's where I want to play. Obviously, I want to be on the field. If I'm not on the field, then obviously I want to get on the field and help the team anyway I can. It's wherever the coach sees me fit."
—
How do you see the USMNT responding to the criticism? What do you expect from Ibarra? What is Yedlin's best position?
Share your thoughts below.