There is more at stake, but that still is unlikely to stop Jurgen Klinsmann from trying out some new and inexperienced players.
The U.S. Men's National Team officially embarks on its journey to the 2018 World Cup in Russia on Friday when it hosts St Vincent & the Grenadines (6:30 pm, ESPN2) in the Americans' first qualifier of this cycle. St Vincent & the Grenadines are a relative unknown, but the U.S. is nonetheless expected to win handily over the small Caribbean island country when they face off at Busch Stadium in St. Louis, Missouri.
Pound for pound, the struggling Americans are still Goliath to St Vincent & the Grenadines' David, even with Klinsmann calling in a number of younger players who have never played in a World Cup qualifier before. The U.S. head coach has summoned talented prospects like Jordan Morris and Matt Miazga over seasoned veterans like Clint Dempsey and Omar Gonzalez for this game, and is likely to lean on the youngsters to give them a taste of what is to come over the next few years.
That might seem like a risky proposition given that this is now World Cup qualifying, but the U.S. lineup for Friday's match should still include a number of heady leaders. From Michael Bradley to Jozy Altidore to Jermaine Jones, the Americans will likely field a mixture of both old and new players as they try to get off to a winning start on the road to Russia.
What lineup will Klinsmann go with? Here is the group that could take the field: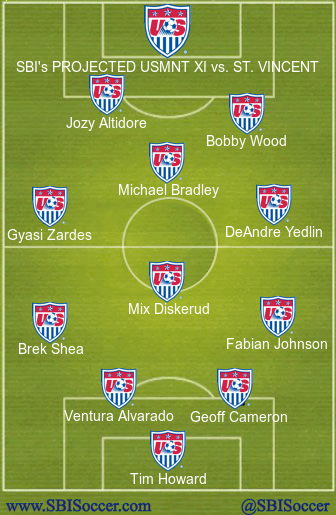 Some thoughts:
Let's start with the new blood. Jurgen Klinsmann is ready to begin transitioning away from some of the more proven elder statesmen in order to prepare promising youngsters who are more likely to be at the World Cup in two-and-a-half-years' time.
Given the personnel at hand, it seems probable that Klinsmann goes with a two-forward formation. Jozy Altidore figures to occupy one spot, but next to him should be the emerging Bobby Wood. Not only has Wood earned a chance to really prove himself with his strong, goal-scoring U.S. outings off the bench in recent months, but he has also been in good form at the club level with FC Union Berlin.
The midfield is where you might see several up-and-comers in Mix Diskerud, DeAndre Yedlin, and Gyasi Zardes. None of them are exactly new to the U.S., but they also do not boast a bevy of experience in World Cup qualifiers. This home game vs. an inferior opponent would give them an opportunity to get a feel for what is to come, and allow them to make an impression on Klinsmann and his staff.
With no real need for a hard-nosed defensive midfielder, Diskerud could take Jermaine Jones' regular spot in the lineup and return to the No. 6 role that Klinsmann has opted to put Diskerud in at times. Diskerud's task would be to get in St Vincent & the Grenadines' passing lanes and move the ball quickly and precisely when he wins it.
Yedlin and Zardes seem safe bets to occupy the right and left flanks, respectively, as the speedsters have continuously been put on accelerated courses in the international game by Klinsmann. Dynamic newcomer Darlington Nagbe should replace one of them in the second half, however, to get his feet wet at this level.
It is all but guaranteed that U.S. captain Michael Bradley returns to his playmaking role atop the diamond. Bradley will not only need to do the string-pulling here, but also lead the younger troops by giving them instructions and setting an example with his play.
The American back line is unlikely to be tested too much, so Klinsmann can afford to go with some younger pieces here. That is why it would not be a surprise to see Ventura Alvarado at centerback and Brek Shea next to him at left back despite them being suspect defenders. A more grizzled player in Fabian Johnson appears to be a shoo-in on the right while Geoff Cameron should provide veteran savvy in the middle after his solid outing vs. Mexico last month. Matt Miazga is a possibility to come off the bench, but the promising youngster might also have to wait a bit more before being awarded his first cap.
In goal, Klinsmann has said he will rotate between Brad Guzan and Tim Howard. Guzan and Howard figure to split the two World Cup qualifiers in this camp, and Klinsmann may opt to go with the latter here given that this is the easier of the two games and can learn more from playing Guzan vs. Trinidad & Tobago.
What do you think of our projected lineup? Who would you like to see start on Friday?
Share your thoughts below.