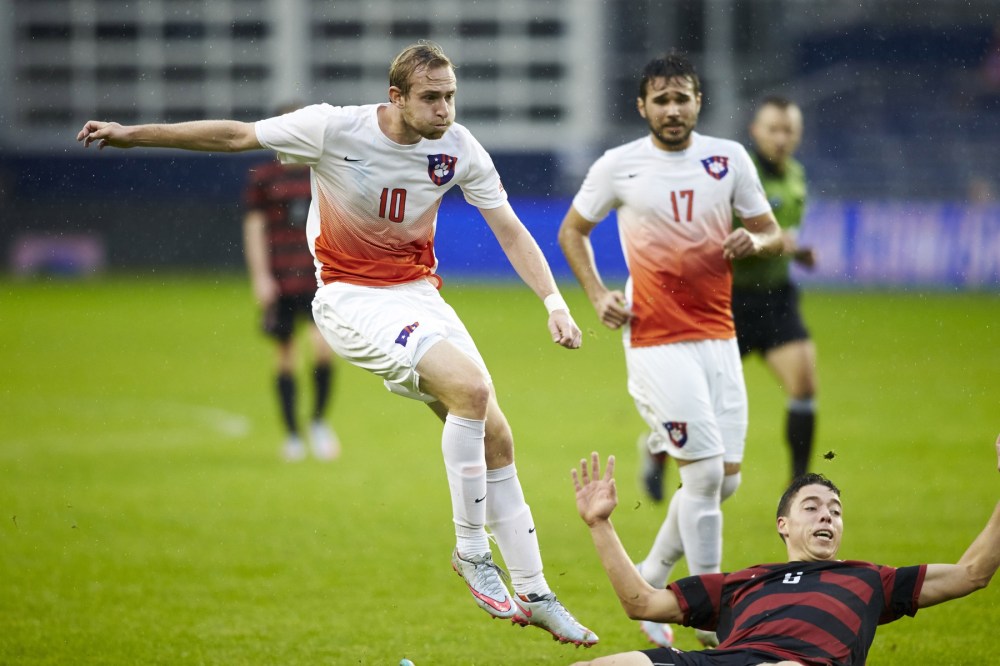 The final score may have been 4-0 on Sunday, but according to Clemson, the game was all but over as soon as Jordan Morris scored his second goal of the day.
The U.S. Under-23 Men's National Team forward scored his first goal in just the second minute of play, and after 90 minutes of lopsided action, the Tigers had to watch on as Stanford lifted the NCAA title at Sporting Park in Kansas City. Morris' second goal came in the second half, while Brandon Vincent and Eric Verso also found the back of the net in the final.
Stanford was the better team on Sunday, and Tigers head coach Mike Noonan admitted as much following the game. The coach pointed to Morris' second goal, which included a wonderful run, a smooth touch into the box and a calm finish, as the dagger that ended the Tigers' hopes of a third program title.
"The second goal in any soccer game is a big goal. As a matter of fact, in our locker room we have a magnet board with a look at the critical factors in the game, and one of the critical factors is scoring the second goal," Noonan said in a press conference after the loss. "Obviously it is the equalizing goal or you go down two nothing and you've got a mountain to climb. I did think that we have gotten into a little bit of a rhythm, and again, we just switched off, and that happens. I think our guys thought that there was a foul and they just stopped and Stanford didn't and that's why they are champions."
Noonan entered Sunday's contest knowing full well how much of an impact Morris can have on the outcome. With senior centerback Kyle Fisher in defense, Noonan's back line looked good on paper. However, Morris and Co. proved to be better than the Tigers' defense, and the coach says that's partly due to his star defender not being fully healthy.
"Kyle Fisher has come back remarkably that would take people six-to-nine months to come back from. You get Jordan Morris' speed up against a player who is playing pretty much on one leg, it gets difficult at times," Noonan said.
"(Fisher) is a courageous kid, and I am really proud that he was out on the field. Jordan Morris is speed and power, he finishes exceptionally well, you saw that today. When he got his opportunities, it was clinical. That is why he is so sought after by MLS clubs and in the MLS and why he plays for the national team."
While the defense was torn apart by Stanford's attack, especially with Corey Baird and Morris moving forward, the offense failed to produce a single goal during the College Cup in Kansas City. Clemson, a team that had scored 52 goals all year, failed to find the back of the net when the pressure was at its highest.
T.J. Casner, the Tigers' leading goal-scorer with 10 this campaign, played well working down the left wing, but he and the rest of the team only forced Stanford goalkeeper Andrew Epstein into one save during the course of 90 minutes on Sunday.
"We obviously would have liked to get the ball wide, that is one of the ways we attack and we didn't quite get that done today," senior midfielder Paul Clowes said. "I think that is a credit to them and the way their coach tried to stop that. I think they scouted us well. I think we were allowed to hit the target, we had 11 shots and only one save was made.
"I think if you test the goalkeeper only once in a game you can't expect to get on the scoreboard, so if any of those final finishing touches would have hit the target it would have helped us stay in the game longer and maybe influence the score."
Being clinical, making that all-important first touch to set oneself up in the box, was what Clemson missed on Sunday, according to Noonan. He thought his side played well and, at times, was better than the Cardinal. The difference between lifting the title and standing on the sideline watching the presentation is goals scored, however, and Clemson couldn't find those crucial goals.
"To be honest with you, I thought we had the lion's share of possession and we were playing relatively well, we were playing in-between their blocks," Noonan said, "but we couldn't penetrate in the penalty box, and that is where that final pass, that final thought let us down.
"At 2-0 I (still) thought there was a game to be had there, I thought we were going to score, we had a couple of free kicks in-and-around the box, one was pretty close, just off the left, but we didn't hit the target and that's critical if you are going to score goals."
In spite of falling just short of the program's third title, Clemson did reach the College Cup final for the first time in 28 years. It's an accomplishment Noonan wants his team to realize, appreciate and cherish, especially as a handful of seniors leave the program.
"I think we have a lot of classy guys in our locker room," Noonan said. "Even though they are very upset right now and disappointed, the sting will go away in a couple of days and they will come to realize that they did something very special."