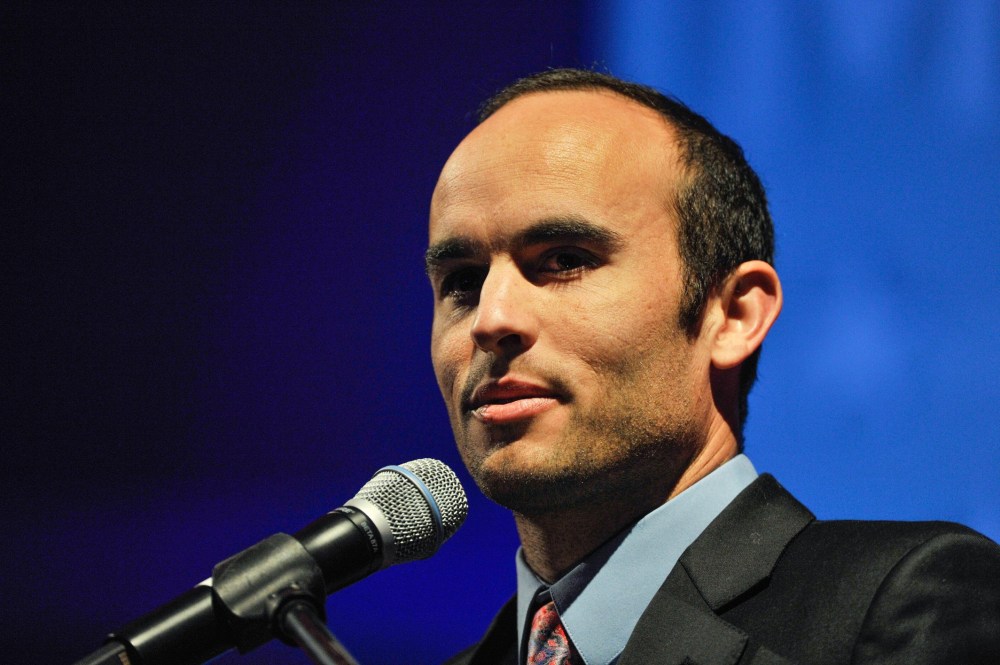 Following Abby Wambach's comments on dual nationals representing the U.S., former LA Galaxy star Landon Donovan provided his take on the topic as well.
The U.S. Men's National Team's all-time leading goal-scorer and assist leader spoke with SiriusXM FC about Wambach's comments and explained why he thinks some dual nationals may not care as much about representing the USMNT as players who have developed through the U.S. system.
"I'll share something I shared with Jurgen when I got left off the team," Donovan told SiriusXM FC. "I said, 'Jurgen, I understand you're allowed to make your choice and your decision, but there's at least a few players that are on your World Cup roster that are going that don't care in the same way I do. I grew up as a part of this whole system, and I feel like it is a part of me, and I think there's players in that locker room who, if you go three-and-out in the World Cup, they'll go back to their clubs teams and won't even blink twice. Whereas, if we go three and out, I'll be devastated.'"
Wambach recently said she would fire USMNT head coach Jurgen Klinsmann if she was in charge of U.S Soccer, stating that Klinsmann has relied on "foreign" players, rather than developing a strong domestic youth system.
"When you play for your national team, like I watched (Wambach) during the World Cup, towards the end of the tournament, she didn't play, but she was just as excited as everybody else," Donovan said. "She saw the big picture and cared about what was going on for women's soccer in America, and U.S. soccer in America.
"I think that's where these (comments) come in…There's so many talented players that have American connections, that it's hard not to pull some of these guys in to play for our national team. And you can understand why, but at the end of the day, do they really feel it in the same way as Michael Bradley or Clint Dempsey or Matt Besler?"
"I wouldn't feel as good about it if we had a team full of players that didn't really grow up or really identify as being American," he added. "It's nothing against them. I mean, Fabian Johnson is as good of a player maybe in the Bundesliga right now, and I love him and he's a nice kid. I love Jermaine (Jones)…and they're good teammates. I like having them on the team, but if we had a team full of players like that, it just wouldn't feel the same as if we developed a team that then went on and won a World Cup."
What do you think of Donovan's comments?
Share your thoughts below.