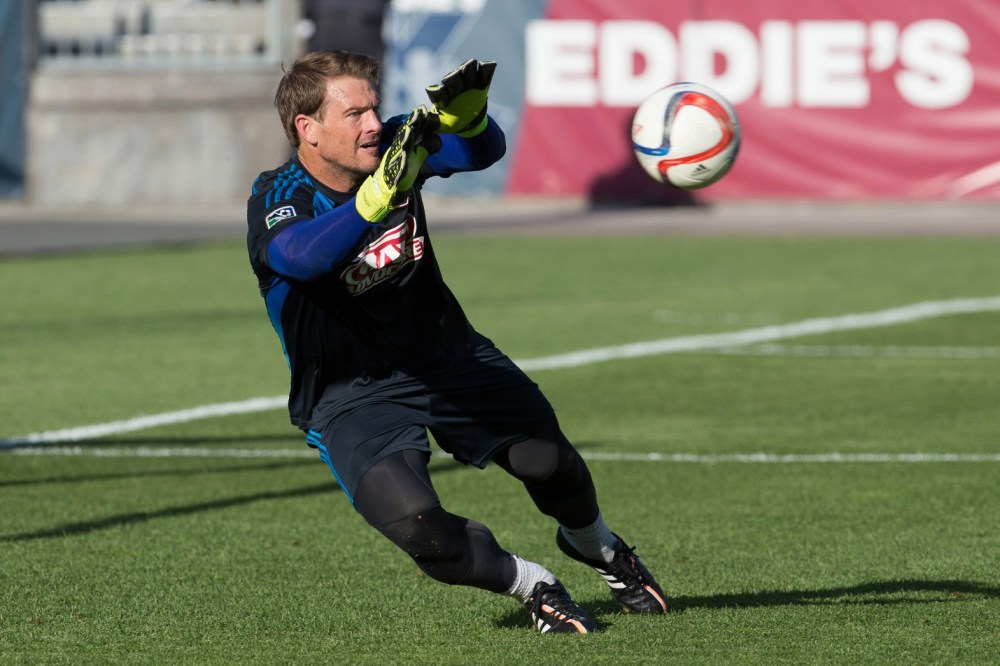 For the LA Galaxy, the addition of goalkeeper Dan Kennedy is a great way to cap off a year of inconsistency between the pipes.
Kennedy was traded to the five-time MLS Cup champions on Tuesday, marking his return to Los Angeles after spending only one year away from the city.
"What we need in that position is a leadership position, someone who's vocal and can talk and organize our back line," Galaxy goalkeeping coach Matt Reis told SBI. "Obviously, Dan fits all those things."
Communication is at the top of Reis' mind for a reason. The Galaxy were bounced from the 2015 playoffs in a 3-2 loss to the Seattle Sounders, their earliest playoff exit in franchise history. And while there's plenty of blame to pass around, it's impossible to ignore the first two goals LA allowed Seattle.
Both stemmed from poor communication between goalkeeper Donovan Ricketts and his teammates, while the second of the game left Steven Gerrard motioning angrily for Ricketts to be more aggressive.
According to Reis, LA's defense never quite recovered from a midseason shake-up.
"With (Jaime Penedo) leaving at a sudden point in the middle of the year, we were left scrambling and trying to fill that position," said Reis, who now admits that Ricketts "didn't quite fit."
"We had a lot of additions in that middle part of the year, with Steven Gerrard coming in and Giovani dos Santos," said Reis. "Adding a third player and having to work on integrating them all into the team, it ended up being a little too difficult."
For Kennedy, 2015 was a tale of two halves. He made 30 saves in 16 games for FC Dallas, good enough for a 61 percent save percentage. When a knee injury benched him in August, most expected it to be a temporary setback.
But Jesse Gonzalez changed that. The 20-year-old goalkeeper was a breakout success, carrying his side all the way to the Western Conference Finals. FC Dallas wound up paying a six-digit salary to Kennedy to ride the bench, an awkward situation that set the stage for the LA trade.
"At the end of the season we decided to make a move for another goalkeeper," said Reis, "and we've had our eye on Dan since he left Chivas."
Surprisingly, the Galaxy only gave up two picks in the 2017 MLS Draft in exchange for the veteran goalkeeper. In LA, Kennedy joins 27-year-old Brian Rowe, who regularly challenged Jaime Penedo for the starting spot. It's a dynamic that Coach Reis sees continuing.
"With any position you want to have competition, and I think it's very healthy to have, in my eyes, two guys that are very close to each other," said Reis. "We're looking for Brian to keep making strides, and hopefully that helps in pushing Dan to play at his highest level."
As for what Kennedy brings to LA, Reis' answer is surprising.
"Dan's got a ton of strengths," he said. "He's someone who's good with their feet, that we have confidence playing back to, to alleviate pressure."
That's an option the Galaxy haven't had for years. Jaime Penedo was especially uncomfortable with the ball at his feet, and during his stint in goal, the team relied on a talented center midfield duo to spring attacks going forward. However, LA traded away half that duo when they sent Marcelo Sarvas to Colorado, and despite adding Steven Gerrard, the Galaxy have struggled to generate chances.
Whether Kennedy can change that with his play from the back is an open question. For now, LA will likely be happy with just a little more stability.