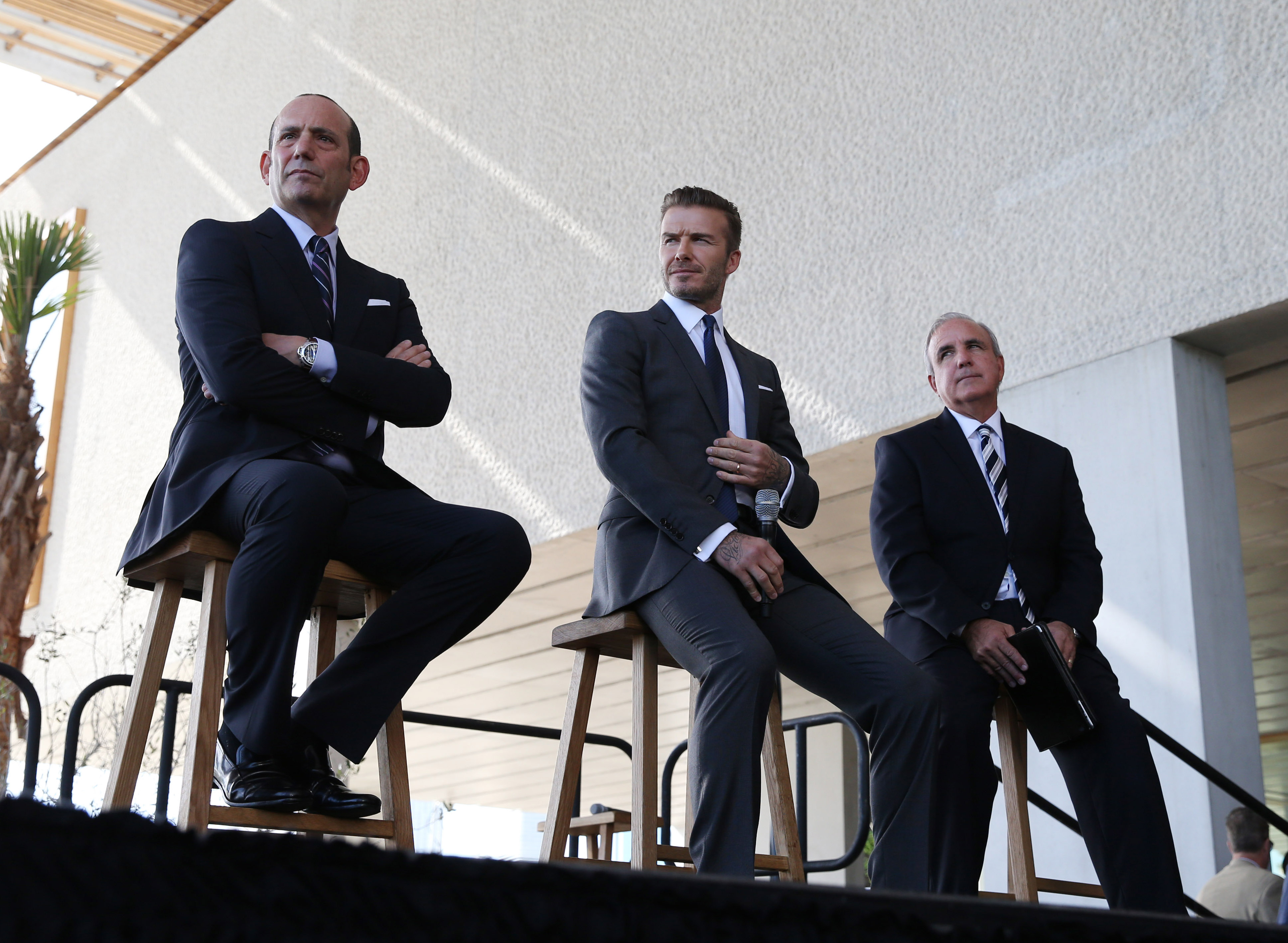 David Beckham has been searching for a location for a soccer-specific stadium in Miami for approximately three years, but MLS knows that finalizing that type of deal takes time.
As such, the league is not ready yet to pull the plug on the project.
Beckham's efforts to find land for his proposed MLS expansion franchise have been nothing short of frustrating. Frustrating for the global icon and his group of investors. Frustrating for the league. Frustrating for fans everywhere who want to see some sort of resolution.
There recently appeared to be a suitable location next to Marlins Park in Little Havana, just west of downtown Miami, but landowners unwilling to sell their property at the above-market rate they were offered have complicated matters for Beckham and his group. Now, the group's focus has shifted towards another plot of land, marking the fourth different location that Beckham and his investment team have seriously tried to explore.
This drawn-out process might seem like too much of a hassle for MLS, especially with a city like Sacramento waiting in the wings, but the league values the South Florida metropolis highly. So much so that it will continue to wait. For now.
"We have made commitments to David, and we have a true belief in that city as representing an important strategic market for us and that hasn't changed," said MLS commissioner Don Garber during a conference call on Thursday. "That being said, if they can't finalize their deal for a stadium, they're not going to have an MLS team. If we reach that point – which I think we will have to figure out soon and I don't have the date for that – then it's conceivable that Sacramento could be higher on our expansion priority list.
"That was a very long way of saying, it's hard for me to talk about Sacramento replacing Miami until we've finalized where we are in Miami. We will make the decision on Miami in due time."
Garber did not go into specifics on Thursday as to why Miami – a city criticized for having a fickle fanbase – is held with such high regard. The commissioner, however, has said in the past that it's an emerging market that is a gateway to Latin America. It would also provide a local rival for Orlando City, which is currently the only club located in Florida.
Another factor that goes in favor of Miami, though Garber has not stated it, is that it has the kind of cachet that can lure big-name players over. MLS has grown in recent seasons with the introduction of more stars from across the globe, like Kaka and Andrea Pirlo, and having a Miami club as an option would only increase the chances of having more of those types of recognizable players come over.
"Let's just say we have been focused on having a team in Miami almost since we left over 10 years ago," said Garber of the league's decision to do away with the Miami Fusion. "Over the last decade as we've monitored the developments in that city, and we're working off of a plan that had us expanding into strategic regions, Miami continued to represent a city of importance for us. We then had finalized our agreement with David Beckham on the city that he chose for his option.
"That decision was made almost three years ago, and it has been that long that we've been working with him and the city to see if we could finalize Miami as an expansion team."
Garber admitted that the process to find a stadium location in Miami has been frustrating so far, but he stopped short of calling it the most difficult one of his career. He gave that distinction to Red Bull Arena – the home of the New York Red Bulls that opened in 2010 after several years of due diligence by the club's owner and league – and also talked about the San Jose Earthquakes' difficulties in building a permanent stadium to call their own.
These struggles are all part of the process, though.
"This is the life we chose," said Garber. "It's very difficult overall to be the last (major) league in and to start developing major urban projects after there's been generations and generations of buildings for all the other leagues. It's just the world we live in."
What is next for Beckham's group is a weekend meeting with the MLS Board of Governors. There, Beckham and his investors will discuss the new alternative site that they are looking at for a soccer-specific stadium, which is reportedly near Overtown next to downtown Miami.
MLS will be all ears, but Beckham and his group need to start making significant progress. Time is beginning to run out.
"We've never given them or publicly talked about any specific deadline," said Garber. "Frankly, expansion decisions are decisions you live with for a lifetime. We want to get it right. We believe in the market, and if we can't get it right then we'll move on. David knows that, the city leaders know that, and the MLS owners are obviously well aware of that."