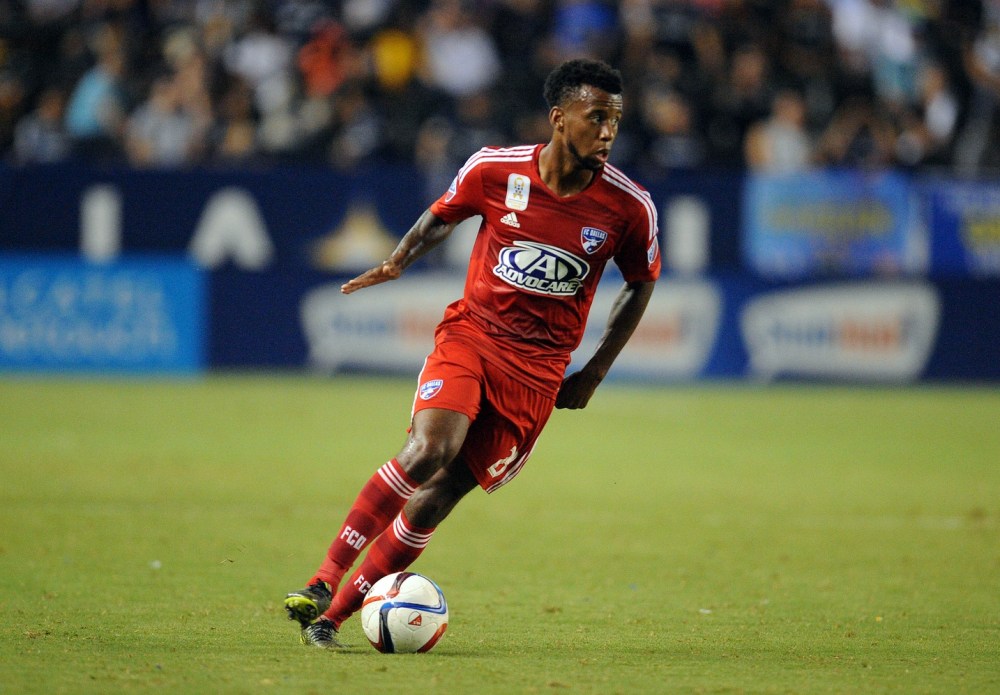 FC Dallas' attack may look a little different in 2016 with the departure of Blas Perez, but the club made some decisions on Thursday that will see its defense remain mostly intact.
The Texas club decided to pick up the options on Matt Hedges, Je-Vaughn Watson, Ryan Hollingshead, Zach Loyd, Rolando Escobar, Atiba Harris and Victor Ulloa. FC Dallas also announced that it had re-signed Homegrown defensive midfielder Kellyn Acosta, who enjoyed a breakthrough year scoring three times and providing two assists in 21 appearances (19 starts).
"The better you play, the more success [there is], it is more difficult to keep that team together," Fernando Clavijo, technical director of FC Dallas said of the changes. "As a matter of fact it's very hard because the salaries go up, by some percentage, and it's not just the salary [that is the issue], it's the salary cap. We needed to look for different ways to have a competitive team."
Meanwhile, the club declined the options for Walker Zimmerman, Michel, David Texeira, Otis Earle and Danny Garcia.
Here are some more news and notes from MLS:
KRISZTIAN NEMETH WINS GOAL OF THE YEAR
With an amazing solo run to beat the Portland Timbers on the road in the waning moments of Oct. 3's game, Kristian Nemeth was awarded MLS Goal of the Year honors on Thursday.
Fans voted for Nemeth's incredible run and game-winning goal against the Timbers at Providence Park as the best during the regular season. The goal beat out MLS MVP Sebastian Giovinco's own solo run and goal for Toronto FC.
Nemeth did not start in the October contest, coming off of the bench in the 73rd minute. He is the first Sporting KC player to win the Goal of the Year award.
Here is Nemeth's game-winning goal:
https://www.youtube.com/watch?v=liHmz9wUv7U
ADAM KWARASEY SAVE VOTED BEST OF THE YEAR IN MLS

Portland Timbers goalkeeper Adam Kwarasey will take the field on Sunday hoping claim a team award in the MLS Cup, but on Thursday, he was honored for an individual effort.
Kwarasey's diving stop on Luke Mulholland against Real Salt Lake on Aug. 15 was voted MLS Save of the Year on Thursday, beating out Vancouver Whitecaps netminder David Ousted for the award.
It is the first time a Timbers player has won the Save of the Year honors.
Here is Kwarasey's save:
LUIS SILVA SET TO LEAVE RSL FOR TIGRES UANL
If reports are to be believed, Real Salt Lake is set to see one of its players head to Tigres UANL months before competing against the Liga MX side in CONCACAF Champions League play.
Luis Silva is reported to be heading to Tigres as he is currently out of contract with the MLS side. Alvaro Saborio was traded to D.C. United mid-season in exchange for Silva, but it appears as though his stay will be a short one.
The 27-year-old attacker appeared 10 times for RSL in 2015, but failed to register a goal or an assist.
RSL travels to Estadio Universitario to play Tigres in the CCL quarterfinals first leg on Feb. 24 before playing the second leg at home on March 2.
—
What do you think of FC Dallas' roster decisions? Think Nemeth's goal was the best in MLS? Was Kwarasey's save the best? Think Silva will do well with Tigres should he go?
Share your thoughts below.