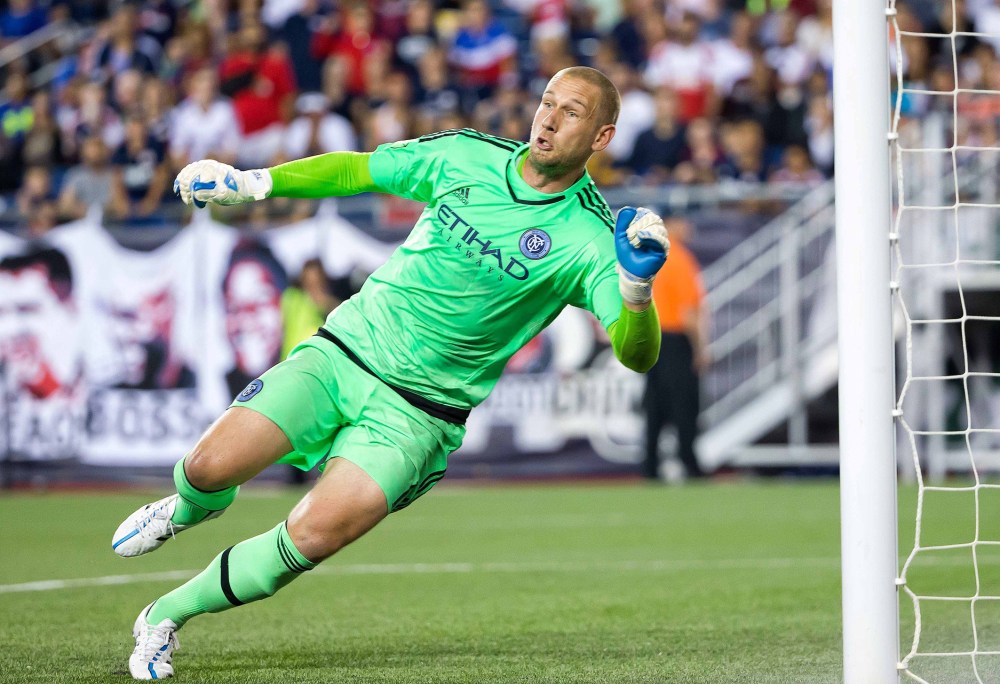 He wasn't even tabbed to be the team's starting goalkeeper in 2015, but New York City FC saw enough from Josh Saunders to know that they wanted the veteran back next season.
According to NYCFC's press release on Thursday, the club has signed Saunders to a multi-year contract extension. The details of the deal were not revealed, per club and league policy.
Saunders, a well-traveled Major League Soccer savant, started 33 matches for New York City last season, recording a league-high 124 saves. While the keeper also conceded an MLS-leading 57 goals, a large part of his misfortune was due in part to City's numerous issues in the back line.
The 34-year old revealed his connection with the club and his overall excitement about the news.
"I love playing for this club," said Saunders. "It's a great honor for me and I'm definitely looking forward to playing in front of our fans again next season. I think the bond with the supporters is great. It's not just an emotional connection.
"It helps the players and the fans alike because when you come into our stadium it's intimidating. Having them truly cheer for people that they care for is great. The team is excited to get back to training soon and begin the hard work and preparation for next season."
Here are some more news and notes from MLS:
ORLANDO CITY, TIMBERS SELECT IN STAGE 2 OF RE-ENTRY DRAFT
Just like Stage 1 of the league's Re-Entry Draft, Stage 2 saw only two teams make selections.
Orlando City SC acquired former New England Revolution defender Kevin Alston, while MLS champion Portland Timbers selected Houston Dynamo center back Jermaine Taylor. The Lions picked Alston seventh and the Timbers snagged Taylor with the final selection in the draft.
According to league rules, both clubs must make legitimate offers to the selected players by next Thursday. Each team will hold the right of first refusal if an agreement isn't reached with their selection.
The 27-year old Alston has spent his entire MLS career with the Revs. The 5-foot-8 defender was drafted by New England in the first round of the 2009 MLS SuperDraft, and has since made 148 appearances for the club.
Taylor, 30, played five seasons for the Dynamo before being selected by Portland on Thursday. Prior to joining MLS, Taylor played professionally in his native Jamaica for Harbour View and St. George's Sports Club.
Round 1 of this year's Re-Entry Draft saw FC Dallas and Sporting Kansas City Maximiliano Urruti and goalkeeper Alec Kann, respectively.
FIRE SIGN HOMEGROWN PLAYERS CALISTRI AND CONNER
The Chicago Fire signed two Homegrown talents on Thursday: forward Joey Calistri and midfielder Drew Conner.
"We're very excited to have Drew and Joey with us," Paunovic said. "I like their personality on the field and their overall character. They have a great desire to learn, improve and give their best. They share the same values and passion as our community and we can't wait to start working together. We welcome them to the Chicago Fire family."
Both players have been in the Fire system for some quite, playing for Chicago's PDL U-23 team from 2012 to 2015.
Calistri, 22, started four years at Big Ten school Northwestern, winning various awards for his excellence on the pitch. As both a freshman and sophomore, the 5-foot-10 striker earned All-Big Ten First Team accolades and scored 30 goals over the course of his college career.
"Coming up through the Fire youth system, the dream has always been to play for the first team," Calistri said. "It's an incredible honor to play for my hometown club. With the new technical staff in place, this is a fresh start not only for me but for the club, and I can't wait to get going with this new team and see what the future holds."
Conner, 21, played at rival Big Ten school Wisconsin, where he was also a four-year starter and captain during his senior season. During his time with the Badgers, the youngster had six goals and 12 assists.
LA GALAXY SIGN THIRD LOS DOS PLAYER TO CONTRACT
Dave Romney and Clement Diop were the first two players to do it, but the Los Angeles Galaxy have signed their third Galaxy II player to a contract.
The club announced on Thursday the signing of defender Daniel Steres, who served as captain for Los Dos this past season.
"Daniel has been an important part of LA Galaxy II's success during the past two seasons," Arena remarked. "He has continued developing while earning meaningful and consistent minutes in USL. We look forward to his contributions to our team."
Steres has already seen action with the senior Galaxy side, albeit very limited play. In 2015, the 25-year old appeared in two matches for Arena's team during the International Champions Cup, a non-MLS event.
Prior to joining the Los Angeles Galaxy ranks, Steres signed for USL side Wilmington Hammerheads in 2013, where he led the team in goals (7) and added three assists. He returned to his native California to sign with Galaxy II after only one season with the Hammerheads.
—
What do you think of NYCFC bringing back Saunders? Which team made the best selection in the Re-Entry Draft?
Share your thoughts below.