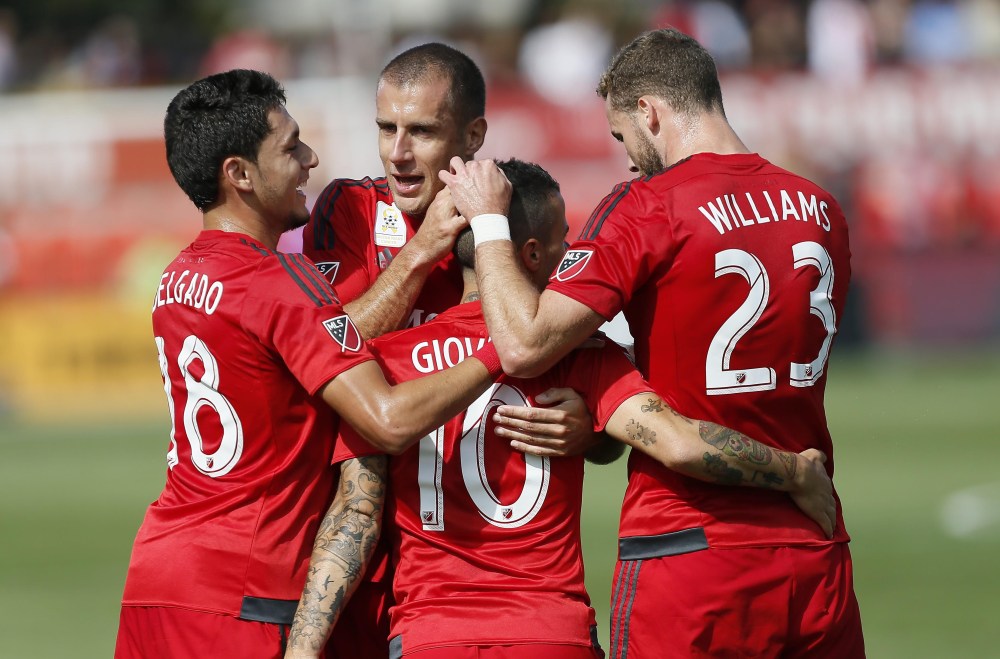 After qualifying for its first-ever MLS Playoffs, Toronto FC is doing some minor shuffling with its roster.
The team announced Tuesday that it has picked up its club options on 13 players — including Jonathan Osorio and Marky Delgado — and declined options on four others.
Joining Osorio and Delgado in returning to TFC next season are goalkeeper Quillan Roberts; defenders Mark Bloom, Nick Hagglund, Ashtone Morgan, Josh Williams, Eriq Zavaleta and Clement Simonin; midfielders Collen Warner, Daniel Lovitz, Chris Mannella and forward Jordan Hamilton.
"Stability at this time is of the utmost importance," said Toronto FC general manager Tim Bezbatchenko. "This represents the highest number of returning players as we look to build on the positives from this past season. We have a strong core group of players that have gained valuable experience over the course of the season. We will use the offseason to add to our group and continue towards our goal of becoming consistent contenders."
The four players who saw club options declined are goalkeepers Joe Bendik and Chris Konopka, and midfielders Manny Aparicio and Jackson. Robbie Findley is the lone player whose contract will expire at the end of the season. Bendik, Konopka, Jackson and Findley, though, are all eligible for the MLS Re-Entry Draft, and the club has until Dec. 10 to re-sign these players.
TFC had 11 players already under guaranteed contract for the next season in goalkeeper Alex Bono; defenders Justin Morrow, Damien Perquis, Ahmed Kantari; midfielders Michael Bradley, Benoit Cheyrou, Jay Chapman; forwards Sebastian Giovinco, Jozy Altidore, Luke Moore and Herculez Gomez.
Here are some more of Tuesday's news and notes from around MLS:
OUSTED AND KOFFIE AMONG PLAYERS RETURNING TO VANCOUVER
Vancouver Whitecaps had their best season in MLS this past year and they are looking to build off that success with a core group of players returning for 2016.
The club announced Tuesday that it has exercised its options on 10 players and declined them on six others.
Returning to the Whitecaps are goalkeepers Marco Carducci and David Ousted; defenders Sam Adekugbe, Jordan Smith, Tim Parker; midfielders Gershon Koffie, Nicolás Mezquida; forwards Erik Hurtado, Kekuta Manneh and Darren Mattocks.
Vancouver also confirmed that Smith's loan from Costa Rican side Deportive Saprissa has been extended through the end of 2016 with an option for a permanent transfer.
Players who had their options declined include goalkeeper Paolo Tornaghi; defenders Steven Beitashour, Pa-Modou Kah, Ethen Sampson; midfielder Andre Lewis and forward Caleb Clarke.
Tornaghi, Beitashou and Kah will be eligible for the MLS Re-Entry Draft, along with Mauro Rosales and Robert Earnshaw, whose contracts are expiring. Vancouver has until Dec. 9 to re-sign these players.
The Whitecaps are also exploring extended loan opportunities for Deybi Flores and Cristian Techera, while Diego Rodríguez has returned to his Uruguayan club Atlético Juventud de Las Piedras.
"We made a number of positive steps forward the last couple seasons and have a solid core in place," Whitecaps head coach Carl Robinson said. "However, we are constantly looking for ways to take this club to the next level and this offseason will be no exception. I'm confident that we will continue to build, improve, and bring even more success to Vancouver in 2016."
BLAS PEREZ LINKED TO DEPORTIVO SAPRISSA MOVE
PPL PARK RENAMED TO TALEN ENERGY STADIUM
For the first time since its inception in 2010, Philadelphia Union's home stadium is getting a new name.
The club announced Tuesday that Talen Energy, an independent power producer, has officially assumed the naming rights to the stadium in Chester, Pa., formerly known as PPL Park.
Talen Energy was formed on June 1 by "spinning off PPL Corporation's competitive energy business and combining it with generation assets owned by Riverstone Holdings," according to the club's press release. It will now become the official energy supplier of the Union.
"We look forward to continuing a strategic and great partnership with Talen Energy and are truly excited for the stadium to have a new look come 2016," Union chief revenue officer and executive vice president Dave Rowan said. "While the name will be changing, we remain solely devoted to bringing our loyal fans the best possible game-day experience and we welcome this change as a recommitment to our values.
The Union possess a 39-27-32 record all-time at home and won seven matches in Chester in 2015, matching an franchise-high. The club will open its seventh season in its soccer-specific stadium next year.
CHINESE INVESTORS PARTNER WITH NYCFC'S OWNER, CITY FOOTBALL GROUP
A high-profile Chinese institutional investor has purchased a minority shareholding in New York City FC's owner, City Football Group.
The club announced on Tuesday that a consortium of Chinese investors, led by China Media Capital Holdings, the leading media, entertainment, sports and Internet-dedicated investment and operating company in China, have invested $400 million to take approximately 13 percent of the shareholding in CFG, valuing the group at $3 billion.
The deal, according to the club's press release, will create "an unprecedented platform for the growth of CFG clubs and companies in China and internationally."
At the board level, Ruigang Li, the chairman of CMC will represent the consortium and become the seventh member of the CFG Holding Company Board.
"Football is now at a fascinating and critical stage of development in China," Li said. "We see unprecedented growth opportunities in both its development as an industry, being China's most-watched sport, and its inspirational role bringing people of all ages together with a shared passion."
"Football is the most loved, played and watched sport in the world and in China, the exponential growth pathway for the game is both unique and hugely exciting," said Khaldoon Al Mubarak, chairman of CFG. "We have therefore worked hard to find the right partners and to create the right deal structure to leverage the incredible potential that exists in China, both for CFG and for football at large."
Apart from NYCFC, CFG is also the owner of football-related clubs and businesses including Manchester City FC, Melbourne City FC and a minority shareholder in Yokohama F. Marinos.