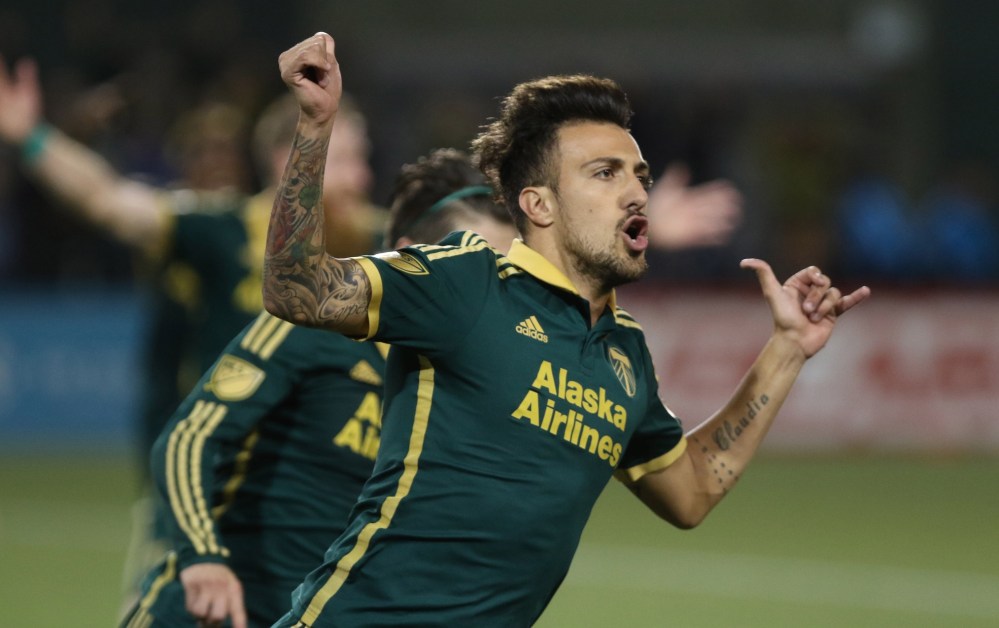 Before the MLS Cup champions could start their celebrations in Portland on Tuesday, the Timbers had to make some roster decisions on Monday.
The Timbers decided to decline options on defender Norberto Paparatto and forward Maximiliano Urruti, as well as goalkeeper Andrew Weber, defenders Jeanderson and Andy Thoma and midfielders Nick Besler and Michael Nanchoff.
Meanwhile, the champions re-signed longtime midfielder Jack Jewsbury and exercised the options on defenders Anthony Manning, Taylor Peay, midfielder George Fochive and forward Michael Seaton.
The Timbers are still in discussions with players, per a release, including midfielders Ben Zemanski and Rodney Wallace, who are both out of contract but have been offered a new one.
Here are some more news and notes from MLS:
IMPACT RE-SIGN ODURO, OFFER MAPP, DUKA NEW DEALS

The Montreal Impact are still in discussions with many of their players from the 2015 regular season, but a core of their roster is already returning for another year.
On Monday, the Impact announced that they had re-signed midfielder Jérémy Gagnon-Laparé and forward Dominic Oduro. The Canadian side is also trying to bring back, according to a release, forward Cameron Porter, who missed months of action after suffering an injury earlier this year. Midfielders Justin Mapp and Dilly Duka have received new offers, and the Impact hope to have defender Victor Cabrera, who was on loan from Argentine club River Plate.
"We are very pleased to confirm that our club will be able to count on the core and depth that brought us a lot of success in 2015," Impact technical director Adam Braz said. "We are nonetheless continuously looking to improve our roster."
Meanwhile, the Impact declined options on forward Kenny Cooper and defender Hassoun Camara. They currently have 23 players under contract for 2016, including goalkeepers Evan Bush, Eric Kronberg and Maxime Crépeau, defenders Donny Toia, Wandrille Lefèvre and Eric Miller, midfielders Kyle Bekker, Eric Alexander and Maxim Tissot, as well as forward Anthony Jackson-Hamel.
DYANMO TRADE UNION FOR MAIDANA, WENGER
The Houston Dynamo did not enjoy missing out on the MLS Playoffs in 2015, so they made a trade on Monday to bolster their squad for next season.
In exchange for general allocation money, targeted allocation money and a first round pick (No. 6) in the 2016 MLS SuperDraft, the Dynamo announced that they had added midfielder Cristian Maidana and attacker Andrew Wenger from the Philadelphia Union.

"At the conclusion of last season we had two specific goals we wanted to address this offseason," Dynamo VP and general manager Matt Jordan said in a release. "First, we felt it was important to add more creativity and quality in the final third of the field. Second, we wanted more dynamic pace and power in the wide areas. The acquisition of these two players strengthens our group and helps us meet these objectives in preparation for next season.
Maidana, 28 years old, provided 15 assists during the season, four more than he recorded in 2014. Wenger, meanwhile, appeared in 26 games for the Union but only registered one goal and two assists.

REPORT: MAN UNITED INTERESTED IN RED BULLS ACADEMY DEFENDER
Manchester United reportedly has its eyes on a U.S. youth international.
According to the Daily Mail, U.S. Under-17 Men's National Team defender Matthew Olosunde has trained with Man Untied "on and off since the summer," and the team is thinking about offering him a contract.

Olosunde is a New York Red Bulls academy defender from Trenton, N.J., and appeared once during the U-17 World Cup in October.

REPORT: JOHN WAS NEVER OFFICIALLY UNDER CONTRACT WITH NYCFC
George John may have been listed on New York City FC media guides for the entire season, but it appears as though he was never under contract with the 2015 expansion side.
According to Empire of Soccer, John was selected by NYCFC in the expansion draft ahead of the club's first season in MLS, but it never formally offered him contract. Instead, NYCFC offered him "living arrangements and full access to their medical team and staff" for the entire season.
John, 27, underwent surgery on his right knee in 2014 and has been recovering ever since. He is now out of contract with MLS, leaving his future with the club and league in question. He is reportedly considering early retirement as an option.
—
Where do you see Norberto Paparatto and Maximiliano Urruti ending up? Think the Impact will do well in 2016 with many of their players returning?
Share your thoughts below.