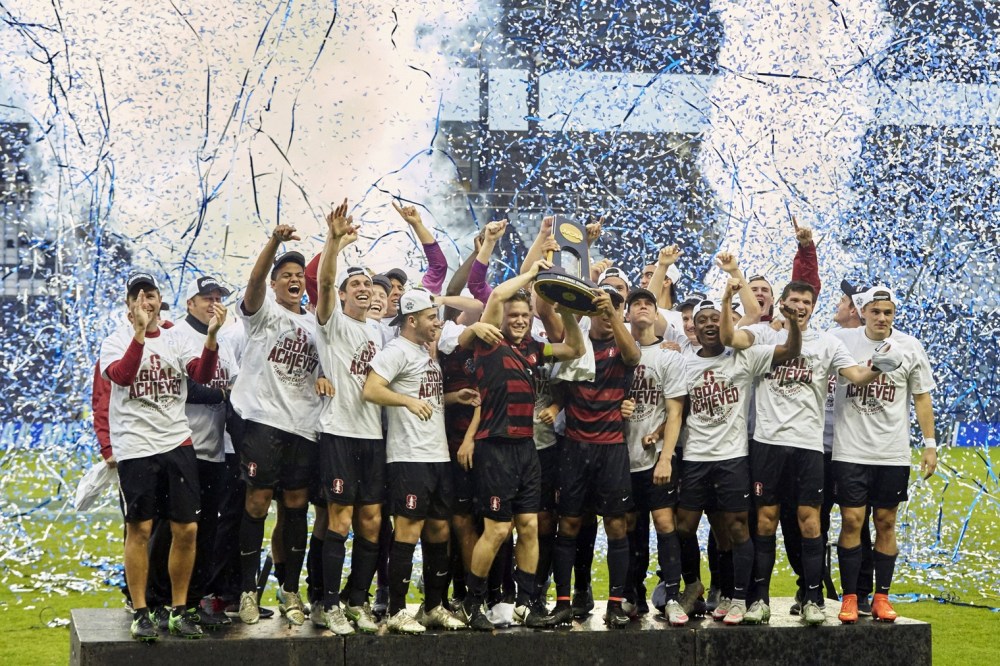 It didn't take long for U.S. Men's National Team forward Jordan Morris to make an impact in the College Cup final on Sunday and, as a result, the Stanford Cardinal are national champions for the first time in program history.
A little more than a minute into the NCAA final against No. 2 Clemson, the Stanford striker scored his fourth goal of the tournament to give the No. 8 Cardinal the early lead. It was a lead they would hold until the very end, but also add to, eventually winning, 4-0, at Sporting Park in Kansas City.
Corey Baird found Eric Verso, who fed Morris a through ball from the top of the box in just the second minute of play, and the MAC Hermann finalist drilled a shot past Clemson goalkeeper Andrew Tarbell.
The Cardinal almost found another quick goal coming out of the gates in the second half, too. Midfielder Ty Thompson sent a shot towards goal from well outside the box, and it fizzed just past an outstretched Tarbell. Luckily for he and Clemson, the post sent the ball back into play, keeping the Tigers' title hopes alive.
Those hopes all but dashed when Morris scored his second of the game just inside the 51st minute. The goal, his 13th in 18 college games, was started by Baird once again. The Real Salt Lake academy midfielder picked Morris out making a run behind Clemson's back line, and the U.S. international used a bit of beautiful control to set up a left-footed shot.
Morris wasn't done impacting the game there, though. In the 69th minute, he attempted to flick the ball by Diego Campos on the left side of the penalty area, but was taken down. Brandon Vincent, who had scored four of five penalties all year for Stanford, scored the third from the spot.
Finally, Verso scored the game's fourth and final goal, unleashing a powerful finesse shot after a solo run down the middle of the field.
Aside from the four goals, Tarbell did well coming off his line in the first half, thwarting the occasional counter-attack coming from the Cardinal. Meanwhile, in the 27th minute, Iman Mafi came the closest of any Tiger to scoring in the first 45 minutes of play, hitting a rocket towards Andrew Epstein, but the ball just missed the Cardinal goalkeeper's right post.
The Tigers dominated possession in the first half, but could not find that final breakthrough during the duration of Sunday's final. Stanford's back line, especially centerbacks Tomas Hilliard-Arce and Brian Nana-Sinkam, played well and forced Clemson into shooting mostly long-range efforts.