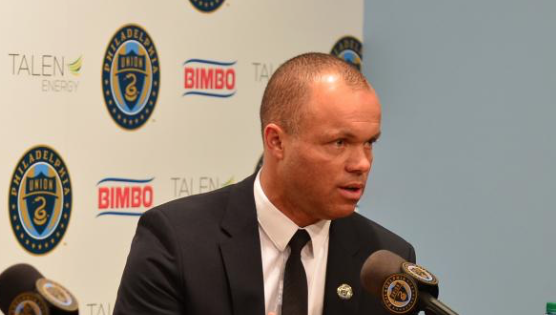 CHESTER, PA — The Philadelphia Union opened a new chapter in the franchise history back in October, when Earnie Stewart was announced as sporting director.
On Thursday, Stewart spoke for the first time since joining the Union from Dutch side AZ Alkmaar, where he spent the last five and a half years as director of football affairs.
Stewart expressed he had the ambition to return to Major League Soccer, where he played for D.C. United in 2003 and 2004.
"There were questions asked about what my next step would be after AZ Alkmaar," the former U.S. Men's National Team midfielder said. "Things went pretty well over there. I have one ambition and that is to go back to the United States and actually mean something for US Soccer in general and to build something that's lasting.
"That ambition was definitely there for this," Stewart said of his role with the Union. "And you have to think about the right time to do things. You never know how many times a train comes by and this was a rolling train that I wanted to jump on really quick."
Stewart has already started working with head coach Jim Curtin and technical director Chris Albright on the roster for the 2016 season. The Union sent top assist man Cristian Maidana and Andrew Wenger to Houston on Monday for the No. 6 overall pick in the 2016 MLS SuperDraft.
The Maidana move brought up concerns that the midfielder wouldn't fit in Stewart's system. But Stewart made it clear on Thursday, the system the Union will play in 2016 will not be his own specific one.
"It's not my style, it's not the way I look at it," Stewart said. "I want to make sure we have a playing style that fits for the fans of Philadelphia and we can identify ourselves with. Once you have that and win games, I'm pretty sure we can make sure the stadium is filled all the time. But most importantly, that people can identify with our style of play."
Once that style is implemented in the first team, it will trickle down to the youth squads in the Union academy so that more homegrown players can come through the ranks. Zach Pfeffer was the only homegrown who saw a decent amount of  playing time during the 2015 campaign.
"It's very important we're unified in everything that we do," Stewart said. "We have to have the same style. We have to have the same thoughts. Those are discussions that we've had and we're going to keep having when it comes to the way we want to play."
"It's about building those players that can actually get results for you on the field," Stewart said when talking about the academy. "That's been pretty successful up to now in my career at NAC Breda and AZ Alkmaar. This season we had five or six players who played with the first team. That's what I'd like to do over here too."
In addition to bringing in fresh faces from the academy system, the Union want to focus on staying healthier as a group after injuries took their toll on the team in 2015. 
"I'm always looking for competitive advantages," owner  and chairman Jay Sugarman said. "Where can we be better? We had a bunch of players who didn't play last year. We didn't have the depth to overcome losing Mo (Edu), Vincent (Nogueira) and Fernando (Aristeguieta)."
"We need to be one of the top teams in keeping our team on the field," Sugarman continued. "We think we've got some incredible resources that really haven't been integrated into the process. We're going to have the ability to develop them to their full potential. We have not had that in place."
Sugarman stated that reaching the playoffs is a "minimum goal" for next year and with Stewart in place, it looks like the Union are on the track to becoming a successful franchise year in and year out.
"For me, for fans hopefully and certainly for the staff, it feels like a new chapter," Sugarman said. "A lot of things we've been waiting for, you can just feel that new energy and new commitment to OK, this can be a great club, but it's going to take a lot of work."