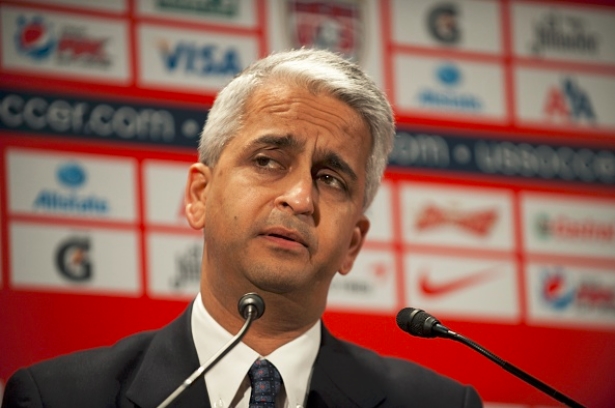 U.S. Soccer is pointing the finger at itself for the snafu that forced the cancelation of a U.S. Women's National Team game over the weekend.
The World Cup-winning U.S. had a friendly against Trinidad & Tobago scrapped on Saturday, less than 24 hours before it was set to be played, because of poor field conditions. The match was set to be played at Aloha Stadium in Honolulu, Hawaii, but the artificial turf field, which was not inspected prior to the scheduling of the Victory Tour affair, proved to be in too poor a condition to play on.
"We had a series of mistakes involving this game," U.S. Soccer president Sunil Gulati told the New York Times. "We screwed up. It won't happen again."
Gulati, who also labeled the incident as a "black eye" for his federation, acknowledged that the field should have been inspected. That did not happen until the weekend, when head coach Jill Ellis and her players saw gaps in the seams of the field as well as filler pebbles that were described as "sharp rocks" by the Americans.
"I can't recall anything like this ever happening before," said Gulati.
Along with being displeased with the condition of the field at Aloha Stadium, the Americans were also not thrilled with the condition of the grass surface that they trained on in the days leading up to the match. Megan Rapinoe tore her right ACL on that field on Friday, and the U.S. believes that practice field could have played at least a part in her suffering the non-contact injury.
What do you think of Gulati's admission? Still wondering how this could happen? How big of a black eye is this for U.S. Soccer?
Share your thoughts below.