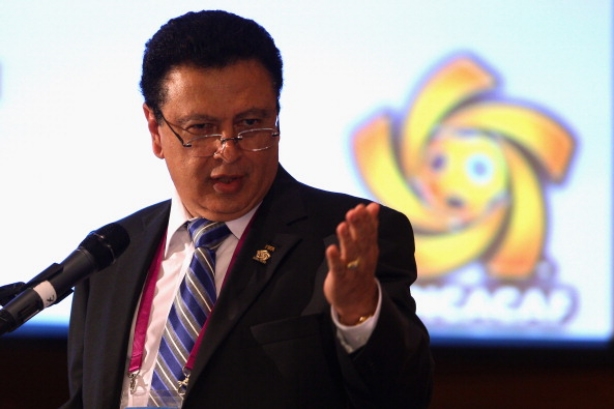 More arrests have been made in connection with corruption within FIFA, and this time, the two high-ranking officials are from the Americas.
Alfredo Hawit, interim president of CONCACAF and vice-president of FIFA, as well as CONMEBOL president and FIFA official Juan Angel Napout, were arrested in Zurich on Thursday. They are both opposing extradition to the U.S., so the Swiss Federal Office of Justice must wait for the U.S. to formally submit extradition requests within the mandated 40-day deadline.
According to The New York Times, police have been targeting senior soccer officials on charges including racketeering, money laundering and fraud.
Hawit has been standing in as CONCACAF president ever since former president Jeffery Webb was arrested then extradited to the U.S. in July for bribery charges.
Here are some more news and notes:
REAL MADRID FACE POSSIBLE ELIMINATION FROM COPA DEL REY
Real Madrid may soon be kicked out of the Copa del Rey, but not because of a loss on the field.
Rafa Benitez's men were able to secure a 3-1 win against Cadiz during the first leg of the round of 32 in the Copa del Rey on Wednesday, but the team's first goal-scorer, Denis Cheryshev, was apparently ineligible to play. The Russian forward should have been serving a one-match suspension due to yellow card accumulation stemmed from last season when he was on loan at Villarreal, and now Cadiz has confirmed that it has taken the matter to the Royal Spanish Football Federation (RFEF).
Cadiz president Manuel Vizcaino confirmed the decision in a statement on Thursday, and following RFEF's investigation into the matter, Real Madrid could be expunged from the tournament.
"This morning we have received communication from the RFEF that the letter has been received and they have given a deadline to Real Madrid to present the arguments they deem appropriate," a statement from Cadiz said.
"The club reiterates its utmost respect for Real Madrid and will not make any further statements until there is an announcement from the Competition Committee, who will dictate the magnitude of what happened."
KARIM BENZEMA PLEADS INNOCENCE
Real Madrid and French national team forward Karim Benzema is tired of being seen as a criminal.
The 27-year-old striker is currently facing charges of conspiracy to blackmail and participating in a criminal group — a group that attempted to blackmail French teammate Mathieu Valbuena with an alleged sex tape. Benzema went on air on Wednesday, though, to explain why he is innocent.
"I am being accused in every way, as if I was a criminal. It is horrible," Benzema said on French TV channel TF1. "What happened? It is simple. I have heard there is a video about him and I have told him. I told him I could help him because I have a friend in Lyon who can manage these problems. I told him that if he had told his family already, he could let this go. I told him I have experienced these sort of things in the past. We never spoke about money. I earn a good living and when I help someone, I don't expect anything back.
"Valbuena thanked me the day I told him. What I do regret though, is this conversation with (my friend Karim) Zenati. I regret it because we laughed. I think it was understandable. It was spontaneous. I would have liked to be able to get in contact with Valbuena to apologize. I don't know the people that blackmailed him."
"The only one I know is Karim Zenati," he added. "He had his past and went to prison, but he started a new life since. I don't even understand why I have been in custody and why they dirtied my name when I was the one who wanted to be heard. I don't understand."
QUICK KICKS:
Manchester United is interested in adding Fulham's Moussa Dembele, 19, during the January transfer window. (REPORT)
FIFA's executive committee deferred a decision to expand the World Cup to 40 participating teams starting at the 2026 tournament. (REPORT)
West Ham United manager Slaven Bilic says Diafra Sakho has suffered a left thigh injury and will be out for four to eight weeks. (REPORT)
Arsenal midfielder Santi Cazorla is set to miss at least three months with an injured knee. (REPORT)