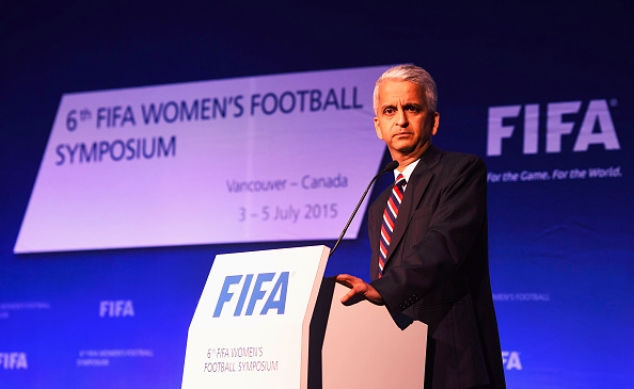 Following the arrests of CONCACAF's and CONMEBOL's presidents on Thursday, U.S. Soccer shared a statement to ensure that the presidents' arrests in no way represent the federation's involvement in hosting Copa America Centenario.
Alfredo Hawit, interim president of CONCACAF, and CONMEBOL president Juan Angel Napout were arrested in Zurich on Thursday. Next summer's Copa America will be hosted on U.S. soil, in spite of complications, and Napout confirmed the decision in September.
On Wednesday, CONCACAF and CONMEBOL awarded commercial rights for next year's Copa America Centenario to IMG and Soccer United Marketing (SUM). The latter of the pair is the marketing arm of MLS and represents U.S. Soccer commercial rights.
"Today's events involving individual members of CONCACAF and CONMEBOL in no way pierce the integrity of the rigorous safeguards the United States Soccer Federation required before agreeing to host Copa America Centenario that ensure the tournament is organized and conducted in a way that is open, transparent and above reproach," a statement from U.S. Soccer said.
"The new Executive Committee that was created to govern the tournament does not include these individuals and they were never in a position to make decisions that would adversely impact those high standards. As the LOC for the tournament, the United States Soccer Federation remains fully focused on the organization and operation of Copa America Centenario, and conducting the tournament in the most professional and highly principled manner possible."
In a statement on Wednesday, Napout said that he and Hawit were "pleased" and "excited" to have participated in a Request for Proposal (RFP) process, which saw an independent third party advisory firm choose the same marketing firm, SUM, that represents U.S. Soccer as the tournament's handler of sponsorship arrangements and broadcast deals.
"This is the first time that CONMEBOL has played a part in this type of RFP process — which we will continue to implement in the future, starting in 2016," Napout said.
"This commitment is an integral part of the governance reforms taking place at CONMEBOL in order to ensure transparency and benefit all our member associations."
What do you think of U.S. Soccer's statement? What are your thoughts on the arrests of CONCACAF's and CONMEBOL's presidents?
Share your thoughts below.