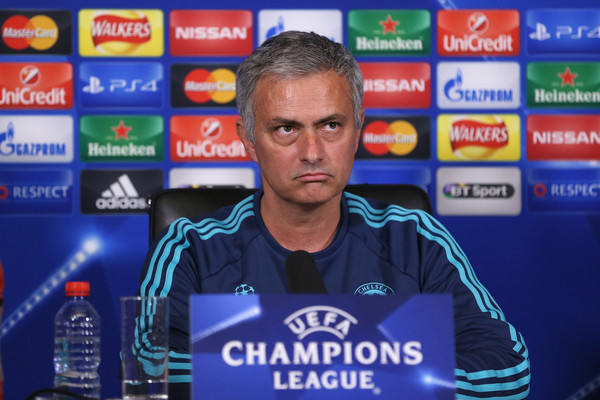 Jose Mourinho's second reign as Chelsea manager could soon be over, according to ESPNFC.
The club began Wednesday by holding "intense discussions" over the status of the 52-year old boss and a vote by the team's board is said to occur in order to help guide owner Roman Abramovich's decision.
Following Monday's loss to league leaders Leicester City, the Portugese coach was asked if he believed that he would remain the club's manager moving forward, and he replied, "The only thing I can say is that I want to be."
In the event that the manager is sacked at some point in the coming weeks, The Times is reporting that Juande Ramos could be a potential candidate to replace Mourinho. The Spaniard has managed clubs like Tottenham Hotspur, as well as Real Madrid and Sevilla in the past, albeit on short-term contracts.
Mourinho's worst league performance as a manager came back in the 2001-02 campaign when the Portugal-native managed U.D. Leiria. The club finished seventh that season in Portugal's top flight, Primeira Liga.
Here are some more news and notes to kick off your Wednesday morning:
REAL, ATLETI COULD FACE SANCTIONS SIMILAR TO BARCELONA
FIFA President Sepp Blatter has been at the forefront of a full-fledged onslaught against the soccer's highest power, but that hasn't stopped him from chiming in on important subjects.
It's a possibility that La Liga giant Barcelona won't be the only club to face sanctions from FIFA, and this time rivals Real Madrid and Atletico Madrid will be the center of attention. Barca received a transfer ban in 2014, allegedly to last two transfer periods, regarding how the team handled the signing of underage players.
Now, Blatter claims that Real and Atleti can face similar backlash for failing to comply with the signing of international players under the age of 18.
"Effectively the disciplinary committee of FIFA has opened two separate files to Real Madrid and Atletico Madrid for the same offenses committed by FC Barcelona," Blatter told Mundo Deportivo. "They are closed, but I do not know what the sanctions are because they are independent commissions and I am currently banned … I can't even walk inside FIFA."
MANCHESTER UNITED CONCERNED WITH VAN GAAL
From one English club marred by controversy to another. Manchester United is growing tired of manager Louis Van Gaal, and it isn't just the club's higher brass that have taken issue to the Dutchman.
According to ESPNFC, senior members of United have met with club officials expressing their displeasure with LVG, citing his "restrictive style of play" as one of the main issues. The team is expected to decide the future of the 64-year old prior to the start of next month's transfer window.
United currently sit fourth in the Premier League table, trailing Leicester by six points. The team's discontent stems beyond the EPL as well, particularly after the Red Devils were recently eliminated from UEFA Champions League play. Van Gaal and his men fell 3-2 to Bundesliga side Wolfsburg, which saw the Germans and PSV Eindhoven advance from Group B.
Recent reports have linked Bayern Munich manager Pep Guardiola to both Manchester sides, although it seems more likely at this point that City will be the one to claim his services. On Tuesday, Guardiola revealed that he'll announce his future next week.
COSTA RICA TOPS NICARAGUA IN FRIENDLY
Kendall Watson's second half goal was enough to lift Costa Rica over Nicaragua in Tuesday's international friendly. The finish came in the 59th minute after a header in which Watson out-jumped the opposition's defenders.
The Ticos currently don't have any other fixtures scheduled between now and March, when CONCACAF World Cup qualifying resumes. Costa Rica sits atop Group B at the moment with six points, while Panama, Jamaica, and Haiti all give chase.
While Nicaragua is ranked 97th in FIFA's latest rankings, Los Pinoleros managed several impressive results in 2015, including a win and a draw against rising CONCACAF nation Jamaica. The majority of the squad's selections play domestically in terms of club football, however, Toronto FC academy product Derick Sequeira is considered one of the nation's more highly-touted youngsters.
QUICK KICKS
Club América captured fifth place at the FIFA Club World Cup after defeating TP Mazembe 2-1. (REPORT)
River Plate advanced to the Club World Cup final, knocking off Sanfrecce Hiroshima 1-0. (REPORT)
Schalke defender Sead Kolasinac could reportedly join English Premier League side Manchester City in the January transfer window, according to agent Gordon Stipic-Wipfler. (REPORT)
QPR's Charlie Austin played down rumors of a jump to the Premier League, saying "I'm not going anywhere." (REPORT)