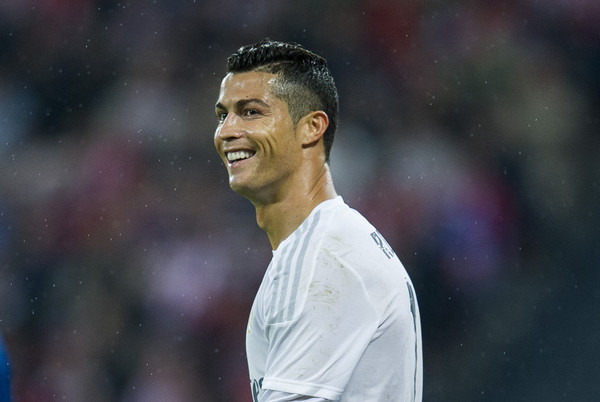 Recent links to Paris Saint-German have done little to concern Cristiano Ronaldo.
The Real Madrid star, who netted four times on Tuesday in Champions League action, insists that he is happy at Real Madrid amid links to the French club. In recent weeks, Ronaldo has been linked with a move away from Real as tensions with manager Rafa Benitez have reportedly risen.
"It is just speculation, it happens every year," Ronaldo said following Tuesday's game, an 8-0 rout of Swedish club Malmo."In a way people are used to this always happening around Cristiano. I am good, I feel good in a club that has helped me a lot since I arrived and I am very happy here."
Here are some more news and notes to kick off your Wednesday morning:
MOURINHO CONFIDENT THAT HE WILL AVOID FIRING
Even if Chelsea are to exit the Champions League on Wednesday, Jose Mourinho believes he will remain on the job.
Chelsea can secure passage into the Champions League knockout stage with either a win or a draw against Porto, the club Mourinho led to the 2004 title of this very same competition. Even despite the team's struggles in the Premier League, Mourinho says that the team's issues do not fall squarely on his shoulders.
"I think that I did lots of good things in this club for the owner to know the quality I have," Mourinho said, "and the owner has shown me that belief twice: once when he brought me back to the club [in 2013]; the second time when he gave me a new contract for four years [in the summer]. I don't think the owner is a person to change with the wind.
"I know the wind of the results is an important wind. I know this wind is strong because the results in the Premier League are really bad. But I think the owner knows who I am and what I give to the club, and the owner believes that I am the right person to do the job. And now I don't speak about the owner, but just about the reality of the situation: you can read these bad results and focus everything on the manager. You can look at the results and look to players with performances below acceptable [levels]. You can look to this and look to the unlucky decisions we're having in every competition, not just the Premier League. And you can look in many directions and decide this is not a one-man responsibility."
NEYMAR PICKS UP TRAINING INJURY
Heading into the team's final Champions League clash, Barcelona will likely play without one of its biggest stars.
Barca winger Neymar suffered an apparent groin injury in Tuesday's training session, putting his status for Wednesday's Champions League clash with Bayer Leverkusen very much in doubt. The club revealed that Neymar has been diagnosed with a "slight groin problem", but did not state how long the Brazilian would be out for.
Neymar, who has helped Barcelona already secure qualification into the knockout stages, currently leads La Liga qith 14 goals and has been recognized as one of three finalists for the Ballon d'Or.
QUICK KICKS
Spain manager Vicente del Bosque has hinted that he will leave the job following Euro 2016. (REPORT)
Manchester United defender Marcos Rojo has undergone shoulder surgery. (REPORT)
Kevin-Prince Boateng is reportedly set for a return to AC Milan after departing Schalke. (REPORT)
Liverpool striker Daniel Sturridge has been sidelined yet again due to a hamstring strain. (REPORT)