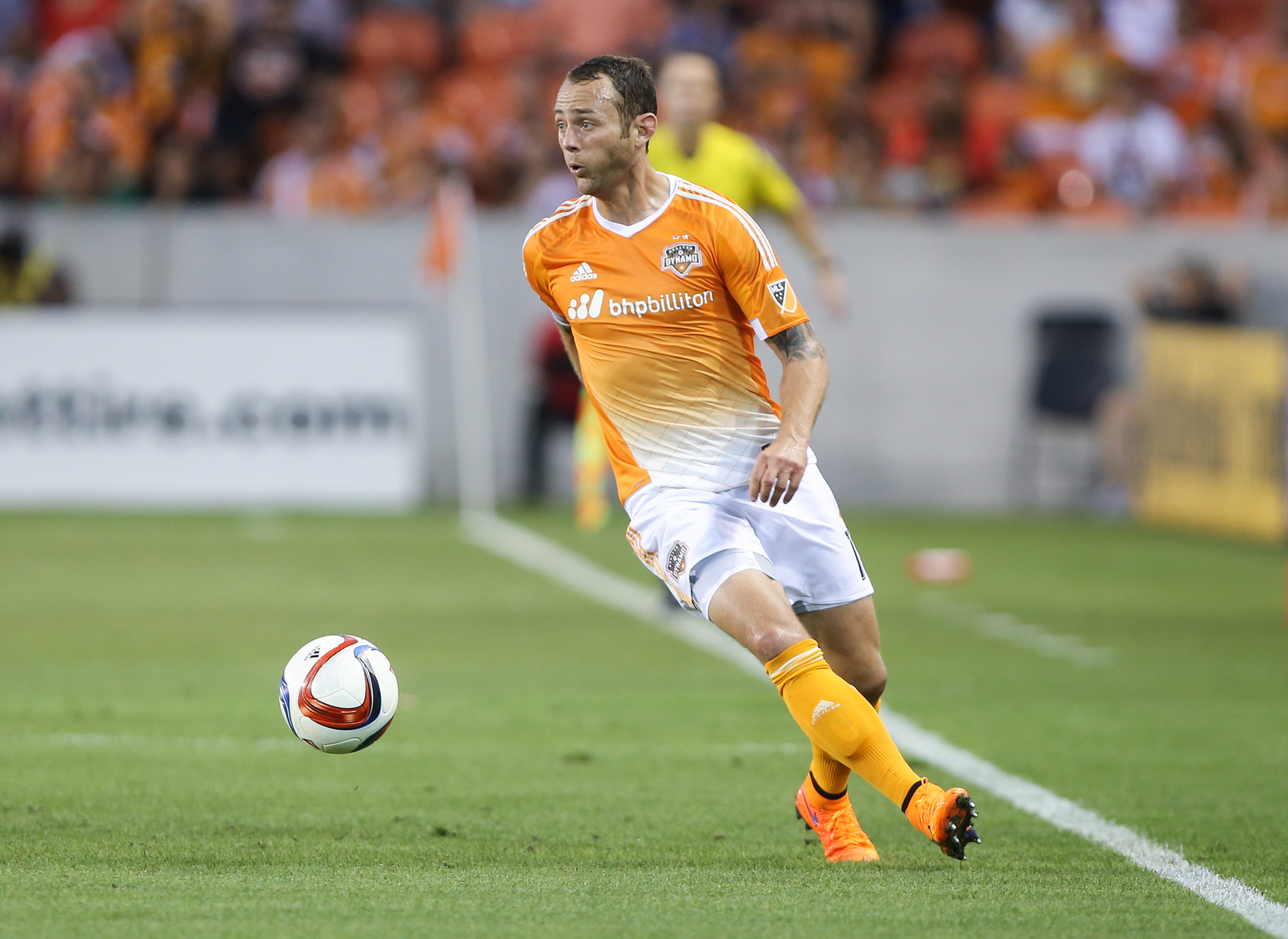 Ever since his career began 14 years ago, Brad Davis dreamed of playing close to home. On Thursday, that dream became a reality.
Davis said goodbye to his old club and hello to his new one on Thursday morning, as the Houston Dynamo traded him to Sporting Kansas City in exchange for a couple of draft picks and future considerations. The move came as a surprise to many observers given that it marked the end of Davis' 10-year stay with the Dynamo, and was admittedly bittersweet for the midfielder.
Bitter because he was leaving the place where he really made a name for himself, won championships, and was adored by the fans. Sweet because he was heading as close as he could to his hometown of St. Charles, Missouri, which is approximately three-and-a-half-hours away from Sporting Park in Kansas City, Kansas.
"(Playing close to home is) something I thought about when I first came into the league, in all honesty," Davis said on a conference call on Thursday afternoon. "Trying to eventually play in front of my home fans and family and friends and things like that was something that's been in the back of my mind for a long time but it wasn't just going to be a decision just to come back. I wanted to be able to be with a competitive team.
"Sporting is a great organization, they have a great team, they have a winning pedigree, they have great players on the team right now, and I'm joining a team that's going to be extremely competitive this year. Family is definitely a part of it, but I'm also looking at the team and organization and moving forward this puts me in a very good position to be successful as well."
Davis, 34, admitted on Thursday that he was intrigued at the prospects of changing addresses when he first heard of Sporting KC's interest. He was not trying to get out of Houston necessarily, but wanted to explore the possibility of potentially playing closer to more of his family and friends. If nothing came of it, he would return to for his 11th season in Houston.
The Dynamo could have completely shot down the idea – Davis has been their captain since 2012, after all – but they were very understanding of his request and ultimately found a deal that worked for all involved parties.
"By no means was it just me trying to get out or anything like that," said Davis. "It was a good dialogue and it was, 'Hey, if this is possible, let's try and do this. If not, I'll be in Houston.' I would honestly have to say I'm thankful for the Houston staff and everyone involved as we went through this process."
While Davis will have his family and friends cheering him on at Sporting Park, he has the challenge of trying to win over the sections of the Sporting KC fanbase that have booed and rooted against him for so many seasons. The Dynamo and Sporting KC have found themselves in some intense and heated contests against one another in recent years, and the veteran midfielder has been a key figure in several of the Dynamo's victories in the series.
Davis should be able to win over the Sporting KC faithful if he can reproduce the same level of performances. Davis is no stranger to enjoying success both on the individual and collective fronts, as he has won two MLS Cups with the Dynamo, racked up 41 regular-season goals for them, and had a remarkable 104 assists.
None of that, nor his deadly-accurate left foot, guarantees he will be a starter under Sporting KC, however. Head coach Peter Vermes has a number of talented attacking midfielders at his disposal – including free agent acquisition and fellow left winger Justin Mapp – and as such Davis knows he will have to battle it out in the coming weeks to earn a regular place in the lineup.
That, after all, is the only way this homecoming will be as sweet as Davis is hoping for.
"By no means do I feel like I'm going to be given a spot and I don't think anybody should," said Davis. "You go in with the mindset of working hard, earning your spot within the team, wherever that might be, and you want to go in fighting for positions, creating competition. I think that creates success and I think there are quite a few midfielders on the team right now, but we'll find a way.
"It'll play itself out come the preseason to figure out what's best for the team moving forward."