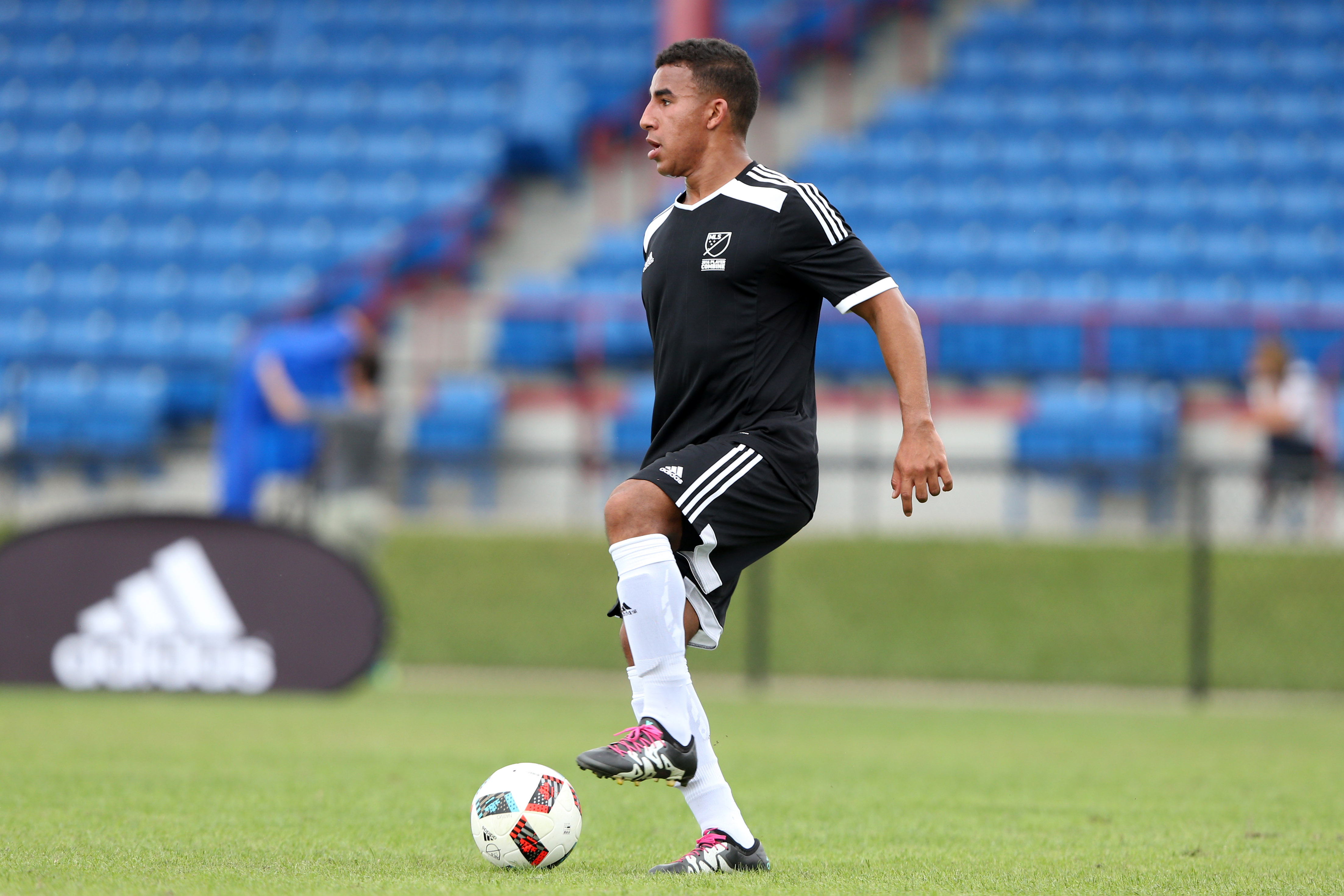 FT. LAUDERDALE, Fla. — Brandon Vincent was getting on a plane to the MLS Combine with Stanford teammate Eric Verso on Wednesday when the roster for the U.S. Men's National Team's annual winter camp came out. Unsurprisingly, neither Vincent or Verso were on the squad, but they still joked about missing their chance to play in this summer's Olympics.
For Vincent, that is no longer true. He has been presented with another chance, and is eager to make the most of it.
Day 1 of the 2016 MLS Combine on Friday had a huge surprise, as Vincent was called up by U.S. head coach Jurgen Klinsmann as an additional player for the Americans' month-long camp in Carson, California. The unexpected announcement came not long after Vincent had played in the first match of the Combine, and it had the College Cup-winning left back giddy as can be.
Yes, his combine was over and done with before it ever really got going, but that's okay because a new set of tryouts are about to begin.
"A huge surprise. I had no idea," Vincent told SBI at the MLS Combine hotel on Friday night. "I had a missed call from an unknown number, and I checked my phone after we played the first combine game. I didn't know who it was and there was no message. I called back and they didn't pick up, so we kind of played phone tag for a little bit.
"They finally left a message and it was Klinsmann calling, and I was on the bus when I got the message and I was freaking out in my seat. I had to keep it together there, but inside I was going crazy."
Vincent was so overwhelmed with excitement on the bus back to the hotel that he had to tell someone, even though he was not supposed to. He handed his phone to Stanford teammate Tyler Thompson, who was sitting nearby on the bus, and had him listen to the voice message.
Minutes later, another member of the Cardinal texted Vincent. It was fellow U.S. call-up Jordan Morris, who asked the defender if he had any good news while punctuating the message with a winky-face emoji.
"It's a dream," said Vincent, who added he would have trouble sleeping on Friday. "I didn't really think it would come true."
While the 21-year-old Vincent has never been with the senior U.S. side before, he did take part in last year's Identification Training Camp in August. The camp was used by U.S. Under-23 Men's National Team head coach Andi Herzog as a way to scout collegiate players ahead of October's CONCACAF Olympic qualifiers, but Vincent never heard anything after it concluded and was not called into the squad that finished in third place in qualifying.
Vincent knows that this call-up gives him an opportunity to impress, but that he is more likely on the radar for the U.S. U-23 team more so than Klinsmann's senior side right now. Herzog's squad is set for a do-or-die Olympic qualifying playoff vs. Colombia in March, and the general consensus is that both outside back positions could use an upgrade.
For the 5-foot-11 Vincent, that represents a major opportunity. Making a statement and helping the young Americans advance to the Olympics is one of his objectives. Playing in the tournament in Rio de Janeiro in Brazil in the summer is another.
"I follow the U-23s and that's something that's been a huge goal of mine going through college because I'm at the right age," said Vincent. "Going to the Olympics was something that I would definitely have loved to do."
The call-up is undoubtedly a great way to start the year, but it completely changed the outlook of the week for Vincent. The Valencia, California, native is set to leave South Florida to head to the U.S. camp on Saturday, and will not take part in any more of the Combine or be in attendance at the MLS Draft in Baltimore, Maryland, this Thursday.
That means that his Day 1 performance was the last time the MLS coaches and scouts got to see him up close and personal before the draft. Good thing for him, then, that he felt he showed well.
"I thought I was solid for the most part," said Vincent, who molded his game after English veteran Ashley Cole. "I thought I got up and down the wing a good amount and try to get forward and be a threat in the attack and got a couple of good crosses off. Defensively, we didn't let in a goal so that was good for us.
"I didn't really have to go 1-v-1 versus anyone today, which I would have liked to to showcase what I do, but as long as we get the win and I'm able to get forward and make chances then I'm not complaining."
He is also not making a fuss over having to miss the once-in-a-lifetime moment of being summoned to the podium on draft day to officially realize his dream of becoming a professional. It would have been neat to experience that in person, of course, but getting a surprise call up from the U.S. is more than fine.
"(Klinsmann) didn't really say too much," Vincent said. "He just kind of said they want to look at a younger guy in my position, to bring in. Luckily I guess I'm on the radar, which is great for me.
"I just talked to my family," he added. "To get grounded, keep my feet on the ground and make sure I'm ready to work when I get there on Monday."