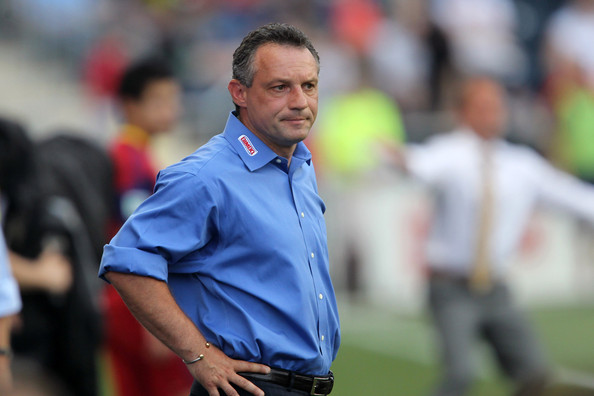 While the case isn't fully closed after years of controversy, there was some clarification provided on Tuesday night in the case involving former Philadelphia Union head coach Peter Nowak and the club.
Court documents covering Nowak's lawsuit against the Philadelphia Union were acquired by Philly.com, leading to a series of tweets revealing sordid details about the events and actions that led to Nowak's eventual firing, and eventually to a wrongful termination lawsuit.
Nowak was named the Union's first-ever head coach in 2009, leading up to the team's introduction in Major League Soccer a year later. The 51-year old was fired after only two-and-a-half seasons despite qualifying for the playoffs in the team's second MLS campaign. Since then, Nowak has sued both MLS and the Players' Union for wrongful termination.
According to Philly.com, Nowak's termination stemmed from a series of abusive actions against players, as well as breaches of contract.
During his tenure as head coach, the documents allege that Nowak forced players to run 10-12 miles with no water, while also striking players to the point he had to ice his hand. In addition, Nowak allegedly denied the existence of concussions and traded an unnamed player shortly after that player complained to the Players' Union about Nowak's treatment.
Nowak additionally violated Collective Bargaining Agreement rules by playing trialists and academy players in friendlies, while also allegedly applying for various jobs in Scotland and the United Arab Emirates, as well as the Polish national team. In that pursuit, Nowak tried to convince current Chicago Fire head coach Veljko Paunovic to join him, while also using Shep Messing to campaign for Sunil Gulati to award Nowak the role as U.S. Men's National Team head coach.
This past April, an arbitrator ruled that Nowak had to pay $454,000 in legal fees and proceeded to deny the manager's claim for restitution from the club.
Since leaving the Union in 2012, Nowak has served as an advisor to the president of the Caribbean Football Union and technical director and head coach for Antigua and Barbuda.