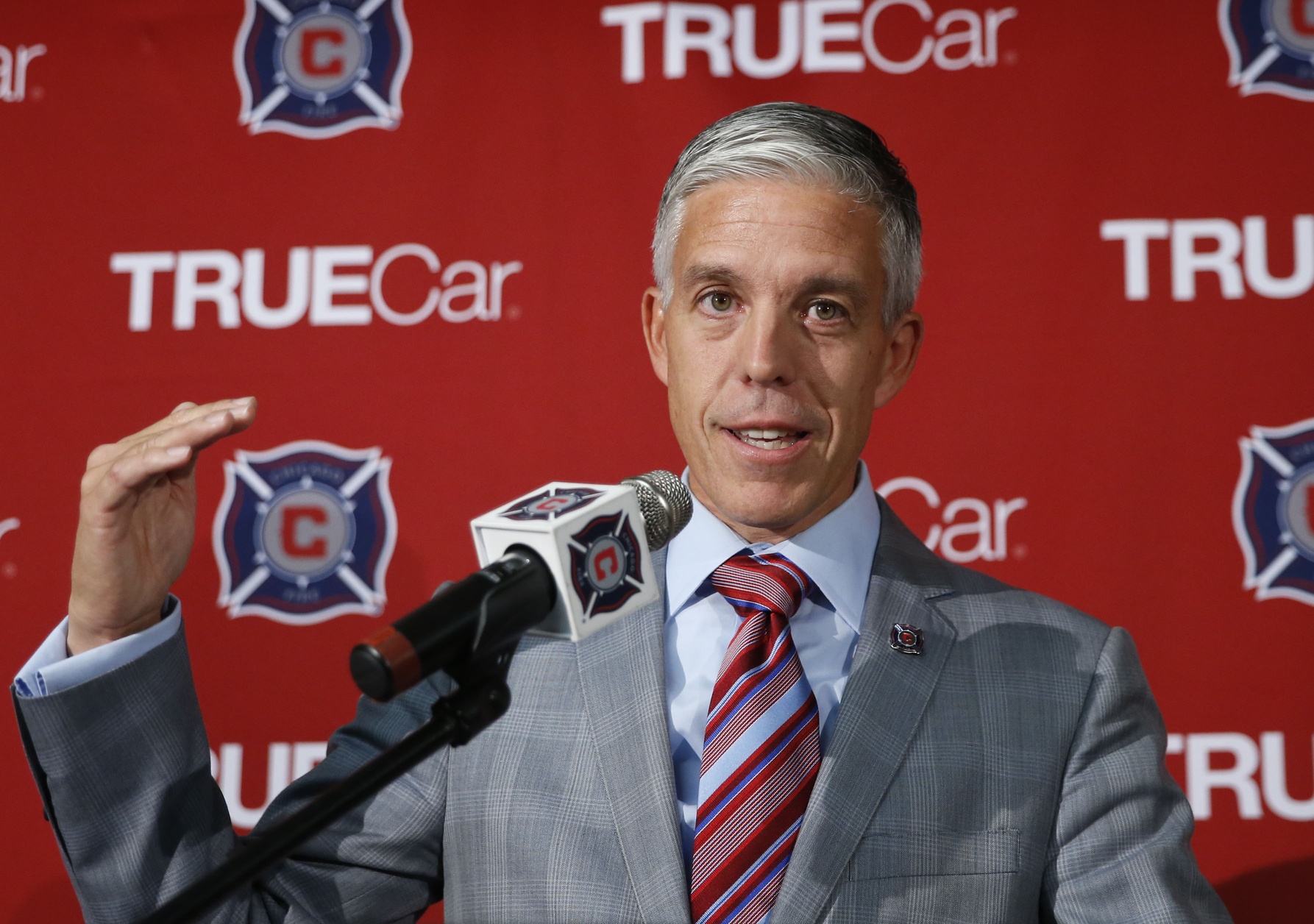 The Chicago Fire's general manager has stayed true to his word this offseason, with Nelson Rodriguez clearly focused on improving what was the worst defense in MLS last season. But there's much more than meets the eye going on in the Fire transformation, with Rodriguez citing mentality as the most important factor in the team's recent additions.
"What we've added is more than just what these players bring on the field," Rodriguez told reporters on Tuesday. "Its the intangibles that we sense, and the character of the people that we're bringing in."
The Fire have added three young defenders from the 2016 MLS Draft, with Brandon Vincent, Jonathan Campbell and now German native Vincent Keller all headed to Bridgeview. The club also drafted two attacking players: Jamaican midfielder Vincent Mitchell from Butler and North Florida forward Alex Morrell.
"I believe that with our coaching staff, with the players we've added, that we're already improved," said Rodriguez. "All of our draft picks follow a similar trend: intelligence, versatility, winners from championship programs. Its not an accident."
The off-the-field traits of these additions are a major part of why Rodriguez feels the team will be successful, but the GM also highlights the attractive qualities of the strategy that is being implemented in Chicago.
"Brandon Vincent wanted to be with us," said Rodriguez. "We believe that our vision and our values-driven approach is resonating. The people who are with us are those that want to be here and want to be a part of this project. I don't think that should be underestimated."
While the Fire certainly enjoyed a strong draft, the team is also looking to add a number of starting quality players with professional experience. Rodriguez has already signed up MLS free agent Michael Harrington, who has nine years of defensive experience in the league, and the GM is actively looking to add more MLS veterans.
"We're still in discussions with a couple of guys who have MLS experience, and we're optimistic about those discussions," Rodriguez said.
The public search for European centerbacks also continues for the Fire, with an optimistic Rodriguez looking to add international experience to their team ahead of the 2016 season.
"There's more than one that we're chasing," said Rodriguez. "We're looking to have a total of three."
At least two of those European defenders have apparently been revealed through recent reports. Portuguese center back Joao Meira revealed to the media in his native country that he has signed for the Fire on a two-year contract. Polish centerback Marcin Kaminski, meanwhile, is another that is reportedly in discussions to come to Chicago. The situation isn't as cut-and-dry as fans might think, though, and volume and quality of defenders to be added to the Fire is still up in the air.
"We continue to have discussions, we have those prioritized," said Rodriguez. "There's a balance between patience and pressure. We are competing with the European transfer window, so we understand in certain instances players want to hold out and see what may come out later in the window. We don't want to pose an artificial and unnecessary deadline. That said, we can't afford to allow all of our options to wither away while we wait for someone to make a decision. I believe this will go into early February."
Outside of centerback, there is another position that the team is dead set on adding depth to. Rodriguez stated an interest in supplementing the Fire's youth in central midfield by adding some experienced players to that pool.
"We do have a list (of center midfielders) and it is internationally based," Rodriguez said.
When it's all said and done, Fire fans will have a lot to look forward to this season, with an intelligent new figurehead running the organization, an accomplished young coach in Veljko Paunovic and a glut of new players that are ready to turn things around in the Windy City.
"We have a three-year plan in place," said Rodriguez. "That doesn't mean we're not seeking to be competitive in the first year, because we are, because our fans deserve that. It's a process."