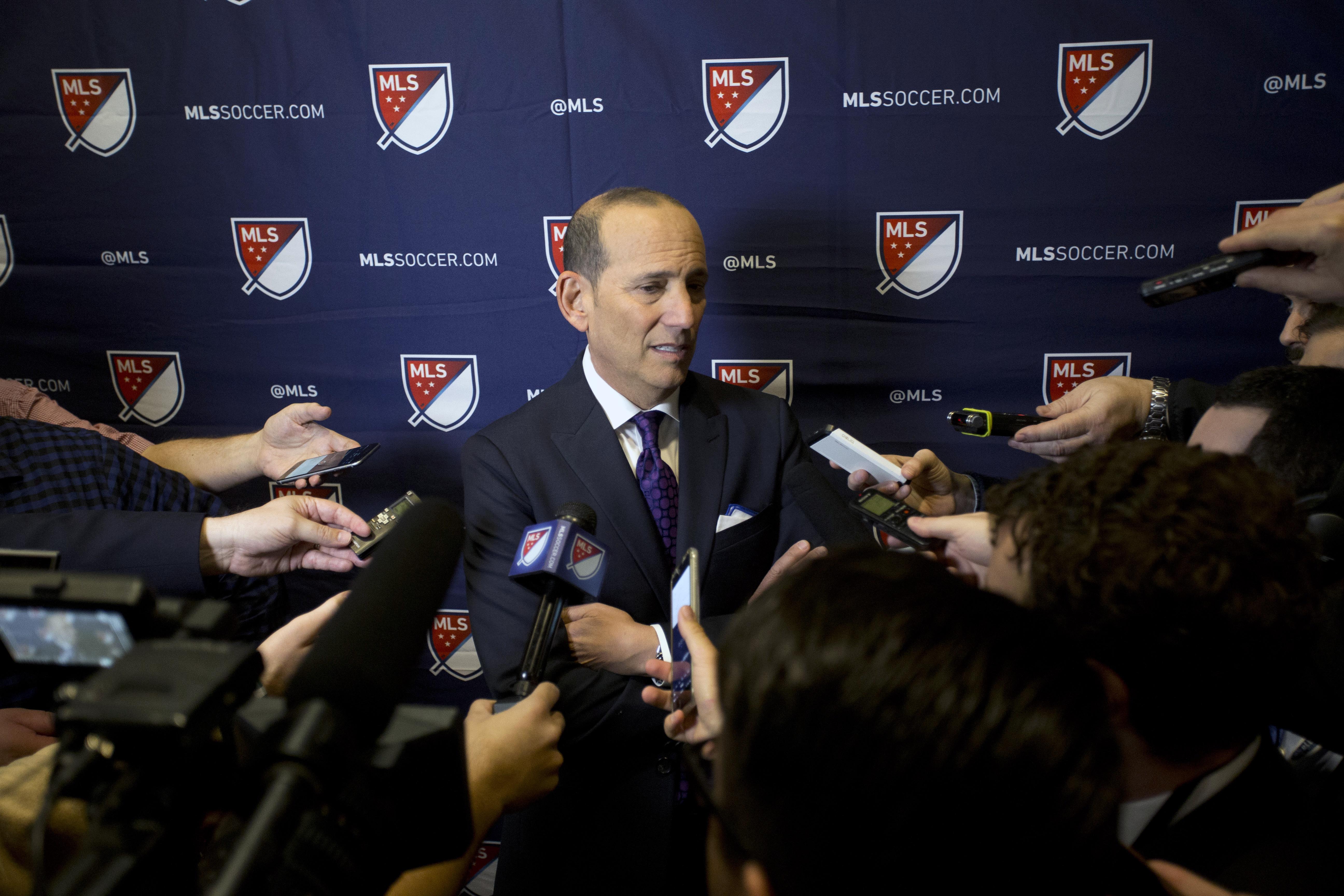 The increasing number of Homegrown Player signings in MLS is diluting the pool of college players available, but league commissioner Don Garber still is still a fan of the MLS Draft.
The 2016 installment of the draft took place in Baltimore, Maryland, on Thursday, and one of the main subplots going into it was how much longer it would be a useful tool for clubs to discover players. This offseason has seen a number of college prospects signed via the Homegrown Player mechanism, and that is a trend that is only expected to continue to grow as MLS teams tap into their academies.
Nonetheless, Garber still sees value in the MLS Draft.
"It's great for those kids," said Garber. "Getting them to stand up and hold that kit is what players dream of. I believe in it. As you start seeing more and more players sign as Homegrown Players and fewer players coming out of the college system, we'll have to figure out whether the size or scope of it continues to be what it is today."
"But I think it's one of those special moments, and as long as it makes sense we're going to continue to do it."
Here are more MLS notes:
VIDEO REPLAY COULD BE IMPLEMENTED IN USL
It is no secret that Garber is a fan of video replay, but MLS has not yet been able to implement it and test it out.
That could soon change, however.
MLS and USL are currently "evaluating very closely" testing instant replay in the third division league, possibly as soon as this year. Garber supports the Professional Referee Organization and does not think that replay needs to be introduced to help its officials, but still is working to try and find a way to implement it.
"I think there's a bit of a movement for instant replay and I'd be leading the charge," said Garber. "We've put up our hand and said to those folks that are looking at it internationally that we'd be happy to test it here, even in MLS games. It's not going to happen in 2016, but we are pretty focused on ensuring that we are going to have a test in the USL."
GARBER: NFL DEPARTURE GIVES ST LOUIS' MLS HOPES MOMENTUM
St. Louis is not a front-runner to land an expansion team, but its chances of earning a franchise certainly were not hurt by the NFL's controversial decision to leave the market.
A major storyline in American sports this week has been the relocation of the St. Louis Rams to Los Angeles beginning in the 2016 NFL season. Fans in the midwest city are up in arms over the move, but some of them might be happy to know that it has helped St Louis' odds of being awarded an MLS club in the coming years.
"We have owners that want to be involved, and cities that want to be engaged with those owners on a stadium. St. Louis is one of those cities," said Garber. "We've obviously heard the news, like everyone else did, and we're tracking that news very closely. I've yet to speak to the governor or the mayor, but we have been in touch with the group that is leading the effort for MLS.
"I think it kind of gives a little more momentum for that city than perhaps before the Rams left."