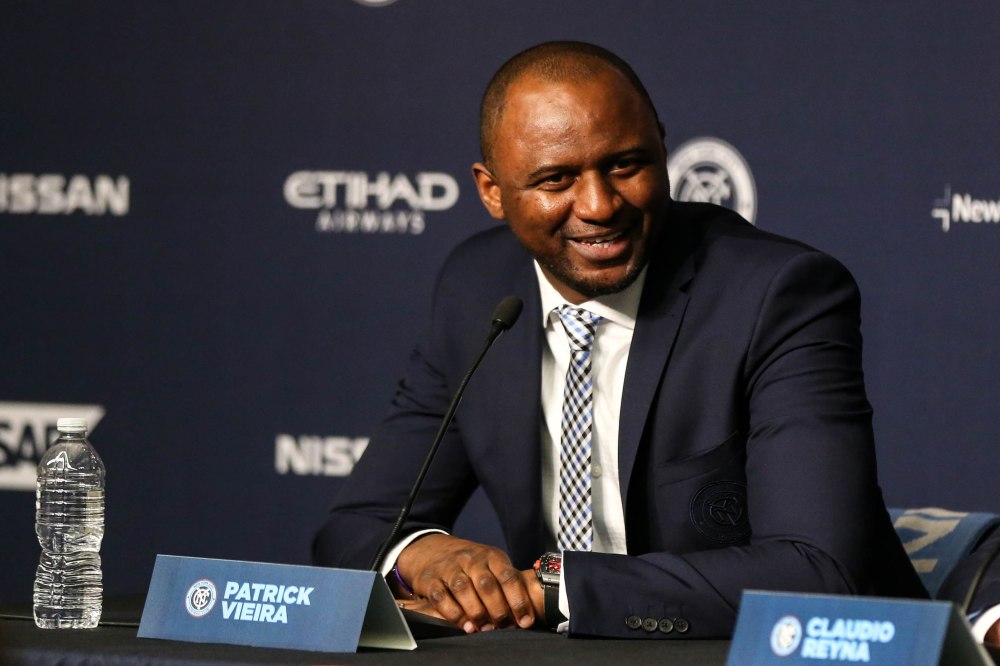 NEW YORK — After more than two months since he was first appointed as New York City FC's new head coach, Patrick Vieira was formally introduced by the club on Wednesday at Yankee Stadium.
"It's a really exciting day for myself and the football club," the 39-year-old former French international said alongside NYCFC sporting director Claudio Reyna. "I can't wait to start the preseason and we have a really exciting season ahead and I'm really looking forward to a successful season."
Vieira comes in as the replacement for Jason Kreis, who was fired after just one season at the helm during which NYCFC failed to make the playoffs in its inaugural season in MLS.
Prior to his hire, Vieira served as the manager for Manchester City's Elite Development Squad from 2013-15, where he worked with players such as Shay Facey and Angelino, both of whom spent loan stints at NYCFC last season.
The move for Vieira also allowed him to stay within City Football Group, which owns NYCFC. Vieira inked a three-year deal back in November and now becomes the latest foreign manager to head an MLS side.
However, despite the lack of success by foreign coaches in MLS, Vieira is confident that he will have a better turnout during his stint here.
"Maybe because I'm a really positive person and I'm really ambitious," Vieira said. "I know that I'm surrounded by Claudio, so I'm not going to have anybody better than Claudio to help me and support me during the season."
"I think it's important to have a great leader, someone who commands respect, and we have it instantly with Patrick," Reyna said on the hire. "His ability to communicate with big players and as well as having a commitment to develop younger ones, the desire he has to succeed, his confidence without being arrogant, his willingness to really also listen to his staff and just the confidence he has in taking this role, he is absolutely more than ready and we are really excited to have him."
Vieira openly acknowledged that he has yet to gain a full grasp of all the mechanisms in the unique league that is MLS, but he repeatedly stressed the importance of having a support system that involves the likes of Reyna and David Lee — club's director of player recruitment — to help him navigate the complexities of MLS.
"The last three weeks have been really good," said Vieira, who officially began his tenure on Jan. 1. "I learned a lot, and the draft was quite interesting. I met with other coaches in the league, exchanging, talking about the positives and negatives about the league and it's been a really long learning process for me, but it was really good."
"It is true that I may not have the best knowledge of the league, but I think that the game is still a game," Vieira added. "You play football and there's no difference in the way you play the game between Europe and the U.S. It is still 11 against 11, and the objective is to score goals and not conceded a goal. So there's not a big change."
One of the first and most important things Vieira wants to accomplish with his new club is to develop an "appropriate identity."
"New York is really lively, it's full of energy in the city, and I would like my team to reflect what New York is all about," Vieira said. "So I will ask the players, I want my team to be full of energy, to be lively, and to have a really positive attitude."
Vieira, whose career spanned more than two decades and with six different clubs, has had the fortune of playing under some of the top managers in the world — including Arsene Wenger, Manuel Pellegrini and Jose Mourinho. However, Vieira believes that it is vital for him to develop his own brand of style in order to have a successful stint with NYCFC.
"I was really lucky in my career because I played under some fantastic coaches and of course, I take a little bit of some of their philosophy," Vieira said, "but what is important for me is to know who I am as a coach and as a manager. I want the team to reflect my personality, who I am as a person, as a well. I have quite an experience as a player and I will be using my experience to try to get the most out of players.
"One of the biggest mistake I can make is to try to bring the Manchester philosophy and do it here at New York City," he added. "The two cities are completely different. New York has its own identity. The American players have their own philosophy, they are completely different. Of course, I've learned a lot when I was at Manchester City, I developed myself into having a clear idea of how I want to play football and that's what I will really try to bring into this country here and to the football club."
As for expectations for the upcoming season, both Reyna and Vieira stated their desire to be successful immediately but understood that it will be working progress.
"We are aware that there's a lot of work left to be done," Reyna said. "I think we have to focus on ourselves. The first thing we have done is to strengthen the team and we will continue to do that over the next couple of weeks. We don't want to come out and make any crazy, bold predictions but we are confident in the team that we have that there will be improvement in the way we play, and the overall togetherness and unity of the club."
"We are in an industry where results matter and results are really important," Vieira added. "That's why I strongly believe that if we work hard, if we get the results, it will make everybody happy. It will be important for us to win games to win trophies because it is important, because people judge you for what you have won."
NYCFC begins its preseason later this week when it travels to Florida, and with Vieira now in charge, Reyna is not ruling out the idea of acquiring another loan player from Manchester City to bolster its squad by the time the club returns home.
"We are looking at it, I think Patrick will know the players that we may be able to bring along better than anybody so right now, there's no update of a player joining us," Reyna said. "But we will see how our squad is built out in preseason. I think we have the opportunity and luxury to perhaps add a player towards the end of our preseason, but right now we are focused on shaping the squad without using a Manchester City loan player, but that's not to say we may not have one joining us in a couple of weeks."