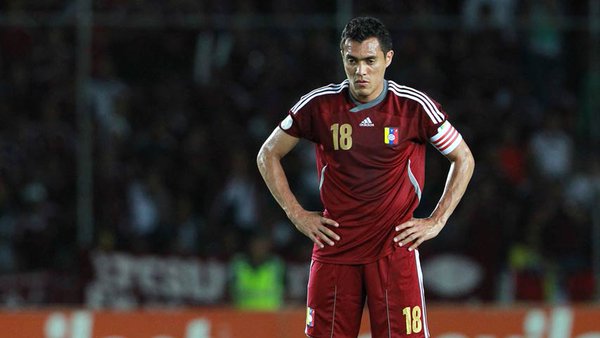 Juan Arango has spent years terrorizing defenses in Mexico, Spain, Germany and nearly everywhere in between, but the sight of a familiar face made a move to the New York Cosmos the perfect new adventure for the Venezuelan legend.
The 35-year-old midfielder was confirmed as the latest Cosmos signing on Thursday, as the club added a player widely regarded as one of the top set piece takers in the world. Arango's left-foot has long been dominant throughout the world of soccer, leading the midfielder on a journey that has seen him make more appearances for Venezuela than any man before him.
But before Juan Arango and the current golden age of Venezuelan soccer, there was Giovanni Savarese, now the head coach of the Cosmos.
A youngster in the Venezuelan setup and with club side Caracas, Arango played alongside Savarese towards the end of his career. Now, many years later, the two are reunited as player and coach for a Cosmos team that looks to transition from the retirements of Spanish legends Raul and Marcos Senna.
"The two things that brought me to the team is, number one, my good friend Giovanni Savarese, who I've played with on the national team," Arango said on Friday. "Secondly, the Cosmos are a great team that have signed players like Raul and Pele. They're heading towards the right direction. They're a great team."
Before Arango established himself as arguably Venezuela's premier soccer export, the creative midfielder counted Savarese as mentor. At the time of their intersecting careers, the two were the only Venezuelan's playing abroad, making the duo unique from their national team counterparts.
While Arango's career took him to heights previously unseen in Mexico, Spain and Germany, Savarese moved into a coaching role with the New York Red Bulls before transitioning to his current role with the Cosmos.
During that time, Arango says, the two teammates lost touch before Savarese reunited with his former teammate recently. Conversations soon turned towards an offer, which Arango says he accepted over several others that he had from other sides. The difference, he says, was Savarese, who Arango says deserves more credit throughout the emerging Venezuelan soccer scene.
"He's decided to come to the New York Cosmos for different reasons," Savarese said. "I think he's in a stage of his career where he wants a new adventure in a city like New York and with a club like the Cosmos with such a history. Reuniting with me, knowing me as a person, in these final years of his career and being in a situation where he knows exactly what he's going to encounter allows him to come to the United States.
"The growth of soccer in the United States and us having had Raul and Marcos Senna, him being part of the same club where Pele and all of those legendary players have been, for all of those reasons and the way we played, he decided to have the New York Cosmos as his destination."
Admittedly, Arango says he was far from familiar with American soccer before joining Mexico's Club Tijuana in 2014. The midfielder had spent the prior decade for Spain's Mallorca and Germany's Borussia Monchengladbach while focusing heavily on leading his club sides to European success.
But upon his move to Xolos, Arango began to notice the growth of the game in the country to the north. Following in the footsteps of players he respects, Arango wants to be a part of that growth while testing himself in a new league with demands unique to any he has seen before.
"I didn't know about soccer in the U.S. before playing with Xolos in Mexico," Arango said. In Spain and in Germany, I didn't really watch a lot of it, but I got very familiar with it while I was with Xolos. I noticed guys like Kaka, Pirlo, Raul and Marcos Senna coming to America in different leagues, but I see it all as a similar level and a similar style of play.
"The sport is complicated everywhere. It's played differently in Venezuela, in Spain or in other places. The sport here is different, but it's in a good moment. It's growing."
Saverese says Arango will be a key part of his team's growth. A proven leader with a left foot that remains deadly, Arango will be looked at to assume the playmaking duties vacated by Senna's departure. Meanwhile, he will also serve as a mentor to young players like Yohandry Orozco, Arango's former Venezuelan national teammate that signed with the Cosmos on Friday.
"He's a player that can do things with the ball that only great players can do," Savarese said. "His vision, he's someone that can think quickly and see plays quickly. He can make players be in better situations on the field. He's somebody that can play wide as well as attacking mid and I think he'll be very good in our setup."