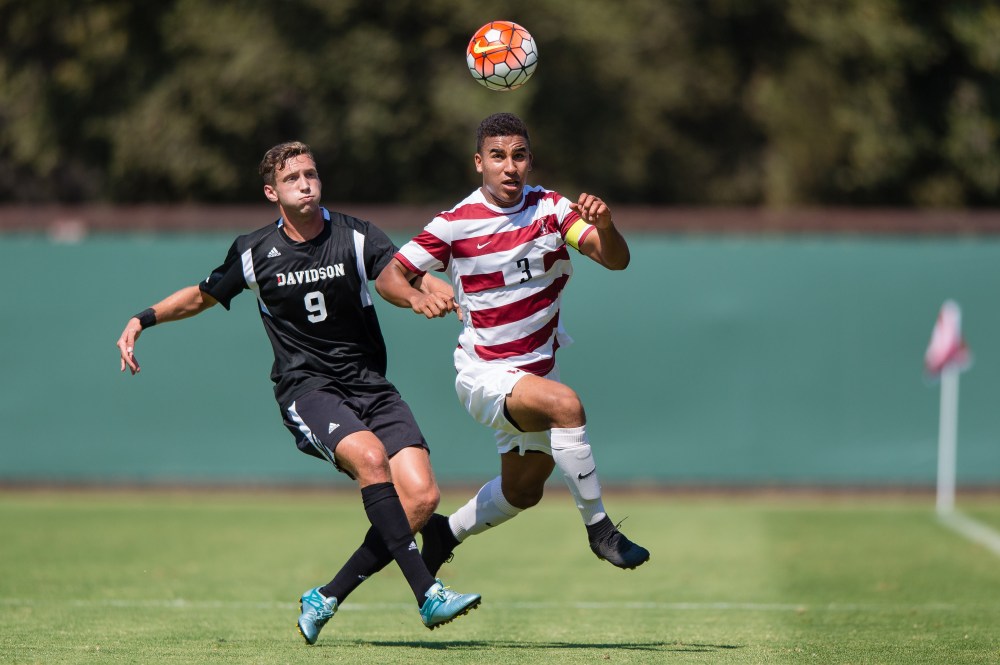 The 2016 MLS Combine is finally here, and while you would expect some players to be nervous, former Stanford captain Brandon Vincent is anything but.
The left back is fresh off leading his team to an NCAA College Cup championship. Expectations are high for both what he'll do on the field and how high he'll go in the upcoming draft, but even if he's nervous, he doesn't show it.
"It's more just being anxious to get going," Vincent told SBI. "You have all the guys called in, you've seen the list, it's been divided and talked about for months. And now you kind of just want to be there, to do it."
In conversation, Vincent comes across as a person who keeps his focus on the immediate future. It's a trait he attributes to Stanford head coach, Jeremy Gunn.
"(Gunn) never really let us get to a point where we were too happy or too sad with anything," said Vincent. "Our biggest mentality was just moving on to the next game, next play. I think that kind of translated into my life as a soccer player."
For his part, Jeremy Gunn says that's an attitude Vincent had from day one.
"He has a great blend of athleticism and soccer playing ability," Gunn told SBI. "Those are the obvious things that everybody can see. The extra intangibles, if you will, that Brandon brings as a player is his incredible level-headed approach to soccer and to life."
Vincent joined Stanford after skipping around clubs and academies across Southern California. Despite this grab-bag of experiences, Vincent can still pinpoint exactly what lesson he learned from which coach. He remembers refining his most basic skills with Greg Tilson at Protege Soccer Academy, and Terry Davila's focus on sheer competitive spirit at Real SoCal.
None of it quite prepared Vincent for playing at Stanford, though.
"I was definitely nervous going in," he recalled. "You hear about how the physicality jumps up. Everybody's bigger, stronger and faster, the ball moves quicker."
Vincent wanted to get on the field as soon as possible. So when he discovered his preferred position — left back — was already filled, he adapted. Vincent switched to playing centerback, and wound up spending two years there.
"Leaving the position for two years definitely helped, with just seeing a different part of the field and gaining that vision," said Vincent. By the time his old position opened up, Vincent was more than ready ready to switch back.
"As centerback you have to be responsible, and not take too many risks," said Vincent. "Out on the wing you can get up and down, and make an impact going forward, which is what I like to do."
Meanwhile Vincent had emerged as a leader on the team, and in his junior year was made co-captain. According to head coach Jeremy Gunn, Vincent led by example.
"Brandon's the type of guy I always wished I could've been," said Gunn, "and that is someone that doesn't talk too much, but when they start to speak, the room quietens because everyone wants to listen to what they have to say."
Back in his natural position and as a team captain, Vincent's junior year should have been a big one. By postseason, Stanford had secured a place in the College Cup, and were expected to make a deep run for the championship.
But it wasn't to be. Stanford crashed out in their first game, a contentious loss to UC Irvine.
"Lots of people in those moments spend all their time complaining and criticizing and pointing fingers," said Gunn. "Brandon just had that wonderful level-headed way of dealing with things. He took it on board, and made the decision that he wasn't going to let it happen again."
For Vincent, and the Stanford team as a whole, the loss turned out to be more inspiration than setback.
"The motivation going into the offseason was huge, because we used it as a reference point all the time," said Vincent. "We didn't want to get knocked out again, it was too early for us last year."
On the back of goals by Jordan Morris — who Vincent calls "humble, but at the same time willing to compete" — Stanford beat Clemson a year later, and hoisted the College Cup for the first time in the school's history.
It's a moment Brandon Vincent struggles to describe. He calls it surreal, but also a relief. The win left Vincent, as always, looking forward to the next step.
"When the last whistle blew, I don't know, it didn't really feel real," said Vincent. "Kind of like: we did it. What now?"
Now that the 2016 MLS Combine is here, followed shortly by the draft, Brandon Vincent won't have to wait long to get an answer.