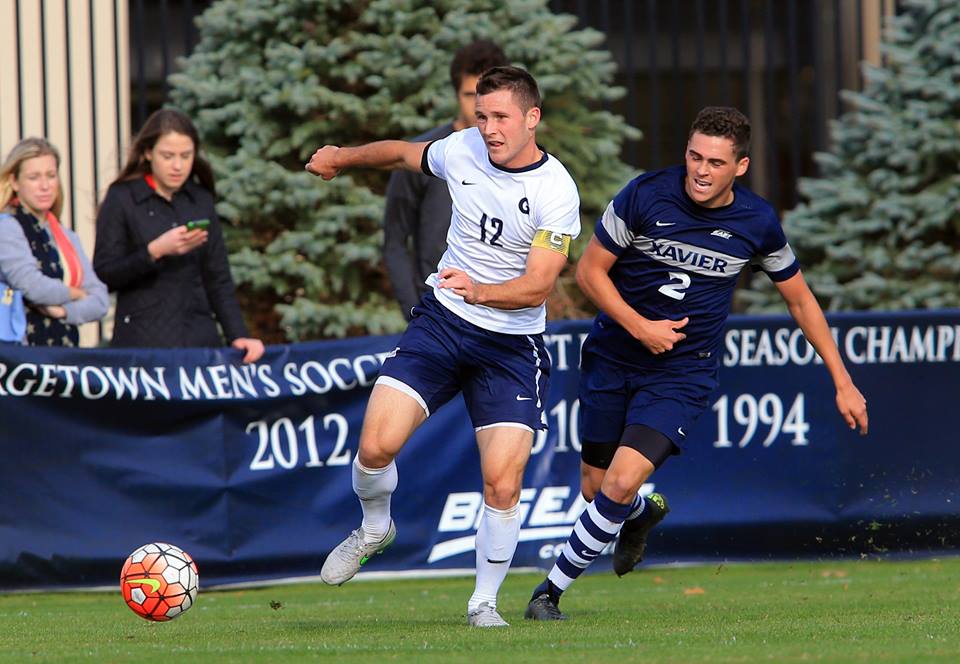 Having just wrapped up a four-year career at Georgetown, fullback Keegan Rosenberry was taught a series of lessons which have made him a better soccer player and person. Chief among them: to expect and prepare for the unexpected.
Throughout his youth career, Rosenberry was a constant in and around the Pennsylvania soccer scene. The Georgetown star trained and played with the Philadelphia Union youth teams prior to the start of the club's official academy in 2013, while also appearing for Reading United throughout his time in college. As a result of his youth career, many were led to believe that Rosenberry was eligible to sign a Homegrown deal with the Union.
However, the league disagreed. Denied a Homegrown claim, Rosenberry is now bound for the MLS Combine and, ultimately, draft day.
"Apparently, the rules or how ever it works, they didn't hold up," Rosenberry told SBI. "For me, it was never an issue of trying to keep myself eligible or not keep myself eligible. I really didn't try and do that. At the time, it was more just about how I could get myself the best chance to be a professional soccer player. It was never, 'can I get out of the Homegrown tag so I can not be with Philadelphia?' It was never like that. It was more about how I could give myself the best chance to become a pro.
"If that would have held up and it would have been offered, yeah, I would have 100 percent taken it. It was not held up with the league and they determined it wasn't an official Homegrown label, and I was fully prepared to enter the draft. I'm ready to take that path, but before that happened, I was ready for either option. Now that this is happened, I've tried to handle that the right way and prepare for the draft."
Much of that preparation, Rosenberry says, came at Georgetown, both on and off the field.
Entering his freshman year as a central or holding midfielder, Rosenberry was almost immediately converted to right back to fill a need. From there, he made the position his own, making 90 starts over a four-year college career which ended with him being named captain of the Hoyas.
Thrown into a new position, Rosenberry was forced to take his midfield-based skills and adapt them to a spot in defense. As a player that is comfortable on the ball due to his midfielder roots, Rosenberry was confident that his physical abilities could translate to any position on the field, an asset he feels could help him on the pro level.
But mentally, Rosenberry knew it would take some time. The fullback had to learn how to direct traffic from a deep and wide position, all the while mastering the art of attacking and defending from a fullback spot.
"As a midfielder, you handle everything in terms of a 360-degree viewpoint," Rosenberry said, "where as a right back everything is in front of you and you can see the field. Translating that to the guys around me and still trying to be a leader from a spot where you're not necessarily in the hub of things. That was a challenge and it took some time for me to develop into a captain's role and to try and affect and put my imprint on the game.
"One of the biggest things for me was to just continue to play the same style, and that's very simple, very clean, very quick with speed of play and speed of thought. I think that style of play translates to every spot on the field. You have to be quick on the ball and be a couple of steps ahead. I think the reason I was able to come in as a freshman and have a spot on the field is because of that and at that point it didn't matter what spot it was."
Rosenberry carries that same mentality into draft day, an event that he admittedly hasn't thought much about. Following a four-year experience at Georgetown, Rosenberry says one of the biggest lessons learned is to take things one day at a time while also preparing for the unexpected.
As evidenced by his Homegrown denial, Rosenberry knows that things may not always go according to plan. As such, he is already planning for his life after soccer where he hopes to combine his interest in business with his love for the game.
Still, Rosenberry does admit that, as the day draws near, his excitement level rises and rises. The defender knows he is presented with a unique opportunity to make an impact as a professional, both on and off the field.
"As athletes, and in the MLS community, there's such a huge opportunity to reach out to the community and connect with fans and people," Rosenberry said, "because, whether you know it or not, you have a status in your city, town or community. I think that's something that I'm looking forward to, just as much as anything else. I'll have a status where people look up to me, and I think that's what Georgetown has prepared me very well for: being able to lead people on the field and hopefully making an impact off the field.
"It's a blessing to be invited to the Combine, to be talked about, and I think you have to be so thankful and take a step back to think about all of the opportunities that I've been giving. Being accepted to Georgetown, being able to play there my freshman year, everything kind of fell into place. I'm lucky there wasn't a senior four-year starter ahead of me, and I think there are so many things that I'm thankful for that I can't take anything for granted. It's going to be an exciting time, I hope, and whatever happens, I'm fully prepared for it."