The 2016 MLS Combine kicks off on Friday afternoon, with more than 60 college and youth international players vying for a spot on the draft boards of the 20 MLS teams in attendance.
The initial Generation adidas class has been announced, with all five top prospects expected to be first-round picks, with a sixth in Omar Holness expected to be officially announced very soon.
The second SBI MLS Draft Big Board has seen its share of changes from the first one, with some players being tabbed for Homegrown contracts (like Brandon Allen), and others either choosing to sign elsewhere (like Brandon Hines-Ike) or bypass their chance at taking part in the draft (like Andrew Souders).
Even with those players coming off the board, there is still plenty of talent to be had, and the players on this list will have their chance to make big moves as they look to impress at the Combine. We should post our next Big Board on Monday morning, with the final Big Board dropping on Wednesday.
For now, here is the latest SBI MLS Draft Big Board:
2016 MLS DRAFT BIG BOARD
GA- Generation adidas; HG-Could still sign Homegrown Player deal; &- Graduating Junior
RANK                                       SCHOOL          YEAR      POSITION   BIO
1.  JOSHUA YARO (GA)    Georgetown    Jr.            RB               (Bio)


Boasting first-class speed and athleticism, Yaro projects as a right back, but could also play centerback despite being 5-foot-11. Some teams are absolutely in love with his qualities, though some question whether he's technical enough to offer a real attacking threat getting forward as a fullback. Could be similar to former MLS No. 1 overall pick Marvell Wynne. The top Generation adidas target, the Ghanaian-born Yaro has signed a Generaton adidas deal.
2. JACK HARRISON (GA)       Wake Forest    Fr.        AM          (Bio)

The English midfielder and Manchester United academy product made it look easy in his first college season, spearheading Wake Forest's attack and dominating a tough ACC with his box-to-box presence and diverse attacking qualities. Might still need some time to develop, but has all the characteristics to eventually be an impact player. Has signed a Generation adidas deal.
3. RICHIE LARYEA (GA)        Akron              Soph.      AM          (Bio)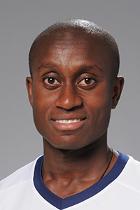 No player in the country boosted their stock more in 2015 than Laryea, who emerged as the best playmaker in the country to help Akron make an impressive run to the College Cup semifinals. The Canadian midfielder is a deft passer, and has serious quickness and the physical attributes to contribute early on in his pro career despite having just finished his sophomore season. Has signed a Generation adidas deal.
4. BRANDON VINCENT              Stanford              Sr.       LB         (Bio)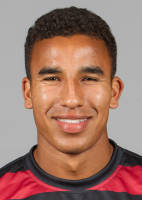 In a league hungry for good fullbacks, Vincent will be highly coveted. A left back with quickness and the ability to provide good service, Vincent is also a tough defender, making him a sure-fire Top 6 pick.
5. OMAR HOLNESS (GA)        North Carolina    Jr.    AM/F       (Bio)
The speedy Jamaican has been a fixture on the SBI MLS Draft Big Board in each of the past three years, but this could be the year he finally leaves school. Holness has polished up his game since coming onto the scene as a raw specimen with incredible pace. Holness has already made his international debut for Jamaica, and scouts have been wanting him in the draft since his freshman season. He wasn't included in the initial GA group, but Holness is in Fort Lauderdale and sources have confirmed that he is, in fact, been signed and should be announced soon.
6. JONATHAN CAMPBELL      North Carolina    Sr.    LCB        (Bio)
The top senior, and American, on the board, Campbell is a left-footed central defender with the size and ball skills to be a year-one starter in MLS. Should be one of the first seniors to sign a senior deal with MLS.
7. KYLE FISHER                        Clemson           Sr.     CB         (Bio)

A no-nonsense central defender who reads the game and brings a toughness to the game, Fisher has impressed pro scouts during Clemson's outstanding season. He couldn't do much to stop Jordan Morris in the NCAA final, but that shouldn't deter scouts from making him one of the first seniors off the board at the draft.
8. BEN POLK (&)                  Syracuse                 Sr.    F             (Bio)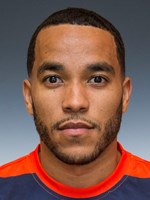 A quick and powerful forward who reminds some scouts of Sporting KC's Dom Dwyer, Polk was the focal point of Syracuse's late-season run to an ACC title and NCAA title game appearance. Polk scored some truly impressive goals this season, against top college competition, and could be the first forwards taken on draft day. The lack of top-notch forwards could wind up vaulting Polk into the Top 5.
9. JULIAN BUESCHER (GA)    Syracuse         Jr.        CM            (Bio)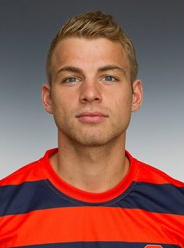 The German-born midfielder was the driving force behind Syracuse's dream run to the College Cup semifinals. Forced into more of an attacking role this season, Buescher can slot in as a box-to-box presence and has the maturity to play as a rookie. May not be considered to have as much upside as some younger prospects on the board, but is regarded as one of the most pro-ready prospects around. Has  signed a Generation adidas contract.
10. KEEGAN ROSENBERRY   Georgetown    Sr.    RB         (Bio)


Long thought to be a Philadelphia Union Homegrown player, Rosenberry's HG tag was rejected by MLS, which is good news for teams searching for a right back in the draft. Rosenberry is dangerous getting forward, and solid defensively. The Union could be tempted to grab him with one of their multiple picks in the Top 25, though taking him in the top 6 would be a tad early.
11. JORDAN MCCRARY      North Carolina    Sr.    LB/RB   (Bio)

A bit of a forgotten prospect after sitting out 2014 with a torn ACL, McCrary battled back to post a solid senior season and re-establish himself as a left back prospect pro scouts are interested in again. The fifth-year senior can play either fullback position and could push his way into the Top 10 of the MLS Draft with a strong MLS Combine.
12. ANDREW TARBELL (&)   Clemson             Sr.    GK         (Bio)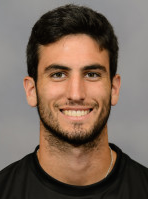 The 6-foot-3 Clemson shot stopper was one of the key figures in the Tigers' stellar campaign, but it was long believed he wasn't going to be in the upcoming MLS Draft because he was a junior. MLS changed that by giving him a Generation adidas deal, which should help him earn a Top 15 pick.
13. MICHAEL SALAZAR   UC-Riverside          Sr.    F/RM    (Bio)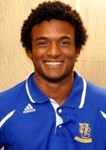 Capped four times by the Belize national team, Salazar is a powerful and dynamic forward who West Coast teams are well aware of his potential first-round talent.The MLS Combine will be a big.
14. PATRICK HODAN            Notre Dame          Sr.    AM        (Bio)


A highly-skilled midfielder who has been on MLS scouting radars for the past few years, Hodan generates mixed reviews from pro scouts. Some love his technical skill and creativity, but others question his ability to deal with the physicality of the pro game. Started the year seen as a Top 10 prospect, but we can see him slipping this far, if not further.
15. JAMES MOBERG           Washington           Sr.    CM/DM (Bio)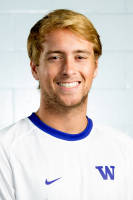 Entered the 2015 season as one of the highest-rated seniors, but a leg injury limited him to six matches and hurt his stock. Teams that remember him being an impressive central midfielder when healthy will keep him as a first-round value, and a strong MLS Combine could go a long way to help restoring some of the buzz he lost.
16. ZACH CARROLL           Michigan State       Sr.    CB         (Bio)


The 6-foot-3 central defender boasts the size and ability to be a dominant force, though questions remain about his technical qualities. The MLS Combine could certainly help him earn a sure-fire spot in the first round of the MLS Draft.
17. MICHAEL GAMBLE    Wake Forest           Sr.    F/RM    (Bio)


Quick and dynamic attacker who probably projects more as a winger than pure forward on the pro level. Injuries limited his action late in the season for Wake Forest, but he remains one of the better attacking options in the draft.
18. CALLUM IRVING           Kentucky                Sr.     GK         (Bio)
The Vancouver Whitecaps academy product winds up in the draft despite being one of the top goalkeepers in the nation, and the result is the opportunity to be a first-round pick. The 6-foot-1 shot stopper has the tools to develop into a solid pro, though he could slip out of the first round if Andrew Tarbell does wind up entering the draft.
19. TIMO PITTER                Creighton                Sr.    AM          (Bio)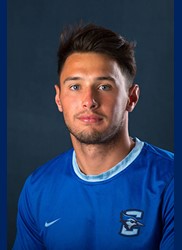 A dynamic midfielder who can score goals and set them up, Pitter has been impressing at Creighton since his freshman season, and though the German-born playmaker could be hurt by his international status, his consistent production on the college level hasn't gone unnoticed.
20. TONY ALFARO                     CSU-Dominguez Hills     Sr.    CB    (Bio)


The MLS Draft is known too have small-school gems, and Alfaro has all the qualities to be diamond in the bunch this season. A skilled left-footed central defender who has the technical quality and physical attributes to make a smooth transition to the pros, Alfaro is already known very well by West Coast scouts, but he could see his stock rise even more with a strong showing at the Combine.
21. TODD WHARTON        Virginia                   Sr.    DM       (Bio)


Having impressed with the Portland Under-23 team, Wharton has a number of clubs who rate him as a first-round talent even after Virginia endured a relatively disappointing season. A defensive midfielder with the positional sense to consistently put himself in good spots, Wharton has the tools to enjoy a long pro career.
22. ERIC VERSO                   Stanford                 Sr.    CM/RM   (Bio)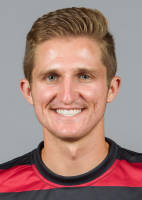 Impressed as a right winger during Stanford's NCAA title run, Verso turned heads with his mobility, technical quality and ability to set up his own chances. Benefits from a draft class light on top-end attacking midfield types.
23. JAMES NORTEY                  Marquette                           Sr.     F/RM
24. BEN STRONG                        Louisville                              Sr.   CM
25. COLE SEILER                        Georgetown                        Sr.    CB
26. HADJI BARRY                     Central Florida                  Sr.     RM/F

27. T.J. CASNER                          Clemson                                Sr.    RM/F

28.  COLE MISSIMO                 Northwestern                      Sr.    RM
29. VINCENT KELLER            Creighton                              Sr.     CB
30. CALVIN REZENDE           St. Francis (PA)                  Sr.      F
31. FEMI HOLLINGER-JANZEN    Indiana                        Sr.    F/LM

32. ZACH MATHERS                Duke                                        Sr.    DM/CM

33. MAX LACHOWEKI            Notre Dame                          Sr.    LB
34. DENNIS CASTILLO         VCU                                           Sr.    RB/CB
35. PAUL CLOWES                   Clemson                                Sr.     DM

36. RYAN HERMAN           Washington                               Sr.    GK
37. ZACH BENNETT                Michigan State                    Sr.     GK

38. LIAM DOYLE                      Ohio State                              Sr.    CB

39. JORDAN VALE                  UCLA                                        Sr.    CM

40. KYLE PARKER                   Charlotte                               Sr.     F
41. EMIR ALIHODZIC       Omaha                                        Sr.    RB/CM
42. NECO BRETT              Robert Morris                           Sr.    F
43. IVAN MAGALHAES          Maryland                               Sr.    CB
44. TY THOMPSON           Stanford                                      Sr.   DM
45. ANTONIO MATARAZZO   Columbia                             Sr.    CB

46. TYLER DAVID                Saint Louis                                Sr.    CB/DM

47. FREDDY RUIZ              UAB                                               Sr.   F

48. JUSTIN BILYEU           SIU-Edwardsville                     Sr.   LB

49. JAMES LUCHINI         Lehigh                                         Sr.    CM

50. DARIUS MADISON       UMBC                                     Sr.    F

51. TSUBASA ENDOH     Maryland                                    Sr.    AM

52. SEAN SHERIDAN      Villanova                                    Sr.    DM
53. MIKHAEL DOHOLIS   Oregon State                         Sr.    F
54. KEEGAN SMITH           San Diego                                 Sr.    F
55. COLIN BONNER            UNC-Wilmington                   Sr. F
56. ALEX MORRELL       North Florida                           Sr.    F

57. CHASE MINTER       Cal Poly                                       Sr.    CM
58. MITCH LURIE          Rutgers                                         Sr.  CB
59. JOSH TURNLEY          Georgetown                            Sr.   LB
60. CONNOR KLEKOTA    Notre Dame                           Sr. DM