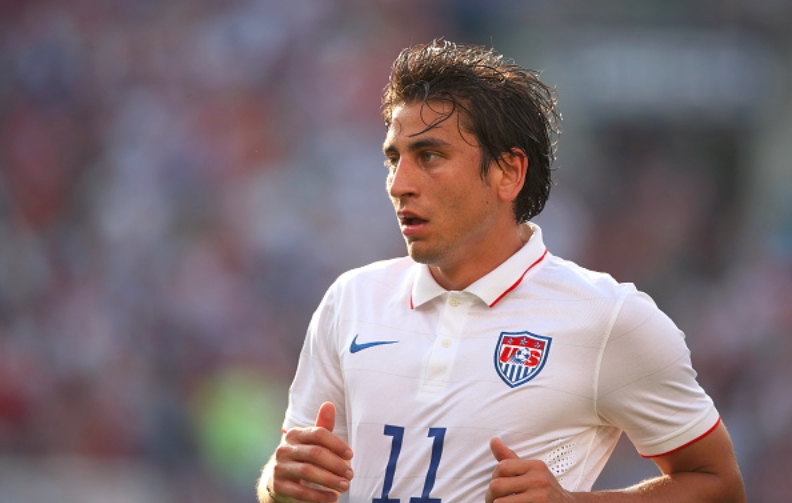 The U.S. Men's National Team's World Cup qualifying double-header with Guatemala is just around the corner, and several players are seemingly reaching top form at just the right time.
USMNT head coach Jurgen Klinsmann pointed to the recent goalscoring exploits of Alejandro Bedoya and Bobby Wood as vital ahead of the pair of upcoming qualifiers. The U.S. is set to visit Guatemala on March 25 before a rematch four days later in Columbus that could lock the USMNT into a spot in the hexagonal.
The form of players like Bedoya will prove vital for a team that has struggled to create goals in recent months. The midfielder, who hasn't appeared for the U.S. since October, has scored four goals in his past seven games while lifting French club Nantes to a pair of late Coupe des France victories.
Bedoya has long been a veteran of the USMNT midfield, but Klinsmann says the 28-year-old's recent goalscoring touch will be a welcome addition following several months away from the national team.
"Alejandro Bedoya in Nantes in France is on a very, very good stretch right now," Klinsmann said. "He's scoring goals and delivering assists and just being involved consistently in very important moments in a game. This gives us different options than we've had going towards World Cup qualifiers at the end of March. With Alejandro Bedoya being on top form, Fabian Johnson being on top form, thats big for us because they are difference makers, and you need players on the field that can make a difference.
"Having Alejandro delivering and being consistent, not having any injury problems, this is big for us. We are keeping our fingers crossed that he stays healthy and keeps that run going."
Another player on a bit of a hot-streak is Wood, who has found a similar goalscoring record to Bedoya's run with Nantes. In his past five games, Wood has netted four goals for Union Berlin, including a brace against Fortuna Dusseldorf just before Germany's winter break.
While Jozy Altidore has cemented his status as USMNT No.1, Klinsmann has been looking for a change of pace forward to play alongside him for some time. In January, Klinsmann offered that opportunity to Gyasi Zardes and Jordan Morris with varying degrees of success.
In qualifiers, Klinsmann says that chance could go to Wood, who netted his fourth international goal against St. Vincent & the Grenadines in November.
"Bobby Wood being on a run and scoring goals is very exciting to us from a national team program perspective," Klinsmann said. "It's really nice to see how he's becoming a mature player. It's nice to see that he's taking things into his own hands. We always tell players to be more self-responsible and have that inner drive to go through problems and go through issues and make things happen. Bobby, right now, makes things happen. He starts to score goals on consistent basis and has an influence on his club team in getting out of the relegation area and more into the middle of the table and hopefully getting them up at the end of the day.
"He's also adjusting himself to the lifestyle in Berlin, in a very very different place than where he was before in Munich. He's just becoming more mature in everything he's doing. It's a pleasure to see Bobby being really consistent right now. He's having strong performances right now which is, for us, important going towards World Cup qualifiers against Guatemala in the end of March."
While Bedoya and Wood are expected to provide a boost on the attacking end, Klinsmann pointed to the recent play of Omar Gonzalez as a major factor on the defensive side of the ball.
Since his move to Liga MX side Pachuca, Gonzalez has emerged as a mainstay in the team's defense. Playing some of his best club soccer of the past several years, Gonzalez has seamlessly integrated himself into the Mexican system.
In recent camps, Klinsmann has leaned heavily on Matt Besler to play the role of veteran centerback while shuffling in new faces next to him. Due to a lack of available centerback options, Klinsmann leaned on Jermaine Jones to play out of position in the recent win over Canada.
The return of Gonzalez is a welcome one for Klinsmann. Now integrated with his club team, Gonzalez is expected to replicate that form while providing a bit of stability in qualifiers.
"It's really fun to watch Omar Gonzalez adjust to his new life in Mexico," Klinsmann said. "He went down to Pachuca, and everyone was surprised about his decision to go south and ply his trade in Mexico. From day one, he was determined and focused to make a statement, not only that he became a starter right away, but he wanted to make a difference in most of the games.
"Defensively, with his strong presence that he has and his capability with playing out of the back and going into the midfield, but also with scoring a goal. He's involved in set pieces, which were always big with Omar. It's a real pleasure to see Omar being happy and having a smile on his face and being strong at the moment. It definitely makes his case much stronger for the national team as well."