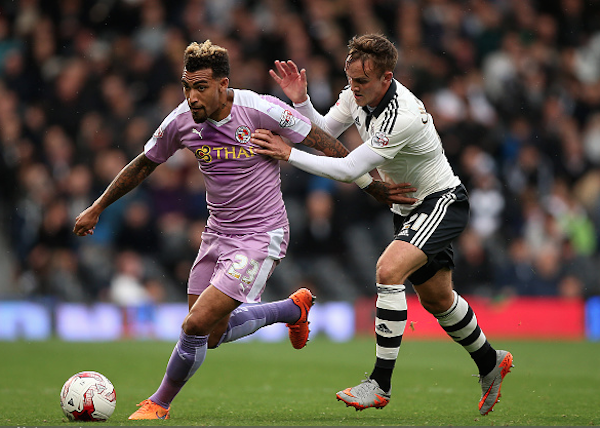 Danny Williams is happy. Happy at Reading FC, happy with the Royals' fans, and happy with how he has been playing this season.
That said, he is not opposed to moving outside of his current comfort zone to accept a new challenge.
Williams has been having a strong season with Reading thus far in the English Championship, as he leads the club in goals scored with five and is a regular starter in its midfield. The 26-year-old Williams is having a career year, and his performances have reportedly caught the attention of at least one team in England's top flight.
In the closing hours of the winter transfer window last week, Swansea City was rumored to be interested in signing Williams. Nothing came of it in the end, but Williams nonetheless was pleased to hear that a bigger club was eyeing him and is motivated to work harder because of it.
"I have that goal to play in the Premier League, because that should be everybody's dream, and I'm sure that is everybody's dream to play in the highest level in the world," Williams told SBI. "In football, anything and everything is possible, but as for now, I have 18 more months (on my) contract so the only thing I can do is focus on my team, focus on my teammates, and don't let anyone down. Then we will see what happens, because in this industry, it's quite quick.
"Things can happen, and you can get injuries, but it's my focus now to stay healthy and get a bit more good performances, maybe add a bit more goals, and then in the summer we'll see. Because at the end of the day, if you play well then you don't have to worry about the rest. I'm quite focused, I'm happy where I am now, and whatever comes we'll see."
Williams will likely draw interest from bigger clubs this summer if he can keep up his current run of form. The veteran has been playing at a good level, making 26 starts in 29 appearances for Reading this season and scoring a career-high five goals to lead the Royals in his third year with them.
He is feeling truly comfortable with where he is at right now, but knows that competing in a first division could help him in his quest to earn more looks with the U.S. Men's National Team. So long as he plays consistently.
"Anybody who knows (U.S. head coach Jurgen Klinsmann) knows he asks to push ourselves to the highest level," said Williams. "It definitely increases the chances to get more game time in the national team, whether it's starting or coming off the bench or whatever. But at the end of the day, I think you should look at it how you perform at our clubs because Jurgen also said you have to be a regular starter at the club because it's always important to get a lot of game time because the base is our club.
"That is where you have to perform weekly and that's where you have to train every day. The other stuff is only bonuses. Of course, I'd like to get more chances in the national team, because I think apart from the Costa Rica game I've done quite well with the few chances I had. It's always possible to challenge yourself, to push yourself to be the best you can at the highest level, but you also have to make decisions what affects you, what doesn't affect you."
While Williams is open to challenging himself in the future, his sole focus right now is on the task at hand with Reading. The club is in lower half of the Championship table – 11 points clear of the relegation zone and 14 shy of a promotional playoff spot – and he wants to help it finish as high as possible in its remaining 16 games.
"We're struggling a bit from results," said Williams. "I wouldn't really say that our performances are bad, but it's about turning our performances into results and at the end of the day only the results count. I'm just trying to give my best for the team, that we can pick up as many points as possible because at the beginning of the season, the first two or three months, we were number second on the table and this division is unforgivable.
"If you have a bad run or bad run form the start of the season and then you go on and don't really win too many games, I think we won one or two games in 12 games, then it can go the other way down like it did now."