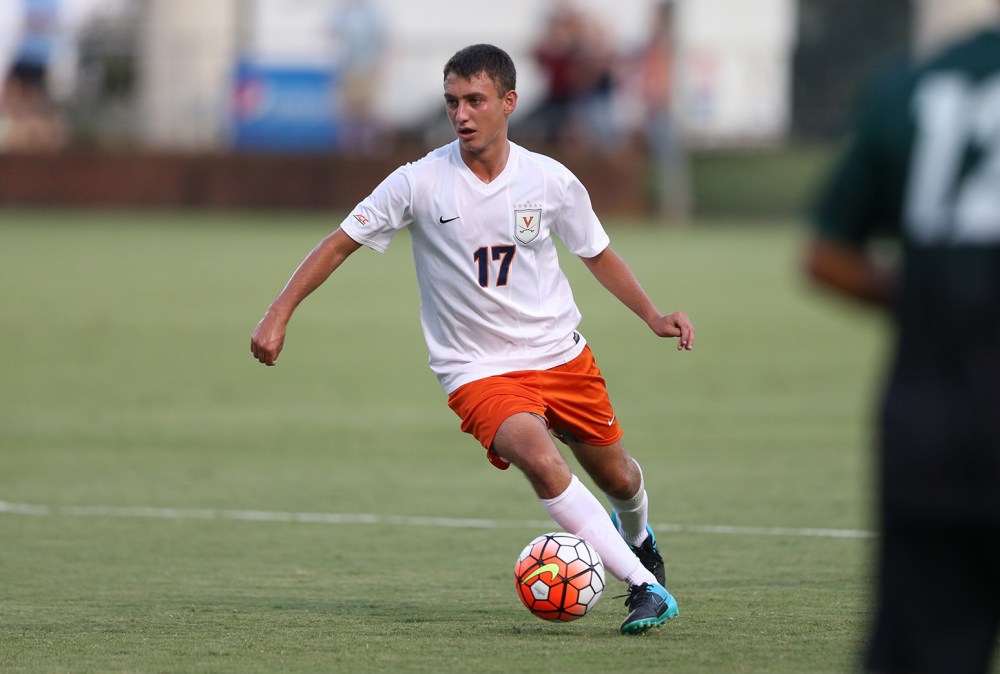 From one college powerhouse to the next.
Talented midfielder Jake Rozhansky has officially made the move from Virginia to Maryland, and is excited for many reasons. The main one: he's close to home.
Trying to finish his bachelor's degree in government and politics, Rozhansky chose Maryland because it offered the chance to work towards graduation with the added bonus of being close to where he grew up.
"I was granted my release, and then I went to go talk to a few schools because I decided I wanted to come back and get closer to finish my degree, and it just so happened that Maryland was the good fit because I respect the program a lot," Rozhansky told SBI after he revealed his decision on Jan. 27. "It's right next to my home. I'm just about 20 minutes away from my home, and I wanted to be closer to home to be close to my mom, my family. It just ended up being a good fit."
The former U.S. Under-17 and U-20 Men's National Team midfielder is on campus and sitting in classes at College Park now, but the past few weeks have been a whirlwind.
Following the conclusion of the 2015 college season, 19-year-old Rozhansky took a long hard look at his future, debating on the choice to potentially turn professional or play more college soccer.
"After the season I was looking at trying to go pro, and I was looking at all of my options, exploring different options, but I didn't really find an option that I really wanted to pursue, that really excited me, that was a perfect fit," Rozhansky said.
"My exploration process took a little while. And at the time, I know I'm transferring late, but UVa was ready to move on, and I decided I wanted to come back to school, so I was granted my release and transferred to Maryland."
While Cavaliers head coach George Gelnovatch said there was no animosity between he and Rozhansky, he revealed that he and the young attacker did not agree with the process Rozhansky chose in deciding his future.
"We just didn't see eye to eye in the process of him becoming a professional soccer player while at Virginia," Gelnovatch told SBI. "I don't know what the number of professional soccer players over the past 20 years is, but we've put a lot of guys into professional soccer, a lot of guys into Major League Soccer. I've always supported, we had Jordan Allen a couple of years ago leave after one semester, and had guys leave everywhere in between. I've had guys leave before they had even got to Virginia. Everybody, they've always had my support, so it's not something new or some crazy policy or this and that.
"I'm probably more open-minded in terms of guys having opportunities and helping guys with opportunities than anybody, and in just this situation, the way it turned out, we just didn't see eye to eye … we just didn't see eye to eye in the process, not in him becoming a pro because I have always supported him, but just in the process."
Rozhansky helped the Cavaliers claim the NCAA title in 2014, but fell short last year and missed four matches over the course of the season due to injuries. Despite playing fewer games, he led his team in goals scored with four, and also contributed one assist.
He demonstrated his ability to quickly analyze the field and make incisive passes or runs (at :47, 2:22, 4:45, 5:04 and 6:36 below), as well as flash his skill on the ball (2:38 and 5:31 below), many times in 2015. In spite of his efforts, though, the Cavaliers attack was flat for most of the season. The team recorded double-digit wins and qualified for the NCAA Tournament but was never a high-scoring side.
The Cavaliers only scored 23 goals last year. In comparison, Maryland netted 38. The Terrapins program appears much more suited for Rozhansky's attack-minded play, and he says he's excited to experience that sort of soccer on a regular basis in 2016.
"I'm really excited because the program, it's a huge program," Rozhansky said. "There's a lot of tradition and history, and there's a lot of good players that have come out in the past and even just recently in this latest MLS draft.
"I'm just excited for a fresh start. Excited to play attacking soccer and I'm just excited because I know a lot of the guys on the team already. They've welcomed me in already … The fans here are amazing, and I can't wait until the fall season to play in front of them."
Rozhansky is eligible to play this upcoming campaign with the Terrapins because he transferred to a program outside of the ACC. He would have been ineligible for two full semesters otherwise.
Meanwhile, Maryland lost two talented central midfielders in Mael Corboz and Tsubasa Endoh to MLS, meaning Rozhansky will most likely be starting from the get-go.
The decision to move to Maryland seems to be the perfect fit for Rozhansky, and he thinks the same after taking the time to explore all of his options.
"I didn't want to make any decisions I would regret, and I still think college is a great time," Rozhansky said. "It gives me time to develop, and a degree would help out a lot. I definitely want to get a degree if I can, so I just didn't want to make any decisions that I would regret or any rash decisions.
"If I go pro, I want to go to a place where I think I would be a good fit, where I'm not just going to be a pro, so where I can really develop."