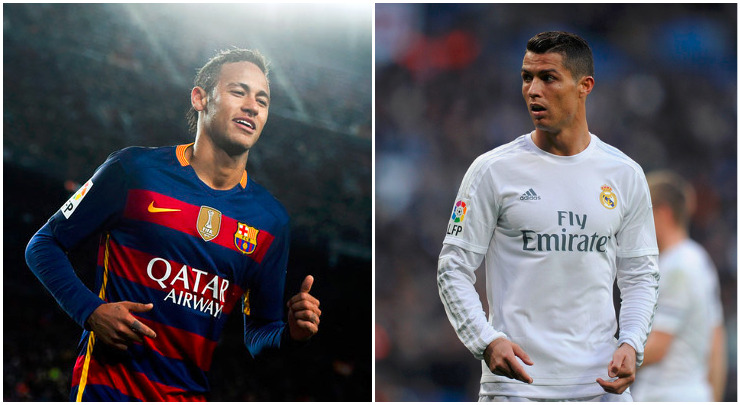 Two superstars in the world of soccer celebrate birthdays today, and each is having a fantastic season.
Portuguese forward Cristiano Ronaldo and Brazilian playmaker Neymar turn 31 and 24, respectively, today. Both, alongside Argentine talent Lionel Messi, are considered to be the best players in the world, having finished second (Ronaldo) and third (Neymar) in the voting for the most recent Ballon d'Or award.
Tied for the La Liga lead in goals scored with 19, Ronaldo has helped Real Madrid to 47 points this season, good enough for third place on the standings.
The 2015-16 season has been more of the same for Ronaldo, as he continues to terrorize opposing defenses and even top European competition. In UEFA Champions League play, the 31-year-old attacker has carried the torch. He has scored 11 UCL goals, four more than Bayern Munich striker Robert Lewandowski.
Real Madrid was booted from the Spanish Copa del Rey after fielding an ineligible player, so Ronaldo has not been able to build upon his impressive 2015-16 resume there. However, he scored a hat trick in his most recent outing for Real Madrid, and may just be starting to heat up in time to help spur his side on to a UCL final appearance.
Neymar, on the other hand, is having a breakout season with Barcelona, leading the league with nine assists while also scoring 16 times.
He has come into his own in his third season with the club, helping it claim first place in the league to start February. The Brazilian star has made a name for himself tearing apart back lines before assisting the lethal duo of Messi and Luis Suarez. He also provided two assists in December's Club World Cup final to help Barcelona add yet another trophy to its cabinet.
Neymar and Barcelona have a 7-0 lead in their Copa del Rey semifinals series vs. Valencia, and are favorites to win the competition. In the UCL, the 24-year-old has only scored twice in five games, but has provided four assists — tied for the tournament lead.
With all that in mind, SBI wants to know: Who do you think is having the better season? Is Neymar's breakout year more impressive than Ronaldo's superb resume, or is Ronaldo still doing a bitter better than Neymar?
Have your say in the latest SBI Reader Poll by casting your vote below, and let us know which way you picked and why.
[polldaddy poll=9299868]
—
Who did you vote for? Who do you think will have the best season?
Share your thoughts below.