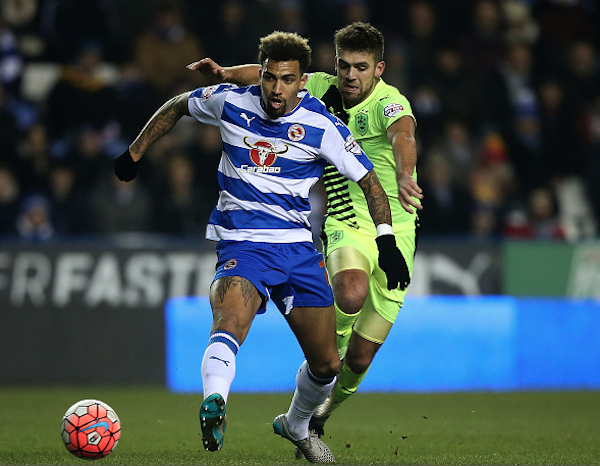 Danny Williams has been in the U.S. Men's National Team picture for more than four years, but his place in the squad has never really been too secure and his appearances have been sporadic at best.
Thankfully for him, he is having a career year at Reading that should help his cause.
Most leagues in Europe are past the halfway point in their seasons, and so far one of the biggest American surprises is Williams. The 26-year-old midfielder has shown more of an attacking edge to his game, scoring a personal-best six goals across all competitions thus far for Reading, and maintaining a consistent good run of form as a starter for the English Championship club.
Some observers on this side of the Atlantic might be surprised to see Williams as the Royals' leading goal-scorer in league play, especially since he started his career as a defensive midfielder. The improved production on the offensive end and overall performances are, however, the result of hard work and the adaptation to a new, less-restricted role.
"Obviously you always try to improve, you try to develop your game, and then I think I just found out over the last 1-2 years that I think I'm an energetic, box-to-box midfielder," Williams told SBI. "I'm not really like a holding, No. 6 anymore. I've developed my game into that, and at the moment it works better for me."
Williams has been given more freedom to express himself at Reading than he was at German Bundesliga sides Freiburg or Hoffenheim at the start of his career. Yes, he is still asked to chip in and do his share of the dirty work on the defensive side, but is also encouraged to get involved in the attack like a true No. 8, whether that be via shots from distance, individual dribbles, or late runs into the penalty area.
This change in style has been a welcome one for Williams, but is not something that happened overnight or just in this season alone. The managerial staff at Reading told the veteran midfielder immediately upon his arrival back in 2013 that it wanted him to add more goals to his game. The coaches believed Williams had the skill set to do so despite the fact that he had just one career tally, and thought it was all just a matter of him honing his offensive qualities.
"Everybody loves to score goals, right, but it's not only that," said Williams. "The more you grow and the older you get, you can see yourself. You know what the strength is, you know what your weaknesses are, or what you like to do and everything.
"I just think that the game, especially in England, it's dynamic football they play here. It's attacking and then you have to go back to defense, and it's just that I don't see myself as a holding No. 6 anymore."
Williams did not have an overwhelming offensive output in his first campaign, but was a regular starter from the onset and found the back of the net three times to show signs of progress. His sophomore season with Reading saw him take a step back in terms of production as he finished with just one goal, but he was once again a lineup regular and thought he took strides with his attacking play.
Those improvements eventually translated over to the international level, as Williams opened his account with a deflected but crucial equalizer in the Americans' 4-3 comeback win over the Netherlands last summer. He then scored again just a few months later, hitting a sizzling effort from distance that was exceptional but quickly forgotten because it came at the end of a 4-1 drubbing vs. Brazil.
While those U.S. highlights from 2015 are not ones Williams will soon forget, it is a different, more disappointing moment entirely that sticks out to him. Williams rues the missed opportunity he had to make a serious case for more playing time in last October's 1-0 home loss to Costa Rica. He not only started in that match in the absence of U.S. captain Michael Bradley, but was also given more offensive responsibilities while wearing the No. 10 jersey.
Williams, like the most of the rest of his compatriots, turned in a dud of a performance. That only further proved irksome for him, especially since he was left as an unused substitute in the U.S.'s CONCACAF Cup loss to rival Mexico just days prior.
"I felt I was in good form, because I had just scored a goal against Middlesbrough the week before, and of course I was hoping to get some game time and everything," said Williams, who has earned 19 caps since debuting for the Americans in 2011. "Of course, you go into the game and play in front of nearly 100,000 (fans) and you lose in extra time. Of course, I was itching on the bench to try and make an impact. Of course, I was a bit frustrated after that big defeat.
"Then you travel from the west coast to the east coast and have a game within the next, I would not even say 48 hours, because of the time difference. Then a couple of the starting boys they went back to their teams, so you try to force yourself to make everything right, to have a good game, and then it completely goes against you. Of course, you're frustrated. That whole trip was frustrating."
Williams returned to his club and resumed playing after that, but was left off U.S. head coach Jurgen Klinsmann's roster for November's pair of World Cup qualifiers. It was discouraging for Williams to not be included in that camp, but his mindset remained on controlling what he could with Reading.
Williams has responded by delivering consistent play, and finding goals more regularly. He has scored three league goals and one recent FA Cup goal since the November national team snub.
"It's how you deal with it. That's an important thing," said Williams. "As long as I work hard and as long as I'm trying to do my best to make things right, I think there will always be a door open. I didn't have as much contact over the last month, two months with Jurgen, but I'm sure they all follow our club careers, whether it's a player who plays in France, England or Germany or around the MLS.
"They watch all the national team players, and it's only my job that I can try and do my best and try to play again and then go from there."
Williams believes he is ready to take the next step with the U.S. by becoming a more integral part of the team, and knows there is a prime chance to do so this June at the Copa America Centenario. He has to earn his way onto that roster, of course, but is eager to play in the competition after missing the 2014 World Cup due to injury and the 2015 CONCACAF Gold Cup to focus on his health and fitness.
Still, Williams is only worrying himself with continuing to play well at Reading. After all, that is all he can control.
"That's the third big tournament, so of course I'm eager to play there, to make an impact, but the foundation is built now," said Williams. "I can only work on what will happen between now and then, and that's the only thing I can influence. I learned in the past it's not good to look so far ahead. I had a taste of how it feels when you're looking forward to something and then you get told that you have to have surgery, so I'm not a big fan of not looking so far ahead anymore.
"I'm trying to look from week to week. What I can influence is my performance, I can work on myself, keep my body right, have to keep in shape, and be fit and not get injured. That's the only thing I can influence, really. What happens after, that's not really my influence."