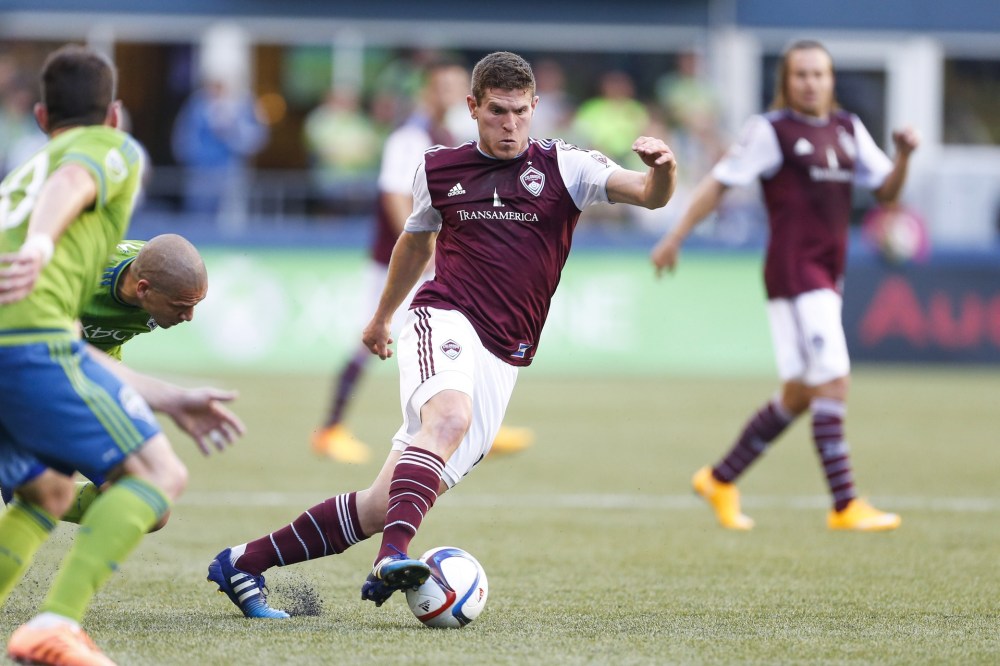 Dillon Powers spent more than two weeks on trial with English Championship club Reading FC this offseason, and came back to the U.S. from that experience a changed man.
The 25-year-old midfielder originally joined the Royals for two weeks in November, but had his trial at Hogwood Park extended a few more days. He has since returned to the States and competed in preseason friendlies for the MLS side.
Head coach Pablo Mastroeni was able to visit the midfielder while he was on trial in England, and the Rapids boss thinks the experience has changed Powers for the better.
"I think the experience for him was great for his career," Mastroeni told SBI ahead of the 2016 MLS season. "I think he went there and he saw a different level of commitment, a different type of football that has a longer history and a lot of passion over the years that has developed in a league like the Championship.
"I think he came away with desire not only to become a better player but change the way that he lives. He's changed his diet. He's now vegan. He's set up a fitness program in the offseason to be able to get more out of his game from that perspective as well. So I think it was a real life-changing event for him, and I think that's kind of trickled into the preseason, where he's been a very good performer, a leader, and I hope it continues to influence his game moving forward."
Powers, who was named MLS Rookie of the Year in 2013, has at least two years left on his remaining contract with the Rapids. The 5-foot-11 midfielder has been an integral part of the Rapids since he was drafted 11th overall by the club in the 2013 MLS Draft.
He appeared in 32 games last season, more than any other member of the team, and led the Rapids in assists with six. He also netted three goals. Despite being one of the club's best players last season, Powers felt he was able to learn a lot in his short time with Reading.
"I think just being around that standard was enough to make you improve your game, and to play quicker, to think ahead — which are normal things that you have to do in MLS as well," Powers told SBI. "Being there, it felt for me that the environment was little bit sharper, and in that type of thing, you just have to adapt, and that's where a lot of the little learning points come from.
"That kind of experience is invaluable."
Powers spoke to U.S. Men's National Team midfielder Danny Williams while training with the English club, asking him about his time with Reading, what he's learned there, his USMNT experience and overall career.
"We exchanged some conversations, and he really helped me feel welcome and was very supportive during my stay," Powers said. "He made me feel like I was doing well there."
"Reading was a top-class experience, for me," he added. "The club is really well-run and they were very welcoming to me from the start. I experienced a good level of football there, and learned a lot from my experience there."
The upcoming MLS season is just around the corner, as the Rapids travel to San Jose to play the Earthquakes on March 6. Powers has been impressed with how the team has looked in training this offseason, especially since the club brought in talented players like Marco Pappa and Albanian international Shkëlzen Gashi.
"If it makes sense over the course of my career, then yeah, I would like to (play abroad)," Powers said, "but having said that, I'm in a very good league right now and there's a lot of competition (with the Rapids), so there's room for me to improve here.
"Right now, I still think I haven't quite lived up to my standards here in MLS, and my goal is to be a Best XI player in this league. That's what I'm really focused on right now. And if another opportunity comes, I'll take a look at it and see what it looks like, but I'm really focused on being here and proving to myself and others I can be a top player in this league."