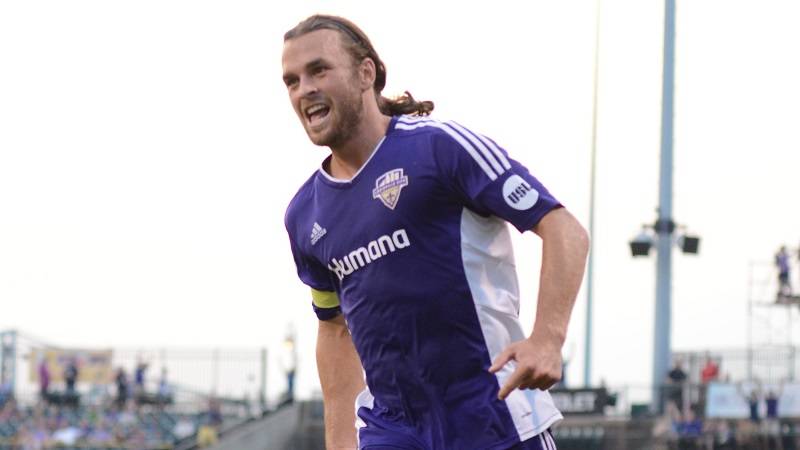 Matthew Fondy's road has never been easy. From undrafted prospect to Golden Boot winner, Fondy is now set for yet another new beginning.
The 26-year-old had a career year in 2015 as a member of Louisville City's inaugural team. The striker rapidly emerged as the USL's best player in a campaign that saw the forward net 22 goals in 28 games. When all was said and done, Fondy was recognized as the league's Most Valuable Player and Golden Boot winner in a season where he was quick to label the best to date on any level.
Naturally, Fondy's breakout campaign drew attention, both in the U.S. and abroad. A trial with Israeli Premier club Bnei Yehuda soon followed, while clubs around the country angled for his services. The Fondy sweepstakes finally brought him to the Jacksonville Armada to join a club that the forward believes can help him become even better than last year's version of himself.
"It was something special. I loved playing in Louisville," Fondy told SBI. "I loved the city and the fans were tremendous. We had good chemistry with the team, a great locker room, a good rapport with the coaches, so it was definitely bitter sweet for me to leave. For my career, it was something that needed to happen for a new challenge. I definitely want to play where I can be the best player I can be, and that's with better competition.
"I just wanted a new challenge and talking to different coaches with different teams in the NASL, I was interested in Jacksonville as a city, but talking with Tony Meola and getting a feel for what he wanted to do. My friend Brian Burke had already signed here, so I was in touch with him throughout the process. He filled me in now hat Tony's vision was and it just all fell into place. It worked out for me."
The move to the Armada may have proven to be a bit of right place, right time for all involved. However, that was far from a luxury commonly afforded to Fondy throughout his career.
Unheralded coming out of UC Santa Cruz, Fondy established himself in the USL before MLS clubs came knocking in 2013. A two-year stint with Chivas USA yielded just eight appearances, while a 2014 campaign with the Chicago Fire produced just eight more. The forward failed to find the net in MLS play while making just one total start.
That experience, Fondy says, is what paved the way for his breakout season with Louisville City. Needing just a chance and a new mindset, Fondy says his move back to the USL proved golden for a player looking to make his mark with a new club.
"That was my fourth year in USL. I just think for a certain point, you stop caring about what people think," Fondy said. "I think I've reached the point in my career where I know what kind of player I am and what I want to do in different situations. In my experience, I know what kind of player I am, so it's easier to take away from that…It gives you a certain mentality, a never say die attitude. It makes you grateful for seasons like you have, and when you find success, it makes you remember where you were in your career.
"I think you have to have, like in every career, you have to have a coach that believes in you," Fondy added, "and if you're not on the same page or if there's a formation that doesn't quite fit with your abilities or style, it's difficult, but I think I had a good coach last year and I have a good coach this year, so I'm looking forward to that partnership."
The striker says that his ambitions very much align with Meola's and, just several months into his first year as a head coach, Meola has already made a major impact on Fondy. A former U.S. Men's National Team regular, Meola bridges that gap between player, executive and coach, Fondy says, making his transition all the easier.
"The expectation is that he can score goals," Meola told SBI of his new striker. "We had numerous conversations with Matt before this whole thing happened, before he left for Israel, with what his goals were. We probably spoke to him more than anybody because he's in a position where he's a young kid who really wants to do well and aspires to be at a top level. We had to really, really talk about where he wanted to be and where he was currently and how last year might translate to this year. We had all types of conversations with him before we decided to sign him.
"He's a goalscorer, right? I don't know if we come into this thing thinking there's a number that translates from 23 in one league and what that translates to the other league, because that's dangerous ground. I'm not willing to put that pressure on anybody, and I think it's crazy because he does score goals and I think it's clear that he does other things as well. That's what I'm most excited about in seeing him play, to be honest. It's not necessarily the goalscoring, although he's here to score goals. It's the fact that he can offer other things on the field."
On a journey that has never truly been easy, Fondy simply desires to be on that field. Whether he's scoring goals or assisting them, the mindset remains the same: to make sure that both he and his team are playing at the highest level.
Fondy doesn't like to set specific goals or benchmarks for himself, a lesson he has learned throughout his adventure through the various levels of U.S. soccer. Rather, the forward is looking to take things as they come with his latest professional test.
"As an athlete, we're always looking for a new challenge and something that makes us better," Fondy said. "Being here in the NASL, being in Jacksonville, I get both of those things. I'm very excited.
"My expectations are always very high. It goes for me and it goes for the team. There are a bunch of competitive guys here, from Tony all the way down. The atmosphere is a competitive and winning atmosphere. I think I'll take to it nicely."