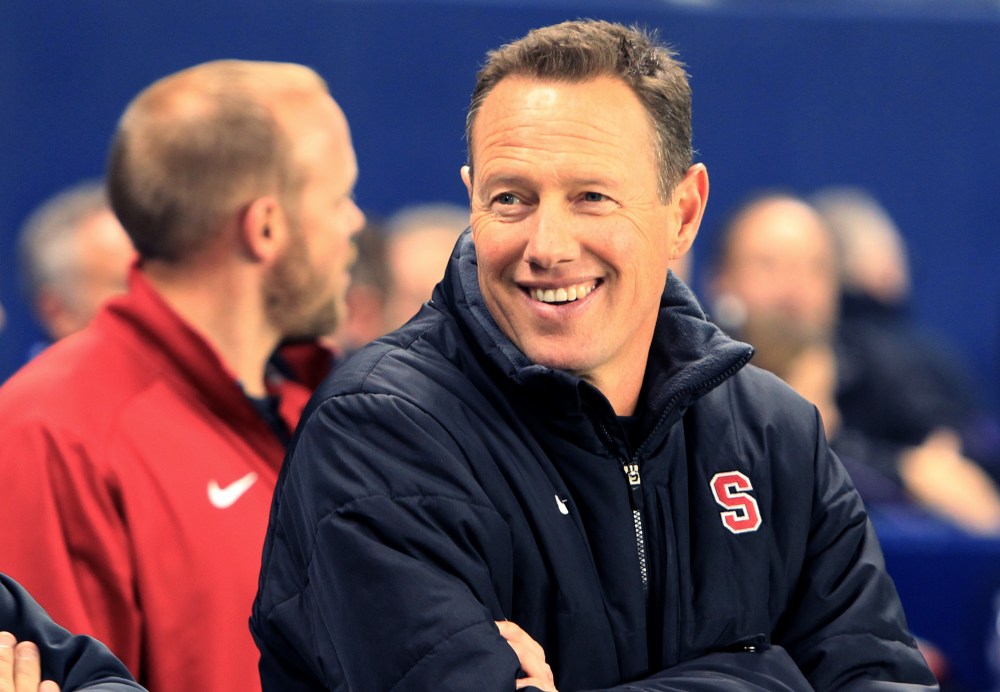 To Stanford head coach Jeremy Gunn, Seattle Sounders and U.S. Men's National Team forward Jordan Morris' rise to soccer stardom in the U.S. not only put the Pac-12 program on the map, but also showcased the talent college soccer has to offer.
Gunn was appointed head coach of an average Stanford soccer program in 2012, but has turned it into a force to be reckoned with while helping guide the Cardinal to their first NCAA championship in program history last season. A lot of the credit, Gunn says, goes to the players who made that happen, including the 5-foot-11, 21-year-old forward who scored two goals in the College Cup final against Clemson.
"I think that what Jordan achieved certainly raised the awareness of the program, there's no question about that," Gunn told SBI. "And obviously with raised awareness that does increase the opportunity for other players in the program. I think Jordan has truly raised awareness for college soccer as well.
"It's been too easy for people to criticize a wonderful area of this sport, which is college soccer, and this amazing talent. While Jordan was working hard to do his best, I think all of the byproducts was to raise awareness of all of the great talent, not just at Stanford, but in college soccer across the board."
Morris became the face of the college game in 2014, with his rise to prominence taking off after the USMNT played a friendly match against Stanford. He impressed in the scrimmage, leading to his eventual first cap against Ireland in Dublin that same year. He became the first collegiate player to accomplish that feat since Ante Razov in 1995.
"Jordan was a very, very good youth player and … the national youth scouts had seen Jordan playing with his club team and then for a year with the (Seattle) Sounders academy. And so (Jurgen Klinsmann and U.S. Soccer) were aware that he was a bright prospect, but we did have the wonderful honor of playing a practice game with the national team at the beginning of their camp here at Stanford," Gunn said.
"Our team did a lot of hard work behind the ball, as you can expect, but Jordan played very well in that game, and so he had that opportunity to be compared against the nation's finest at that point in time. Then, they got to look at him in a few more fashions as well during that camp because he got to fill in in a couple of sessions here and there as well."
Morris continued to shine for Stanford and in the U.S. system during 2014 and into 2015. He scored his first goal for the senior U.S. team against rival Mexico during a friendly in April last year. He also recently featured for the U.S. Under-23 Men's National Team during the CONCACAF Olympic qualifying tournament, and guided the Cardinal to an NCAA championship.
He seemed to have strengthened his resume after every game he played, and following the conclusion of his junior season, he announced his intention to turn pro. He traveled to Europe to train with German Bundesliga club Werder Bremen, but in the end, he chose to sign with the Seattle Sounders.
That decision was met with praise but also criticism. No matter what other people think about what's best for the forward, Gunn says Morris' decisions should be respected, especially since they have been working for him so far.
"Jordan was a very promising youth player in the Sounders setup, and the Sounders had been interested in signing for a while now, and I'm always quite positive they've had a good relationship," he said.
"He's always made it quite clear that he loves his family and that he loves Seattle," he added. "I think that the right choice was, for Jordan, was to do whatever he wanted to do. Jordan staying on in college for longer than most people would have expected was criticized by some, but it was the right thing for Jordan at the right time, thus proved by how he has continued to be successful.
"I think there's all different paths towards your future, and I think Jordan has proved that he can choose his path towards his future in whichever way. He's made a decision that, I'm sure, he's very happy with, and it's not for me to say whether he's better off in MLS or better off overseas. That's really a Jordan decision that only time will tell with how he continues to move forward with it. We're excited and hopeful that he can develop and can continue to move forward."
All in all, though, the coverage of Morris at Stanford helped shed some light on some of the other talented players suiting up in the cardinal and white, and is arguably a big reason why fullback Brandon Vincent was called into the current U.S. January camp.
Vincent, selected by the Chicago Fire with the fourth overall selection in the 2016 MLS Draft, joins teammates Eric Verso and Tyler Thompson as the recent Cardinal players who have turned pro this year. Verso was selected 34th overall by the Montreal Impact, while Thompson was chosen 69th overall by the San Jose Earthquakes.
Including Morris, who left a year early, the Cardinal have four progressing to the highest level of pro soccer in the U.S. Turnover is a part of the college game, but that many players taking the big step is not the norm for a program like Stanford.
Stanford is not like other more storied programs across the country that seem to churn out talented players every other year — like Akron with Darlington Nagbe, DeAndre Yedlin, Perry Kitchen, Darren Mattocks and Kofi Sarkodie. The Cardinal's most well-known player currently plying his trade in MLS is Chad Marshall, but Stanford alums in MLS are not a known commodity beyond him.
That could change in the future, though, due to players like Morris, Vincent and Verso. The coach told SBI that fresh faces for the upcoming fall season should be announced later this week. He added that five out of 11 starters from last season have moved on, but the legacy Morris and company created at Stanford will keep the program in the spotlight for years to come.
"I think it's a great testament to the hard work that those individuals have put in," Gunn said. "It's a great testament to the entire program in the environment that we endeavor to create. We have the simple goal we want for each player is to become the best player they can be.
"Now, whether that means being an incredible college soccer player, graduating and then going to work in the world of finance, that's wonderful. Or if it means being a wonderful soccer player in college and going on to being a pro, that's wonderful too. So as long as we fulfill our goal of pushing ourselves to the max while they are here, it will allow those people who aspire to become pros to become pros. And for other people, it will allow them great lessons from this environment."