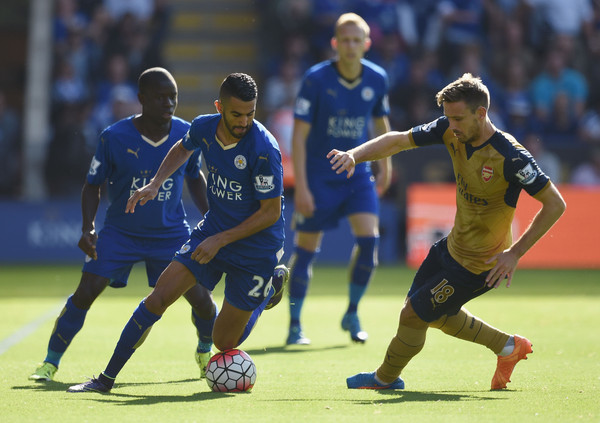 This Valentine's Day, the English Premier League will feature a series of enticing matches to highlight the holiday.
Leading things off is a clash between the league-leading Leicester City and third-place Arsenal at Emirates Stadium. The Gunners trail the Foxes by five points in the standings heading into this meeting but they do boast the claim as one of the only two teams to hand Leicester City a defeat this season from when they won a 5-2 decision back in September. Leicester City, however, has its confidence at an all-time high after picking up a convincing 3-1 victory last weekend at Manchester City in what was another battle between league contenders.
Speaking of City, it will host second-place Tottenham later that morning looking to avenge a 4-1 loss in their previous meeting at White Hart Lane. Spurs won't make that task easy though as they are coming into the contest having won four consecutive matches in the League and looking to make a run for its first title win since 1961.
Before those four sides battle it out though, Manchester United will have a chance to take advantage of the scheduling and close the distance between itself and the top four by getting a result at 19th-place Sunderland on Saturday.
Not to be outdone by the fireworks in England, Serie A will also feature a big match on its ledger as the league-leading Napoli visits second-place Juventus. The two sides — separated by two points — have been on their respective winning streaks in league competition over the last few months, but Juventus will finally get a chance to catch up this Saturday should it pick up a result at home.
Other notable fixtures this weekend include Fiorentina-Inter, Real Madrid-Athletic Bilbao and the U.S. Women's National Team's Olympic qualifying match against Mexico.
Here is a full rundown of all the soccer action on TV this weekend:
FRIDAY
SPANISH LA LIGA
2:30 p.m. — beIN Sports en Español/beIN Sports Connect — Sporting Gijón vs. Rayo Vallecano
GERMAN BUNDESLIGA
2:30 p.m. — Fox Sports 1/Fox Sports Go/Fox Soccer 2Go — Mainz 05 vs. Schalke 04
ITALIAN SERIE A
2:45 p.m. — beIN Sports USA/beIN Sports Connect — Carpi vs. AS Roma
FRENCH LIGUE 1
2:30 p.m. — beIN Sports Connect — Rennes vs. Angers
MEXICAN LIGA MX
8:30 p.m. — Univision Deportes — Veracruz vs. Club América
10:30 p.m. – Azteca America — Santos Laguna vs. Monterrey
SCOTTISH PREMIER LEAGUE
2:45 p.m. — Fox Soccer 2Go/Fox Soccer Plus — Dundee vs. St. Johnstone
SATURDAY
ENGLISH PREMIER LEAGUE
7:45 a.m. — NBCSN/NBC Sports Live Extra/NBC Universo/NBC Deportes en Vivo Extra — Sunderland vs. Manchester United
10 a.m. — NBCSN/NBC Sports Live Extra — Everton vs. West Bromwich Albion
10 a.m. — USA Network/NBC Sports Live Extra — Norwich City vs. West Ham United
10 a.m. — NBC Sports Live Extra — Crystal Palace vs. Watford
10 a.m. — NBC Sports Live Extra — Bournemouth vs. Stoke City
10 a.m. — NBC Sports Live Extra — Swansea City vs. Southampton
12:30 p.m. — NBCSN/NBC Sports Live Extra/NBC Universo/NBC Deportes en Vivo Extra — Chelsea vs. Newcastle United
SPANISH LA LIGA
10 a.m. — beIN Sports USA/beIN Sports en Español/beIN Sports Connect — Real Madrid vs. Athletic Bilbao
12:15 p.m. — beIN Sports en Español/beIN Sports Connect — Villarreal vs. Málaga
2:30 p.m. — beIN Sports en Español/beIN Sports Connect — Valencia vs. Espanyol
4:05 p.m. — beIN Sports en Español/beIN Sports Connect — Deportivo La Coruña vs. Real Betis
ITALIAN SERIE A
9 a.m. — beIN Sports Connect — Empoli vs. Frosinone
Noon — beIN Sports Connect — Chievo Verona vs. Sassuolo
2:45 p.m. — beIN Sports USA/beIN Sports Connect — Juventus vs. Napoli
GERMAN BUNDESLIGA
9:30 a.m. — Fox Sports 2/Fox Sports Go/Fox Deportes/Fox Soccer 2Go — Borussia Dortmund vs. Hannover 96
9:30 a.m. — Fox Soccer 2Go/Fox Soccer Plus — Darmstadt 98 vs. Bayer Leverkusen
9:30 a.m. — Fox Soccer 2Go — VfB Stuttgart vs. Hertha Berlin
9:30 a.m. — Fox Soccer 2Go — VfL Wolfsburg vs. FC Ingolstadt
9:30 a.m. — Fox Soccer 2Go — Werder Bremen vs. Hoffenheim
12:30 p.m. — Fox Sports 2/Fox Sports Go/Fox Deportes/Fox Soccer 2GO — Cologne vs. Eintracht Frankfurt
FRENCH LIGUE 1
11 a.m. — beIN Sports Connect — Paris Saint-Germain vs. Lille
2 p.m. — beIN Sports Connect — Guingamp vs. Bordeaux
2 p.m. — beIN Sports Connect — Reims vs. Bastia
2 p.m. — beIN Sports Connect — Nantes vs. Lorient
MEXICAN LIGA MX
6 p.m. — Univision Deportes — Cruz Azul vs. Querétaro
8 p.m. — Univision Deportes — Tigres UANL vs. Tijuana
10 p.m. — ESPN Deportes — Dorados vs. Pumas UNAM
ENGLISH LEAGUE CHAMPIONSHIP
7:30 a.m. — beIN Sports USA/beIN Sports Connect — Queens Park Rangers vs. Fulham
10 a.m. — beIN Sports Connect — Bristol City vs. Ipswich Town
WOMEN'S OLYMPIC QUALIFYING
1:30 p.m. — NBC Sports Live Extra/NBC Deportes en Vivo Extra — Costa Rica vs. Puerto Rico
4 p.m. — NBC Sports Live Extra/NBC Universo/NBC Deportes en Vivo Extra — Mexico vs. United States
PORTUGUESE PRIMEIRA LIGA
1:30 p.m. — Univision Deportes — Nacional vs. Sporting CP
SUNDAY
ENGLISH PREMIER LEAGUE
7 a.m. — NBCSN/NBC Sports Live Extra/NBC Deportes en Vivo Extra/Telemundo — Arsenal vs. Leicester City
9:05 a.m. — NBCSN/NBC Sports Live Extra/NBC Universo/NBC Deportes en Vivo Extra — Aston Villa vs. Liverpool
11:15 a.m. — NBCSN/NBC Sports Live Extra/NBC Universo/NBC Deportes en Vivo Extra — Manchester City vs. Tottenham
SPANISH LA LIGA
6 a.m. — beIN Sports Connect — Real Sociedad vs. Granada
10 a.m. — beIN Sports en Español/beIN Sports Connect — Sevilla vs. Las Palmas
12:15 p.m. — beIN Sports Connect — Eibar vs. Levante
12:15 p.m. — beIN Sports USA/beIN Sports en Español/beIN Sports Connect — Getafe vs. Atlético Madrid
2:30 p.m. — beIN Sports en Español/beIN Sports Connect — Barcelona vs. Celta de Vigo
GERMAN BUNDESLIGA
9:30 a.m. — Fox Sports 1/Fox Sports Go/Fox Sports Deportes/Fox Soccer 2Go — Hamburg vs. Borussia Mönchengladbach
11:30 a.m. — Fox Sports 2/Fox Sports Go/Fox Soccer 2Go — FC Augsburg vs. Bayern Munich
ITALIAN SERIE A
6:30 a.m. — beIN Sports USA/beIN Sports en Español/beIN Sports Connect — Milan vs. Genoa
2:45 p.m. — beIN Sports USA/beIN Sports Connect — Fiorentina vs. Inter
FRENCH LIGUE 1
8 a.m. — beIN Sports Connect — Lyon vs. Caen
11 a.m. — beIN Sports Connect — Saint-Étienne vs. AS Monaco
3 p.m. — beIN Sports Connect — Nice vs. Marseille
MEXICAN LIGA MX
1 p.m. — UniMás/Univision Deportes — Guadalajara vs. Club León
WOMEN'S OLYMPIC QUALIFYING
1:30 p.m. — NBC Deportes en Vivo Extra — Guyana vs. Guatemala
4 p.m. — NBC Deportes en Vivo Extra — Trinidad and Tobago vs. Canada
DUTCH EREDIVISIE
10:45 a.m. — Univision Deportes — NEC vs. PSV Eindhoven
SWISS SUPER LEAGUE
10 a.m. — beIN Sports Connect — Grasshopper vs. FC Basel