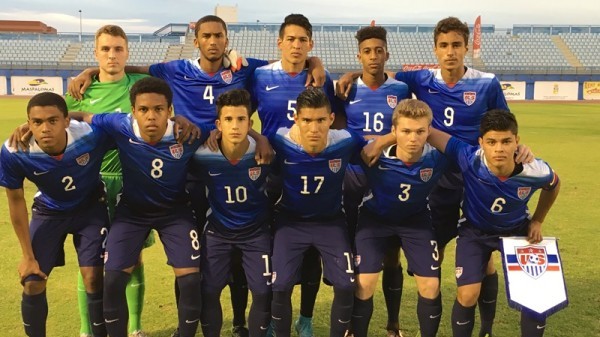 After falling to Spain in its first game of the Copa de Atlantico, the U.S. Under-19 Men's National Team was overwhelmed in its sophomore effort of the tournament.
The U.S. was thrashed by France, 5-0, on Wednesday in its second game of the tournament, which is being held in the Canary Islands and marks Brad Friedel's first tournament in charge of the U-19 group. The defeat follows a narrow 1-0 loss to Spain.
Just seven minutes in, the U.S. was already forced onto the back foot after conceding a penalty kick. The spot kick was promptly buried by Toulouse product Maxime Pelican, who netted a second goal 13 minutes later. Paris Saint-Germain's Odsonne Edouard bagged a brace of his own with goals in the 67th and 72nd minutes before Nicolas Javier capped the scoring in the 80th minute.
In total, France mustered 14 shots compared to just six for the Americans, who will look to rebound in their final game of the tournament on Friday against the Canary Islands.
Take a closer look at the U.S. lineup as well as highlights of the game below:
U.S. U-19 lineup: Kevin Silva, Edwin Munjoma, Tanner Dieterich, Auston Trusty, Grant Robinson (David Loera, 79′),Terrell Lowe, Eric Calvillo (John Nelson, 45′), Ethan Zubak (Brian Saramago, 60′), Weston McKinnie (Djordje Mihailovic, 79′), Pierre Da Silva (McKinzie Gaines, 26′), Simon Lekressner