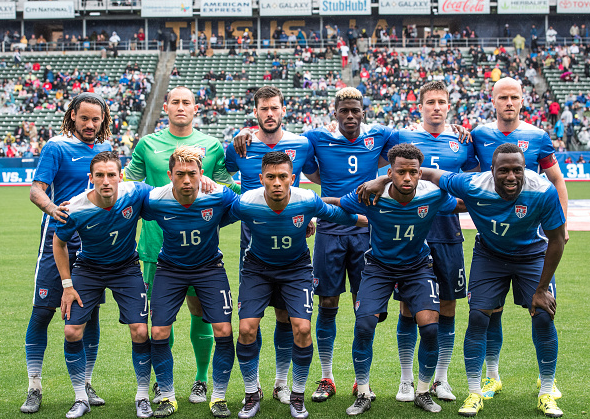 Nearly a month's worth of hard work resulted in the U.S. Men's National Team picking up a win in the first of its 2016 winter camp friendlies, and now the Americans are aiming to wrap up things up with another victory against a familiar foe.
The U.S. will write the next chapter in its series vs. Canada on Friday, as the northern rival travels to StubHub Center in Carson, California, for the Americans' second friendly of the year. Jurgen Klinsmann's side is coming off a 3-2 triumph over Iceland at that same venue, but Sunday's narrow win did not come without its hiccups.
Most notably, the defense struggled seemingly every time that Iceland got forward. Even veteran players made avoidable mistakes, and it came back to cost the U.S. more than once. The Americans have since lost a pair of starters from that game in Brad Evans and Michael Orozco, who have been sent back to their clubs, and that means that Klinsmann will have to go young or get creative to fill those holes in the lineup.
The U.S. attack, on the other hand, showed more promise by keeping possession for large stretches and dictating the tempo for much of the game, and Klinsmann will be hoping to see more of the same on Friday. Some changes could be in the offing, however, given how encouraging some of the substitutes looked vs. Iceland.
Who will Klinsmann trot out against the Canadians? Here is a lineup that we could see:
———————-Altidore———–Zardes————————–
—-Nagbe————-Jones———Bradley—————Nguyen—-
———-Acosta—–Besler——Birnbaum——-Polster————
———————————–Johnson————————————-
Some thoughts:
The departures of Brad Evans and Michael Orozco will likely force Jurgen Klinsman to have to lean on a pair of younger defenders against Canada. The one obvious candidate is centerback Steve Birnbaum, who had the game-tying assist and match-winning goal as a substitute against Iceland. Birnbaum could again play next to Matt Besler, and form a solid pairing up the heart of the back line.
As for right back, Matt Polster appears to be the favorite given the options available. Polster saw some time at that position with the U.S. Under-23 Men's National Team last year, and giving him more experience there would come in handy in case he has to start there when the younger Americans take on Colombia in March's Olympic qualifying playoff.
Another option Klinsmann may consider is swapping Kellyn Acosta from the left flank over to the right and handing Brandon Vincent his U.S. debut. Acosta's solid showing at left fullback against Iceland and Klinsmann's praise for the FC Dallas youngster's debut performance seem to make that unlikely, however.
Do not expect many changes to the rest of the lineup. Klinsmann is once again probably going to go with a 4-4-2 formation given how it looks to better suit forward Jozy Altidore, and allows the U.S. head coach to pair Michael Bradley and Jermaine Jones together in central midfield.
Still, a change could come on the right flank. Ethan Finlay was by and large not a factor during his U.S. debut, and while first-game nerves could explain the indifferent outing, his inability to make an impact could see someone like Darlington Nagbe get the nod. Nagbe continued to show some good things off the bench on Sunday, including putting himself in good positions, and seems ready to be given a start.
If Nagbe is included in the starting lineup, he would likely once again be used as a left midfielder. That means that Lee Nguyen, who started at that spot over the weekend, would have to move to the right side. Nguyen showed more promise on the flank than he did when he was in the middle against Iceland, and Klinsmann may want to see more of what he can do operating further wide.
The only two positions that remain are the other forward spot and goalkeeper. Gyasi Zardes is a player Klinsmann has heavily leaned on during the past year, so it seems to be a no-brainer that Zardes is handed the start next to Altidore once again. As for who will man the pipes, Klinsmann may want to go younger in this game, and could replace Luis Robles with Sean Johnson.
What do you think of this projected lineup? Who would you like to see included that isn't? Like the idea of pairing Altidore and Zardes up top together?
Share your thoughts below.