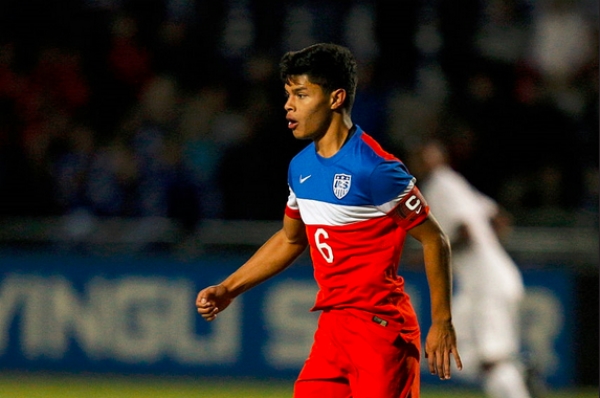 At just 18-years-old, Eric Calvillo has played in a World Cup, signed a professional contract and captained his country in an international tournament. With those experiences still fresh on his mind, the midfielder is now looking to take even bigger leaps in 2016.
Calvillo, who signed his first contract with the New York Cosmos in January, achieved a major goal in representing his country during October's Under-17 World Cup. It was a difficult tournament for the U.S. Under-17 Men's National Team, which finished fourth in its group, but it was an event that provided a notable starting point for Calvillo to take the next step for both club and country.
Most recently, Calvillo served as captain for the U-19s under head coach Brad Friedel in the Copa del Atlantico tournament. The experience, Calvillo says, was a special one, and one that he will take with him as he pushes on towards continuing his role on the international scene.
"It's great to play with the national team, especially to be captain and everything," Calvillo told SBI. "It's an amazing feeling. Hopefully I can go to the next camp with them and be captain again, but we'll see.
"I'm trying to make the U-20 squad. That's the next goal. They're the team that gets to go to the World Cup. That's what I'm trying to do."
With the 2017 Under-20 World Cup serving as his long-term goal, the midfielder has some short-term aims he hopes to complete on the club level.
Following in the footsteps of U-17 teammates Haji Wright and Alexis Velela, Calvillo signed with the Cosmos just weeks after his 18th birthday. With the move, Calvillo became the latest American youth talent to join the club in an effort to kickstart his professional career.
Throughout his time with the national team and youth club Real So Cal, Calvillo asserted himself as a midfielder who can either play in a box-to-box role or drop deep as more of a No. 6. Even with his experiences on the youth level, Calvillo understands making the step up to playing with men much stronger and faster than him will provide quite the challenge.
"I felt like it was a great starting point for me," Calvillo said. "Knowing that Haji Wright and Alexis Velela came here. You look at the great names like Pele, Raul, that influenced me a bit to come and join the Cosmos. I just had a good relationship with them."
Just several months into his professional career, Calvillo found the adaptation process to be somewhat seamless. While the speed of play is a bit faster than what he is used to, Calvillo continues to learn to think quicker while maintaining the confidence he has developed with the national team.
Helping ease Calvillo's transition to the club have been a series of mentors, who the midfielder admits have already had a major impact. Starting midfielder Danny Szetela immediately took Calvillo under his wing, giving him pointers on playing the position while also rooming with the young prospect on the road throughout the preseason.
"I've been Eric's age and been playing professionally," Szetela told SBI. "I know what you have to do and how guys will sometimes give you a hard time. Sometimes, they won't, but coming in at that age, when you make a mistake, they might get angry at you. It's not being angry because you're a young guy. It's because they want to see you working hard and taking criticism positively. That's what's going to take you and put you at the next level.
"Eric is someone that I can talk to because I've been through it. He's been doing great so far and we can see him improving already."
Calvillo is grateful for the impact that players like Szetela and fellow Cosmos midfielder Michael Lahoud have made on him throughout his short time at the club. In addition, Calvillo admitted head coach Giovanni Savarese has also played a major part in refining his game, especially on the mental side.
Like Szetela says, Calvillo may struggle. Competing against a group of midfielders featuring years of professional and international experience will never prove to be easy for an 18-year-old kid. However, Savarese stresses Calvillo has to maintain the swagger and attitude that got him to where he is today, as that's exactly what drew the Cosmos to him in the first place.
"He's a talented player. He's a player with a lot of personality and a lot of tools and there's no doubt that he's going to have a very good future," Savarese told SBI. "We're very content that he decided to come to us. He's been doing well in preseason, and he's learning what we need him to do with the team.
"It's not a given with the fact that he may play games with the first team. He's battling like any other player. He's done fantastic. We love his attitude and his personality and he's been a great pick-up for us to have him on the team."
The young midfielder understands that playing time will be hard to come by. Wright, the first player to make the jump from youth national team straight to the Cosmos, made just three appearances for the senior team throughout his tenure. Primarily, the forward found time with Cosmos B. Still, the talented forward recently signed with German club Schalke following his stint with the club, providing a glimpse at what is possible.
Calvillo isn't thinking that far ahead, nor is he looking past the challenge of cracking the lineup for this Cosmos team. Rather, the midfielder is just looking forward to furthering his development in an effort to reach the heights he imagines for himself for both club and country.
"It's been great so far. Training has been great. Games have been great," Calvillo said. "This group here is a great group of players. I've been learning a lot from most of the guys since they're all older than me. So far, it's going great.
"Hopefully, I can expect to get a couple of minutes and develop my game. At the end of the season, depending on where I'm at and where I'm playing, some things can change. Hopefully, I can just become a bigger player than I am now."